'Fortnite' 'Star Wars: The Rise of Skywalker' Live Event Countdown - When Does It Start?
Fortnite is about to host a huge live event in honor of Star Wars: The Rise of Skywalker. Below, we recap everything fans need to know about the ordeal, including its start time. Do you want to see what's next for Fortnite and the galaxy far, far away? We've got you covered.
When does the Fortnite Star Wars live event start?
The Fortnite Star Wars live event is set to take place at Risky Reels around 2 p.m. EST December 14. At that time, players will be able to join dedicated lobbies for the event and make their way to the Risky Reels theater.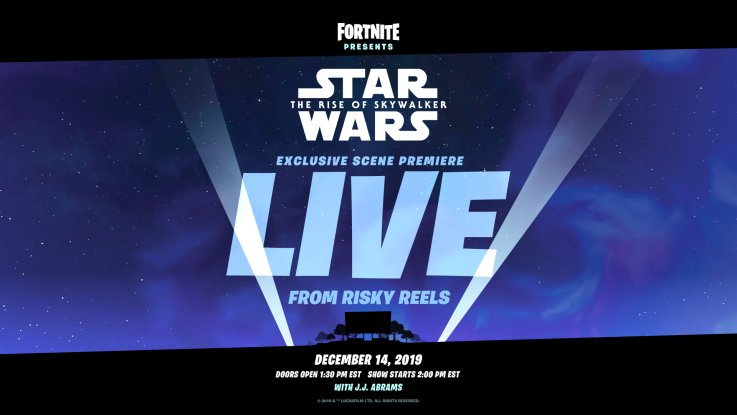 For those who'd like to stop by a little early, official information also states that doors open around 1:30 p.m. EST. While something like this has never been explicitly stated for other live events in the past, we imagine that 1:30 p.m. EST is the time when all traditional gameplay activity will be temporarily suspended while audiences amass in the custom Star Wars live event lobbies. It's possible that there may be special effects and dancing beforehand, but we imagine Epic is mostly trying to give fans plenty of time to get in to avoid potential server snafus. Glitches have plagued the last few live events, so this wider timeslot announcement may be an attempt to curb those unforeseen issues.
What do we know about Fortnite's Star Wars: The Rise of Skywalker premiere event?
Given that most of the live event's key files remain encrypted, there's not much we know about it beyond its official description. When the clock strikes 2 p.m. EST on December 14, attendees at Risky Reels will be able to watch an exclusive scene from Star Wars: The Rise of Skywalker. It's unclear how long the clip will last or what it contains, but fans of the franchise will likely be eager to check it out.
The only other detail we might possibly know in advance is in regard to the live appearance of Last Jedi Director J.J. Abrams. Just prior to the event's official reveal, a select group of Fortnite players encountered a gathering of verified Epic Games developers standing in front of the Risky Reels screen. The avatars appeared across multiple lobbies and performed a basic microphone sound test. A video of the rare happening can be seen below.
With this evidence in mind, we imagine testing was being done to prepare for the Star Wars live event. It's assumed that, prior to the scene's reveal, Abrams will make some kind of live remark while appearing in every single one of the specialized lobbies. What he intends to say, however, remains a mystery.
Fortnite is available now on PS4, Xbox One, Switch, PC and mobile. The Star Wars: The Rise of Skywalker live event takes place December 14 at 2 p.m. EST.
What are your thoughts on Fortnite's Last Jedi live event? Will you be dropping in as soon as it starts? Tell us in the comments section!
'Fortnite' 'Star Wars: The Rise of Skywalker' Live Event Countdown - When Does It Start? | Newsgeek