'Fortnite' Battle Royale Starter Pack Release Date: Rogue Agent Skin And Catalyst Back Bling
Fortnite fans will soon be able to purchase a Starter Pack for Epic's battle royale smash hit, complete with 600 V-bucks, a Rogue Agent skin and the Catalyst "Back Bling." The five-dollar deal will be available from March 27 to April 1, meaning fans only have a few short days to capitalize on this opportunity. Redditor u/Source10 posted the PSN store deal to the Fortnite subreddit, causing fans of the hugely popular battle royale to get their wallets ready.
It's unclear if this deal will ever come back, so if you're interested make sure you buy the Fortnite Starter Pack while you can. Do you want to be the only member of your squad using the base skin?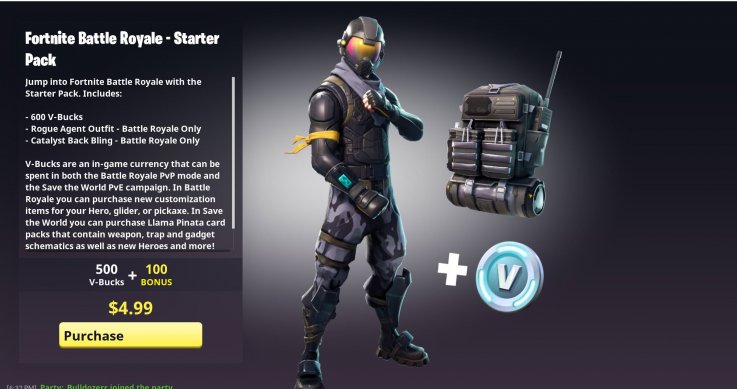 This is the best deal Fortnite has ever had, at least for broke players like me. You get an extra 100 V-bucks, which can be used to purchase skins for your avatar, pickaxe and glider, as well as emotes and dances. Like all free-to-play titles, Fortnite pulls you in with its addictive gameplay and keeps you hooked with its flashy clothing. I've been holding off spending any real money on the game because I am so damn awful and don't deserve to spend money on a game I'll despise in three months. Still, this opportunity is too good to pass up, and that Rogue Agent skin looks nicer than my Twitch Prime polka-dot pajamas.
'Fortnite' Battle Royale Starter Pack Release Date: Rogue Agent Skin And Catalyst Back Bling | Gaming