'Fortnite' Streamer Bowl II Cup Start Time, Standings, Format and More
Fortnite is set to host its Streamer Bowl II Cup on the afternoon of January 16, so we're here to recap all you need to know about the upcoming tournament. Are you curious about the start time of matches or need to know how to access the latest leaderboard of standings? Then you've come to the right place. Here's what we know about the matchup so far.
What time does the Streamer Bowl II Cup start?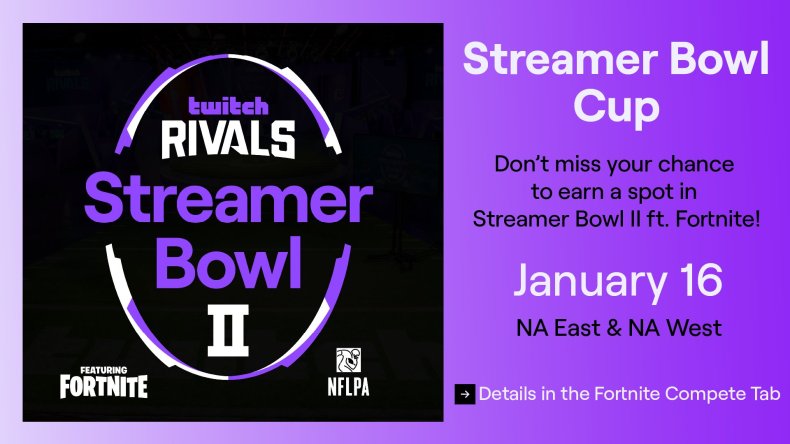 As indicated by the listings in Fortnite's in-game Competitive tab, the Streamer Bowl II Cup is set to take place January 16 at 4 p.m. to 7 p.m. local time in NA East or NA West. Those playing outside the United States can switch their server region in the Options menu to access the tournament, but we're not sure what impact that might have on your eligibility for participating in the Streamer Bowl II Finals in February.
Fortnite Streamer Bowl II Cup rules, leaderboards, standings and more
As indicated on the tournament's Competitive page, Fortnite's Streamer Bowl II Cup follows a basic Solos format. All participants must be in Division 2 or higher.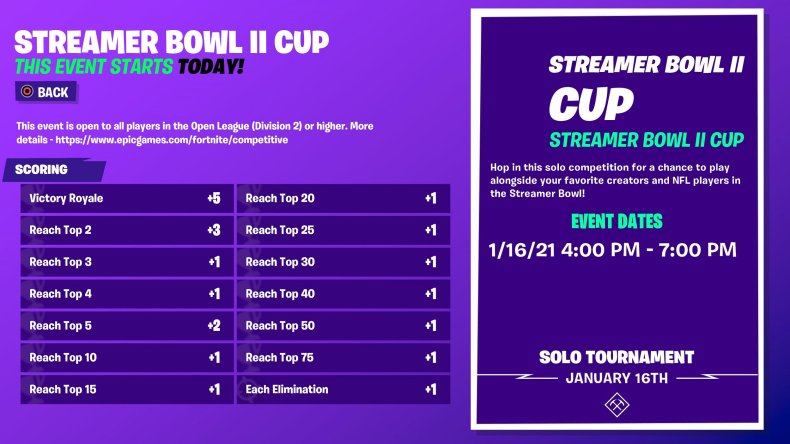 Victory Royale: Five points
Second: Three points
Third-75th: One point
Eliminations: One point each
Match limit: 10 matches
As with most of these open tournaments, there are two main ways to keep track of the standings as they unfold. The first method is by going to the Streamer Bowl II Cup page in the Competitive tab while the tournament is underway, and the second method is using a third-party site like Fortnite Tracker to keep up with the data. If using the latter method, just make sure you're looking at the results for your region.
What's Streamer Bowl II?
The Streamer Bowl II Cup page mentions the vague "chance to play alongside your favorite creators and NFL players in the Streamer Bowl," but it never explains what the Streamer Bowl actually is. Perform well enough in this tournament, and you'll be drafted as one of 30 Community Champions to take part in Streamer Bowl II on February 4. These champions, streamers and athletes will be drafted into trios on January 26.
In the final tournament, teams will compete for $1 million in charity prizing.
Here's who's confirmed to play in Streamer Bowl II so far:
NFL Players
Mike Evans
Kenyan Drake
Kyler Murray
Christian McCaffery
Kyle Van Noy
Calvin Ridley
Tarik Cohen
Auston Ekeler
Baker Mayfield
Aaron Jones
Kurt Benkert
Streamers
Bugha
Chap
Reverse2K
Ops1x
NickEh30
Emadgg
Sparkles_qt
Sypherpk
Sommerset
EwokTTV
Duckytyhegamer
Tocata
Maddynf
StableRonaldo_
Clix
NateHill
Tfue
Scoped
Chica
loserfruit
LosPollosTV
Aydan
Elded
Fresh
Ninja
Aircool
Juansguarnizo
NICKMERCS
72hrs
That's all you need to know about the Streamer Bowl II Cup happening in Fortnite January 16.
Will you be playing in the Streamer Bowl II Cup today? Who would you want most in your trio? Tell us in the comments section!