'Fortnite' Streamer Bowl II Start Time, Standings, Teams, Leaderboard and More
Fortnite pros and NFL luminaries collide in Streamer Bowl II on February 4. As trios compete for their share of a $1 million charity prize pool, which of your favorite streamers and athletes will come out on top? Below, we list all you need to know about the event including its expected start time, teams, prizes and the latest standings.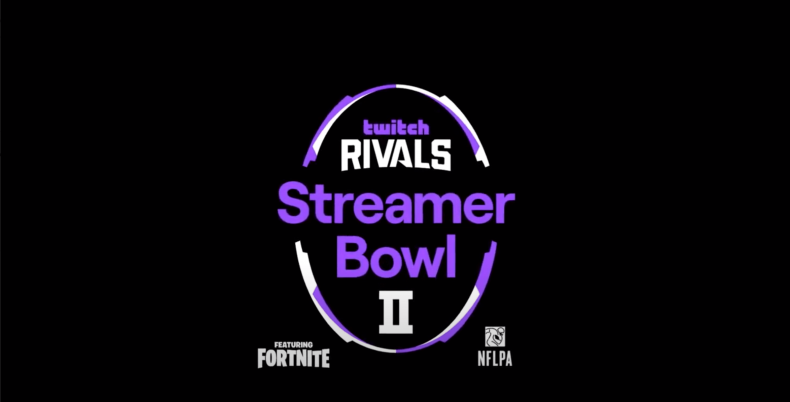 What time does Fortnite Streamer Bowl II start?
The second-annual Streamer Bowl is set to begin February 4 at 6 p.m. EST and is estimated to be three to four hours in length. Like all esports tournaments, these times are subject to change based on technical difficulties and participant availability, but this is the announced start time to pay attention to.
How to watch the Fortnite Streamer Bowl
Just like last year, the primary way to watch the Fortnite Streamer Bowl is via the official Twitch Rivals Twitch channel. This stream acts as a central hub for all the action, keeping you up to date on the latest standings with an overall view of all players. Individual participants will be streaming their matches as well, and you can find links for those in the team list below.
The list of teams competing in Streamer Bowl II
On Monday, Epic Games announced the full list of teams competing in Streamer Bowl II courtesy of an official blog post. Here's that list of trios with each player's Twitter account linked to their name.
Fortnite Streamer Bowl II standings, format and prizes
As for how Streamer Bowl II works with regard to format and prizing, the expected ruleset follows a fairly traditional trios format. Players score points for their trio through placement and eliminations via a bespoke scoring system.
Four matches
Victory Royale 18 points
Top 2: 15 points
Top 4: 12 points
Top 8: 10 points
Top 12: seven points
Top 16: five points
Eliminations: Two points each
Here's how the $1 million charity prize is intended to be divided.
First: $250,000
Second: $150,000
Third: $100,000
Fourth: $75,000
Fifth: $50,000
Sixth-10th: $30,000
11th-15th: $20,000
16th-20th: $10,000
21st-30th: $7,500
We'll do our best to provide the latest standings as they happen, but you can also try using sites like the Twitch Rivals Command Center stream, Fortnite Tracker, the event page or the Twitch Rivals Twitter account in between regular updates during the stream.
Here are the final results after match 4.
Top 10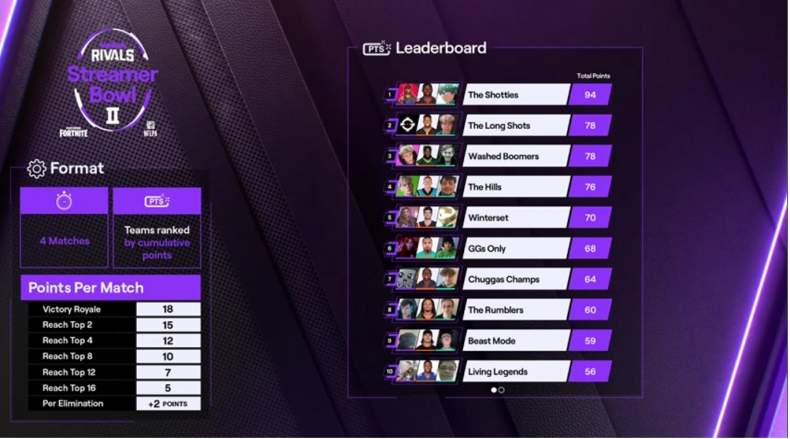 11-30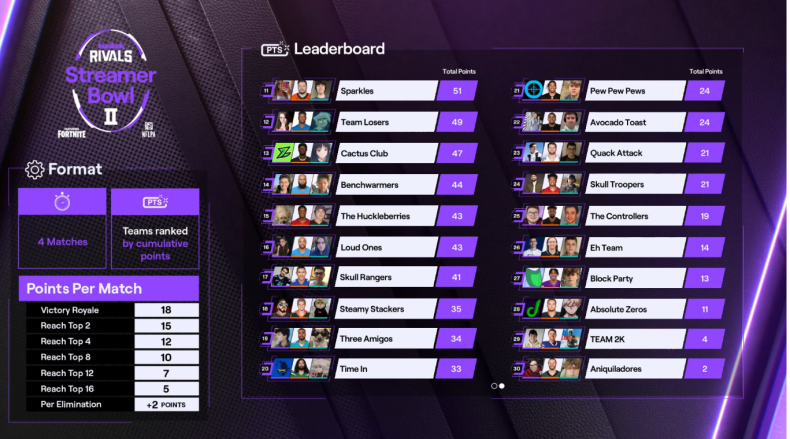 That's all you need to know about Fortnite Streamer Bowl II for now.
Fortnite is available now on PS5, PS4, Xbox Series X|S, Xbox One, Switch, PC and Android.
Who do you think will win Streamer Bowl II? Which team will make it to the top of the standings? Tell us in the comments section!