'Fortnite' on Switch to Get Headset Voice Chat, Touch Controls Soon
Fortnite was just released on Nintendo Switch, and we're slowly learning about Epic's plans for the platform. During the Nintendo Treehouse Stream Tuesday afternoon, developers from Epic Games discussed the future of voice chat and touch controls in handheld mode.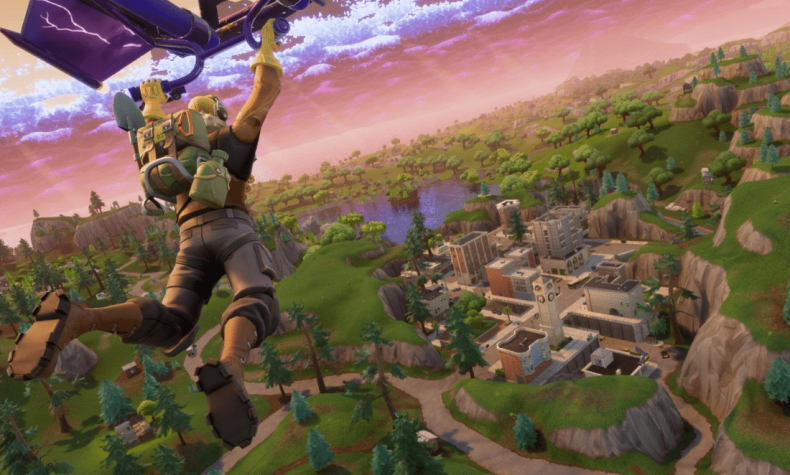 If you were hoping to chat it up with your Squad, Epic has already made that possible via the Switch's internal headphone jack.
"We do support party voice through the headphone jack," a developer said. "So if you have a headset with a microphone you can just plug it into the headphone jack. You can talk with your friends on whatever platform they're on. I think at this very moment it's turned off, and we'll turn it on Thursday morning."
Taking this statement at face value, it would seem that Fortnite on Switch will require players to use portable mode if they'd like to communicate between matches. We'll likely learn more about how voice chat in Fortnite works once the feature officially goes live. Fortnite players can Squad up with crossplay on all platforms except PS4. Voice chat will function seamlessly across Switch, Xbox, PC, Mac and iOS.
Also related to handheld mode, Epic is apparently considering additional support for Nintendo Switch's touchscreen as well.
"It has a touchscreen. So what can we do with the touchscreen that's meaningful," a studio representative mused. "Those are the things we want to explore down the line and see what kind of cool things we can give to people. It can especially be easier to use your finger as a mouse. You can play with Switch in so many different ways that you might not have the touchscreen. So it may be an optional thing. It's going to be interesting to see how people play."
Since Fortnite already supports touch controls on iOS within the same development engine, the transition shouldn't be too difficult to manage across platforms. That being said, it does raise questions of whether or not the ability to use your fingers creates a precision advantage over players with controllers. Those sorts of dilemmas have dogged console-PC crossplay for years, and they're likely being discussed with regard to Fortnite on Switch right now.
Fortnite is in early access across PS4, Xbox One, Switch, PC and iOS. If you want to see even more Fortnite action, don't forget to tune in to the E3 Celebrity Pro-Am at 6:30 p.m. EDT June 12.
What are your thoughts on the Switch version of Fortnite so far? Are you happy to know it's going to take full advantage of the console's unique features? Tell us in the comments section!