'Fortnite' Tart Tycoon Skin Debuts in Anti-Apple #FreeFortnite Cup Sunday
Fortnite is taking its #FreeFortnite initiative to the next level with the in-game event #FreeFortnite Cup on the afternoon of August 23. As iOS users prepare for their final days of being able to play with the rest of the game's community, the development team at Epic Games is offering cool prizes and a Tart Tycoon skin that will likely be pretty easy for the average player to unlock.
As stated in the in-game Competitive tap, the #FreeFortnite Cup runs August 23 from 3 p.m. to 7 p.m. EDT. During that time, players around the world on all platforms will be able to compete in a Solos competition with favorable scoring. Participants have the entire event period to accrue points, and those with the highest totals have the opportunity to win big.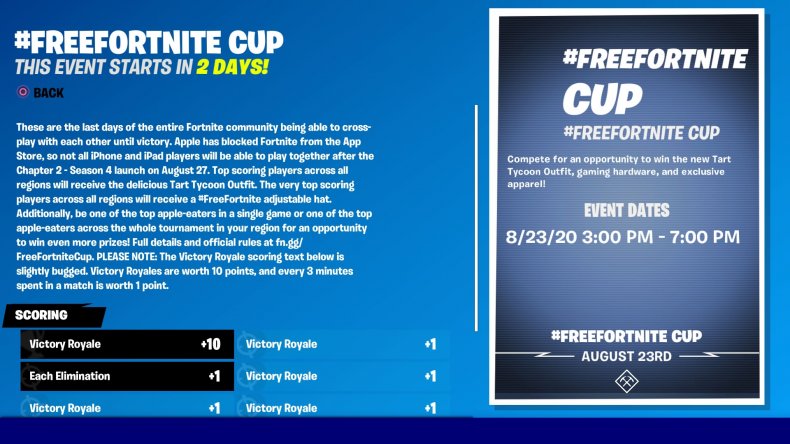 Here's how the event will be scored.
Victory Royale: 10 Points
Eliminations: One Point Each
Lasting every three minutes in a match: One Point Each.
Under these conditions, combatants will be eligible to win the following prizes:
The Tart Tycoon Outfit seen in Epic's #FreeFortnite video (earn 10 Points)
A #FreeFortnite physical hat (200,000 global winners)
New gaming hardware (1,200 global winners): Includes an Alienware Gaming Laptop, Samsung Galaxy Tab S7, OnePlus 8 phone, PS4 Pro, Xbox One X or Nintendo Switch
In other words, the Tart Tycoon skin is essentially open to all those who participate in the tournament for a little while, even if it means hiding in a corner while the final circles close in. As a presumably intentional move to strengthen the virtual reach of Epic's Apple boycott, the skin will likely be seen all around lobbies over the next few days.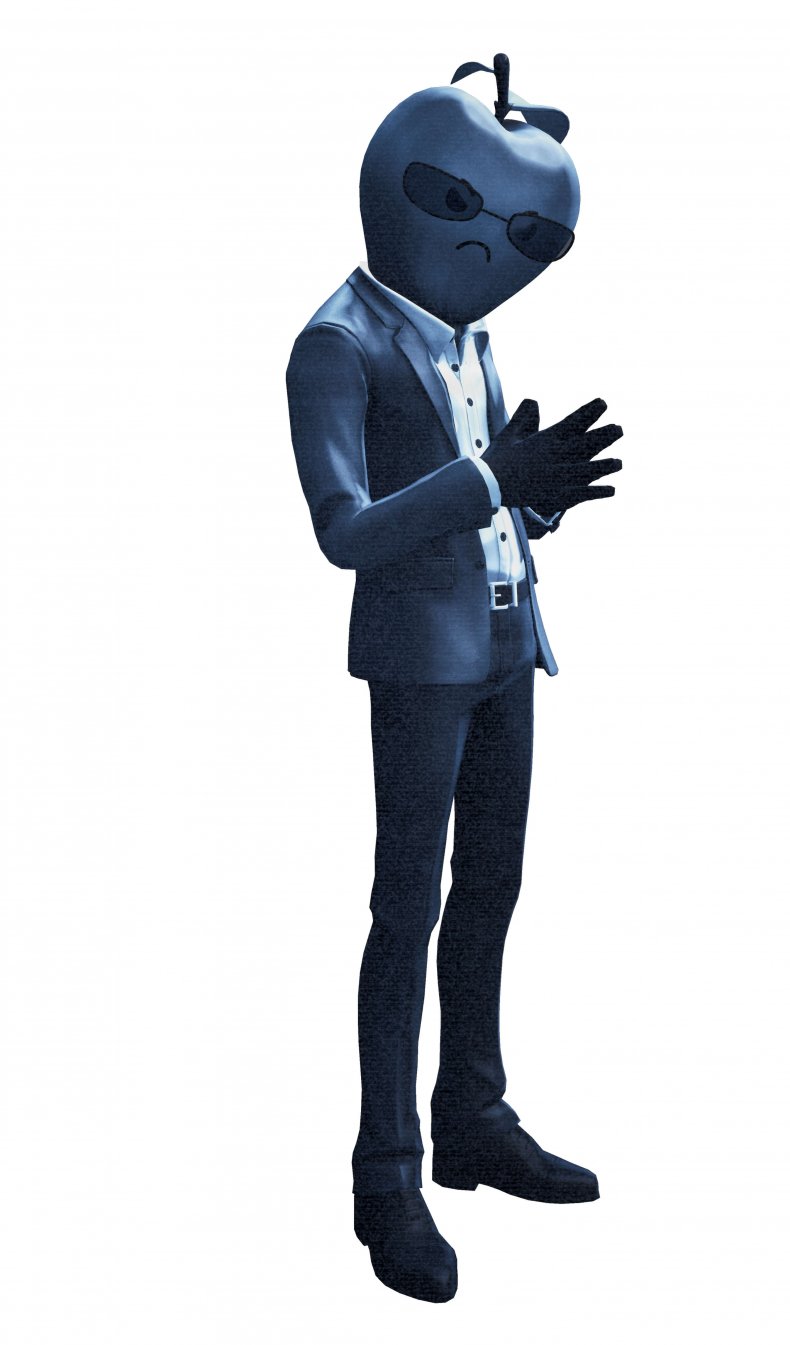 The announcement of Epic's #FreeFortnite Cup arrives one week removed from Apple's controversial decision to remove Fortnite from its App Store after Epic willfully broke the platform's rules by circumventing Apple's mandatory 30 percent pay cut on all in-app purchases. Immediately after the game was removed, Epic launched the #FreeFortnite initiative with proper legal action and a viral video encouraging fans who want Fortnite to return to iOS to make their voices heard.
This competition kicks off days before the launch of Fortnite Season 4. Once the new Battle Pass launches on platforms outside the Apple ecosystem, those with the game installed on iOS won't be able to enjoy the new content or play with friends on other systems. It appears, however, the current iOS version of Fortnite will continue to exist in perpetuity. As for Google, they also removed Fortnite from the Play Store. Due to Android's less strict policies, however, that version remains playable by downloading it directly from the official Fortnite website.
Fortnite is available now on PS4, Xbox One, Switch, PC and Android.
Will you be competing in the #FreeFortnite Cup to get Tart Tycoon? Where will you be playing Fortnite once iOS support ends? Tell us in the comments section!
'Fortnite' Tart Tycoon Skin Debuts in Anti-Apple #FreeFortnite Cup Sunday | Newsgeek