'Fortnite' and TikTok Emote Royale Contest: How to Enter, What Are the Prizes and When Is the Winner Announced?
"Fortnite" has launched its Emote Royale Contest on social platform TikTok. The competition, which opened on January 18, 2020, gives people the chance to show off their best dance movies and be immortalized in "Fortnite," the massively popular battle royale game.
Emotes are cosmetic items for the game which see player characters acting out entertaining moves in-game to amuse friends and taunt foes. People consider an emote as a way to express themselves on the battlefield.
Emotes can be purchased in the Item Shop using V-Bucks or won in the Battle Pass seasons.
How to Enter "Fortnite" Emote Royale Contest
Until January 24, 2020, at 11:59 p.m. PST, users can take a video of themselves breaking into an original dance move and share their submission on TikTok.
Users need to check the official contest rules before entering their video. They must be at least 13 years old and use the pre-selected "Fortnite" tracks as part of their submission. All Submissions must be a video that is no longer than 15 seconds in length and must have #EmoteRoyaleContest in the title.
To be considered, all submissions need to be made during the contest period. All qualified submissions will be reviewed and scored by a panel of qualified judges, who will decide the winner. According to game publisher Epic, "The potential winning entrant will be notified via TikTok on or about January 31, 2020."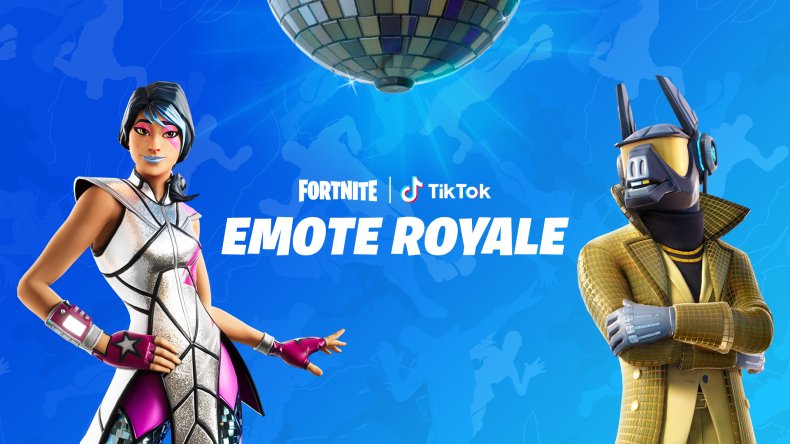 "Fortnite" Emote Royale Contest Prize
The winning dance will become an Emote in "Fortnite" as well as receive 25,000 V-Bucks—the game's digital currency—and a "Fortnite" VIP giveaway package. The VIP package includes:
Custom "Fortnite" Swag Bag
NEFF hoodie
Sprayground crossbody bag
Jazwares Battle Bus Drone
Jazwares Glider Drone
NERF SMG
Funko Collectible
Bitty Boomer wireless speaker
Trends custom lithograph poster
Dark Fire Xbox Bundle
Dark Fire PS4 Bundle
Jenga: Fortnite Edition
"Fortnite" community creators Jordan Fisher and Pokimane have already taken to TikTok to show gamers how it can be done. The pair can be seen dancing alongside their very own Emotes, which can be purchased in the Item Store.
At the time of reporting, the hashtag "Emote Royale Contest" had gathered 132.7 million views on TikTok. Readers can judge their favorite entry for themselves by visiting the TikTok website.
Since its launch in 2017, "Fortnite" has seen almost 250 million players across the globe (as of March 2019) and made $1.8 billion in 2019, according to Nielson.
TikTok, known for short-form mobile video, launched in 2016 and hit one billion downloads globally in February 2019. The app has more downloads than Facebook and Instagram and between 2010 and 2019 was the 7th most downloaded mobile app of the decade.
You can see the most viewed videos on TikTok from 2019 on Newsweek, which includes Guinness World Record breakers, practical jokes and more.