'Fortnite' Twitchcon Twitch Rivals Tournament: Time, Standings, Teams & How to Watch
Fortnite is hosting a big Twitch Rivals Showdown Tournament at Twitchcon today, and we want to make sure you see every second of it. Below, see our recap of the latest times, standings, team details and more.
When does the Fortnite Twitch Rivals Twitchcon Showdown Start?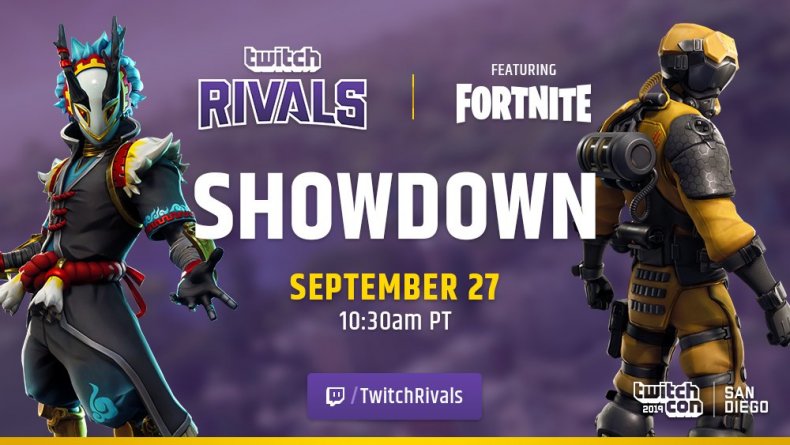 The Fortnite Twitchcon Showdown takes place September 27 and is expected to run from 2 p.m. EDT through about 11 p.m. EDT. The action takes place across several stages. Here's the schedule for how everything breaks down.
Qualifiers (Wave 1): 2 p.m. EDT
Head-to-Head: 3:45 p.m. EDT
Qualifiers (Wave 2): 4:20 p.m. EDT
Head-to-Head: 5:50 p.m. EDT
Qualifiers (Wave 3): 6:25 p.m. EDT
Grand Finals: 9 p.m. EDT
How to watch the Fortnite Twitchon Showdown
The best place to watch the Fortnite Twitchcon Showdown is via the Twitch Rivals Twitch channel. The stream acts as a central hub that follows all competitors. Individual team members will likely be hosting their own matches on Twitch as well. See the teams list below for more details.
Fortnite Twitch Rivals Showdown Tournament Participants
At the time of publish only 12 trios have been selected for participation in today's Grand Finals. The rest of the pool will emerge from the qualifier waves earlier in the day. Here are the teams we know so far.
Finals Invited Participants
Wave 1 Qualifiers
JakenbakeLIVE Zizaran Grimmybear
thepeachcobbler KingEddster catsen
jassy Greyscalez MisterArther
EmadGG Aipha Thwifo
Nikatine Katie avery
EpikWhale Symetrical Keeoh
sharkk_tooth rhabby_v GirlGamerChas
Chibii StretchFN ClarityG_
Fifty Persecute_ joysickk
innocents assaultszn Destroy
Kaysid Tocata SpaceLyon
Kreo ItsHighSky Sesci
Orangi RemDogG Shabanban
Spades Connoreo_ LexiLikesFood
TSM_Zexrow Slappie Mackwood1x
Tylarzz Painful AceNoypi
notoriousnorman Sheepdog59 harrygbestmc
tiffae BlooTea Roatdw
philly 360chrism altitud3
KiitLock DoryuuZ Evan_Sou1
blakeps hking ohreckz
viszlas joel619 yaboyboo
Threshfps Cadet_Central aircool
BTSoda Maplezzz_ suralovee
Morgausse Lamar alientheeditor
Luzu Shiki prospering
priestahh TyTyKO_ Keru
RyyGaming bispen rizzoh
VorticoseLine75 nerfedrogue acolytesynpai
Dbree Unlocalized Chr9s
Wave 2 Qualifiers
wavyjacob TracerFN 4DRStorm
frivvifox Bustin Aust1nian
Sceptic wolfiez Rockit
Dubs Megga ajo1x
Ezzi Slick Mystkin
Sonii Jammyz Herrions
THump Ronaldo XXiFtv
Turkey_Lips bartonologist HanssenNA
Zayt Safaroonie scatch
spideyy TriggySoars RealKnives
Loveabilities Marz Vide
baddie Peebro Tweak
NuFo xsgtpepperx rodeybros
Tina Pika rhux
Rozay Brecci TRose
Branchies snowxd zastruhtv
PR_x S0fa_ Sheepfn
LeeOh AdairAudio japancurrry
alexjj chexxyFN gommru
JJay215 dandogg Powured
squatingdog topgun spicy
Rocky Strafesh0t Nox_the_fox
quartknee ANniALis Cookeeeemonster
gundeals VayneFN blendym1
ogKix Garrett4 HeyMisfit
Wave 3 Qualifiers
AmericanDad yourfellowarab aimbotax
Agholor xExoph iMrSharpShooter
17jay lenofn tdapp
Cented edgeyy Alouette
Clix CrimzFN Infamous
EwokTTV FunkBomb LilJarvis
Heartt StonieFN Voil
SanchoWest Asivrs claystehling
TSM_Vinny1x Arkhram Dimes
bigbobbybuilds Spectrooo flossen
FearItSelf JTruth MonstcR
zzdmo bizzle blindbtw
a1ms0nz Harmii svennoss
actionjaxon alexiaraye grizzlyandrew
bbxh xxichris golddusttori
b4nny Khaljiit lieutenanteddy
SenVale SLAM giantchiprel
FarmerDils NarcolepticNugget hansol
falconerfn Riversan OhMyPulse
hysteria psalm rehx
Overtime Tossily CitizenSnipes
EvilHiccup an2ny PeaceVI
OcularGumby GTheTree HallaJD
Orb EmJov xpepps
rubiks impactloll ImYourEdge
Wheels richhomiequinnn garrwood
Bzrk301 ryanklipp boppinx
Head-to-Head
Kayuun
Bizzle
MonstcR
FearItself
epikwhale
Aydan
Innocents
AlexJJ
We'll do our best to add to the team roster as it expands.
Fortnite Twitchcon Showdown Standings, Rules & Prizing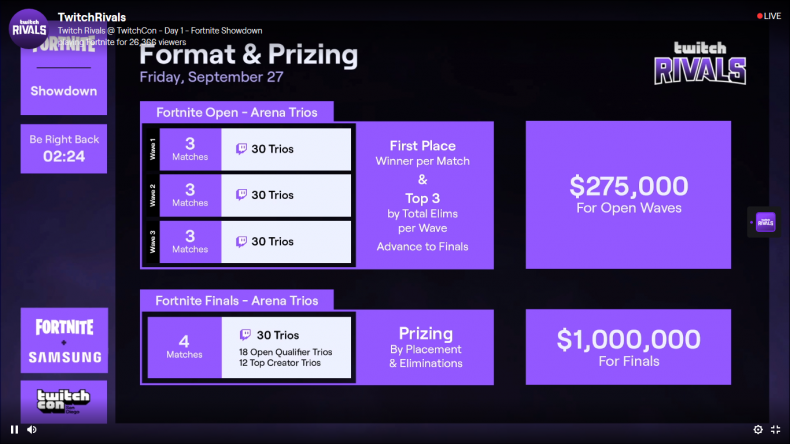 In true Twitch Rivals fashion, the Fortnite Twitchcon Showdown intends to dole out its $1.3 million prize pool in small amounts using a fairly straightforward ruleset. Here's how the games will be played.
Arena Trios
Qualifiers feature three waves with three games each for a total of nine games.
The six teams with the highest score (adding Victory Royales and Eliminations) advance from each wave to the Grand Finals.
In between matches a 1v1 Head-to-Head build battle will take place.
Prizing is doled out as follows:
Qualifiers
Placement and Eliminations (per game)
$5,000
$2,500
$1,500
$1,000
$750
Eliminations (Per Wave)
$10,000
$7,500
$5,000
$2,500
$1,500
Head-to-Head
Grand Finals
Placement (per game)
$30,000
$20,000
$15,000
$10,000
$7,500
$5,000
$3,000
$2,000
$1,500
$1,250
$1,000 (to 30th)
Eliminations (per game)
$30,000
$20,000
$15,000
$10,000
$7,500
Eliminations (overall)
$50,000
$35,000
$30,00
$25,000
$20,000
$15,000
$13,500
$10,000
$7,500
$5,000
To see the latest official standings, check out the live standings spreadsheet.
Fortnite is available now on PS4, Xbox One, Switch, PC and mobile.
Who do you think will win the Fortnite Twitchcon Showdown? Which trio are you rooting for? Tell us in the comments section!