Fortnite update 11.30 is finally live, and it brings Winterfest to the game alongside a host of huge gameplay changes. Read the abbreviated patch notes courtesy of an Epic Games blog post.
Fortnite 11.30 Patch Notes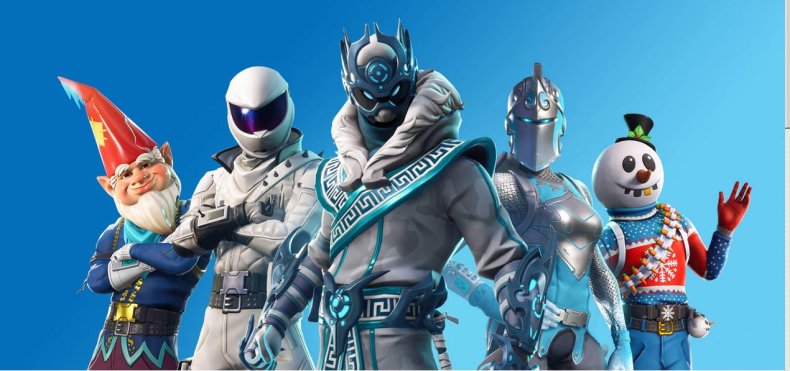 Introducing Split Screen.

Play Duos and Squads with a friend on the same PlayStation 4 or Xbox One.
This is an early release of Split Screen; we will continue to improve the feature. Please report bugs via the in-game Feedback tool.

Preview what's in the Item Shop using your mobile device.

With Party Hub, you can now preview what's new in the Item Shop before loading into the game.
To do this, open Party Hub, swipe right, and tap "Preview Items."

Increased the daily Item Shop gifting limit from three to five.
Changed Ammo Indicator.

Now a visual representation of remaining ammo number rather than a solid bar.

You can now choose when to transition from the "Eliminated By" screen to the end-of-match XP screen.

To transition to the end-of-match XP screen, press "Continue" on the "Eliminated By" screen.

Made preparations for the Star Wars: The Rise of Skywalker live event at Risky Reels on December 14, 2 p.m. EST.
Bug fixes:
Resolved an issue involving the Safe Zone setting on Xbox One returning to 1.00 upon each login.
Resolved an issue involving some trees and metal fences in Arena not granting the correct material increase.
The Magma Wrap now appears correctly on the Bandage Bazooka and Pistol.
Resolved an issue involving the Bandolette Outfit appearing to have two hairstyles merged together.
Resolved an issue involving some items from the Twin Turntables set appearing grainy and pixelated.
The Social menu Friends List on mobile devices no longer auto-scrolls to the top when players try to scroll down.
Resolved an issue involving players' Quick Bar being inadvertently defaulted off on mobile devices.
Split Screen is the main known highlight for update 11.30, and it stands to be a pretty big deal for console enthusiasts. While other Battle Royale titles, like Call of Duty's Blackout, let two players enjoy matches together from the comfort of a couch, the feature has never been offered in Fortnite. Now, all the great team play action that would otherwise happen online can be conducted from feet away in the same room without a complicated mess of TVs. There are bound to be bugs, but the base feature itself is a huge advancement.
While not listed here, a big feature of update 11.30 is Winterfest, which is a slightly altered version of the traditional 14 Days of Fortnite promotion. Just like the prior events, players will be tasked with completing 14 free challenges that include rewards like Sprays, Emotes a Glider and Back Bling. Most of the challenges appear to be fairly easy, which means getting these complementary cosmetics shouldn't be much of a problem. It's assumed challenges will roll out daily as Winterfest continues. If Winterfest doesn't begin at 9 a.m. EST Thursday morning, players can likely expect a live debut during the Game Awards tonight.
Fortnite is available now on PS4, Xbox One, Switch, PC and mobile.
What are your thoughts on Fortnite update 11.30 so far? Are you excited to finish the Winterfest Challenges? Tell us in the comments section!