'Fortnite' Update 4.3 Delayed to Thursday, Week 5 Challenges Not Working
Fortnite players may have noticed that the Week 5 Challenges aren't working, and it's because Epic has delayed the required 4.3 update to Thursday. The news was revealed via an official tweet Tuesday morning.
For players who might see the message that the "Week 5 Challenges [are] available in zero seconds," Epic has described the error as a "known issue." It's added that "this was an intended change to push back Weekly Challenges to Thursdays." While the day has changed, all future challenges will go live at 4 a.m. EDT unless an expected bug shifts the schedule.
Weekly Challenges and updates typically deployed on Thursdays throughout Season 3 and had been happening on Tuesdays since Season 4 began earlier this month. It looks like Epic prefers to adopt the prior update schedule for 4.3 and beyond.
While the Week 5 Challenges aren't yet active, Fortnite Tracker leaked the objectives late last week. Here's a quick recap for those who missed the news:
Deal damage with SMGs to opponents - 500 (five stars)
Search Chests in Dusty Divot - seven (five stars)
Use a Jetpack (five stars)
Search Gravity Stones - seven (five stars)
Follow the Treasure Map in Greasy Grove [Hard] (10 stars)
Minigun or Light Machine Gun Eliminations - two (10 stars)
Eliminate opponents in Lucky Landing [Hard] - three (10 stars)
You might've noticed that the Week 5 Challenges do not include the brand-new Shopping Cart that was just revealed Monday afternoon. It's possible this may change now that update 4.3 will arrive alongside the Week 5 Challenges on Thursday, but it's actually not that surprising. The Jetpack that was added last week, for example, wasn't featured in any challenges till the week after its initial debut.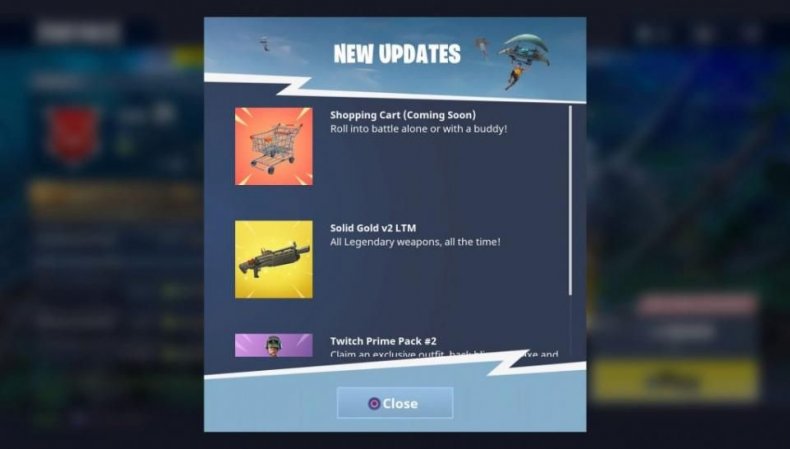 Beyond the addition of the Shopping Cart, we also know update 4.3 includes tweaks to improve Building Pro and Turbo Building modes on controllers. There's a new crosshair in Edit Mode, and the highly anticipated skin refund system returns to the game as well. We'll share guides and details about the Week 5 Challenges as they arrive. For now, you'll have to wait until Thursday to get started.
Fortnite is in early access across PS4, Xbox One, PC and iOS.
What do you think of Fortnite's Week 5 Challenges? Are you happy that updates have shifted back to Thursdays? Tell us in the comments section!