'Fortnite' Update 5.0 Adds SMG & Removes Tactical SMG - Patch Notes
Fortnite Content Update 5.0 is officially live, which means two new guns have been added to the game. Battle Royale fans can enjoy the Submachine Gun right now, while the Typewriter Assault Rifle makes its debut in the Save the World Item Shop on Wednesday. The Tactical SMG has been temporarily removed. Read the full patch notes below.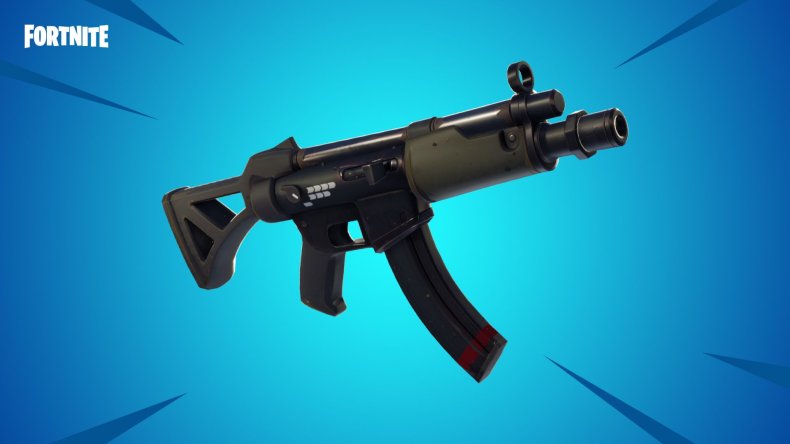 Battle Royale Content Update 5.0
Submachine Gun added

Available in Common, Uncommon and Rare variants
Uses Light Ammo
30-round capacity
Can be found in floor loot and chests

Tactical SMG has been added to the Vault
Semi-Auto Sniper Rifle damage increased to 75/78 from 63/66
Save the World Content Update 5.0
Typewriter Assault Rifle added to the Weekly Store

A mid-range assault weapon with a high capacity magazine and a lateral kick. Its shooting profile makes it ideal for clearing groups of nearby enemies in mobile engagements.
Available Wednesday, July 18 at 8 p.m. EDT until Wednesday, July 25 at 8 p.m. EDT

Purchase the game for half off July 17 through July 30
It's no surprise Content Update 5.0 is pretty light, given the onslaught of new features that debuted alongside Fortnite Season 5 less than one week ago. Still, a brand-new gun to change up the Battle Royale formula is always highly appreciated. The new SMG has the potential to change up the current loadout meta very quickly, since it can be found at so many rarity tiers. The same can be said about the Typewriter AR, which is a nice addition to check out if you're interested in PvE. Now that the Tactical has been removed, can this new SMG fill the void it's left?
Given how small today's Fortnite update is, we imagine version 5.1 will be full to the brim with bug fixes, features, limited-time modes and more. Epic has already announced that a new competitive Showdown mode is planned to debut July 27, so next week looks to be a busy one. Either way, we'll be back on Thursday with guides for your Road Trip Battle Pass tiers and other Weekly Challenges.
Fortnite is in early access across PS4, Xbox One, PC, Switch and iOS. The 5.0 Content Update is live on all platforms.
Is the new Submachine Gun a positive addition to Fortnite? Are you surprised to see the Tactical SMG has been vaulted? Tell us in the comments section!