'Fortnite' Update Nerfs Compact SMG, Drum Gun & Wood Walls
Fortnite is a game about building, and recent nerfs in an over-the-air update emphasize that meta even further. SMGs are weaker, and players will now be incentivized to build with other materials besides wood.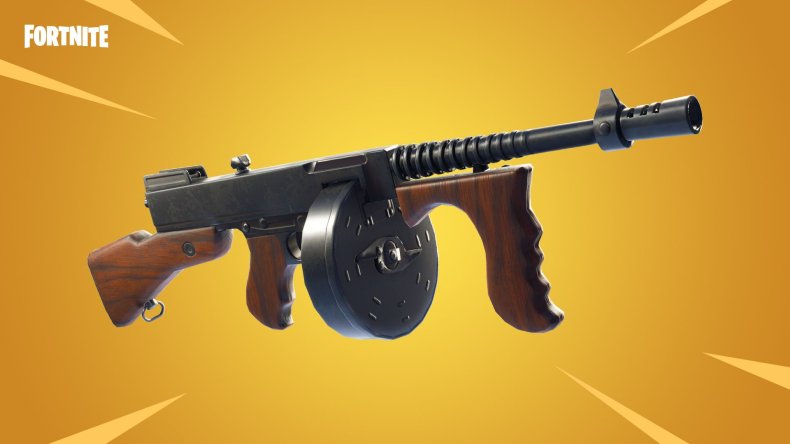 The changes were outlined in an official blog post Thursday morning.
Building
Changes made to encourage more intuitive decisions while building:
Wood wall initial HP increased from 80 to 90.
Stone wall initial HP increased from 80 to 100.
Metal wall initial HP increased from 80 to 110.
SMG Nerfs
SMGs should feel good against structures, but they shouldn't always be the best option available.
Compact SMG
Reduced damage from 22/21 to 21/20
Reduced clip size from 50 to 40
Drum Gun
Reduced falloff range damage from 80 percent to 70 percent at 3500 units.
Reduced falloff range damage from 65 percent to 55 percent at 5000+ units.
Added environmental damage fall off matching player damage fall off.
Decreased jumping accuracy by five percent.
Decreased targeting accuracy by 10 percent.
Reduced spawn rate from chests and floor loot by 40 percent.
While this particular update is a small one, it's designed to address two of the biggest complaints facing Fortnite right now. On the building side, it's become far too common for even the most skilled players to resort to building wood structures because the material is effective and very easy to farm. The tweaks listed above are technically a net buff for wood, but, now that there are significant base health advantages for brick and metal, combatants may be more likely to use those types of structures. In other words, Victory Royales may be best earned by crafting a smaller metal building instead of a massive wooden tower.
For SMGs, it's become obvious the Compact SMG and Drum Gun are way too powerful. Even after being nerfed at the end of July, there were still issues with the Compact that had to be addressed. There should never be an obvious weapon choice in a well-balanced shooter, and the lack of variety has been frustrating for fans of other guns. After today's nerfs, skirmishes should feel more competitive overall.
Fortnite is in early access across PS4, Xbox One, Switch, PC and iOS. If you haven't done so, check out our guides for the recently posted Week 5 Challenges.
Are you glad to hear the Compact SMG has been nerfed? Will Fortnite players start gravitating toward other materials? Tell us in the comments section!