'Fortnite' Vending Machine Locations - How to Find a Vending Machine
Fortnite 's latest Content Update just added Vending Machines, and we want to help you find one. Since they spawn randomly it will likely be a while before players find every possible location, but we'll offer some tips based on what we've deduced so far.
The map below shows every known Vending Machine location courtesy of Fortnite INTEL.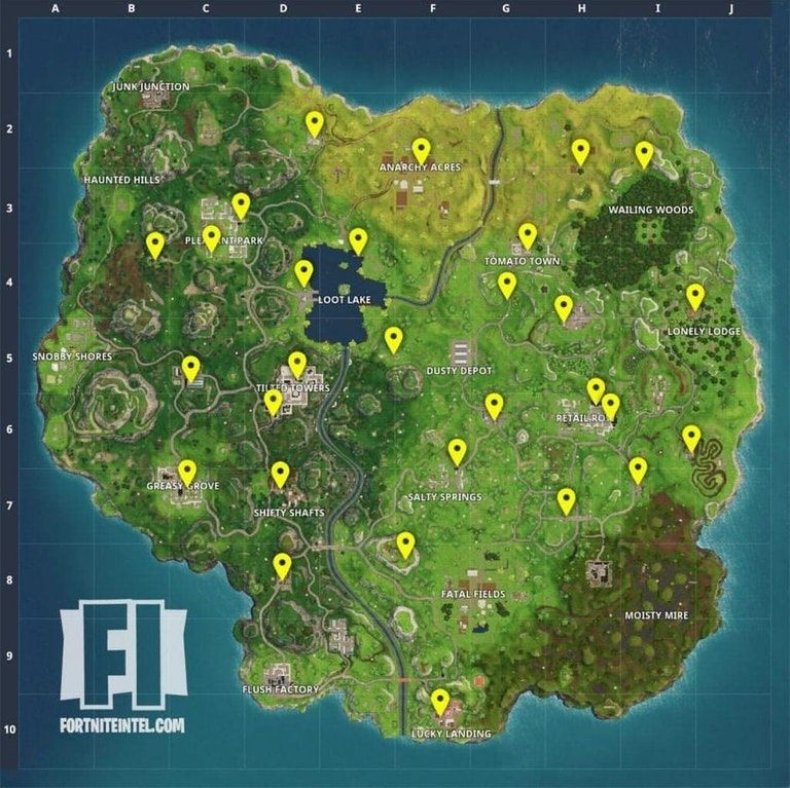 TIPS TO LOCATE A VENDING MACHINE IN 'FORTNITE' BATTLE ROYALE
1) Look Near Cities: Vending Machines in Fortnite tend to spawn around cities or places where lots of people gather. In other words, you probably won't find a Vending Machine in the middle of Fatal Fields with nothing around it. From what we're seeing right now, most people are locating Vending Machines in defined areas.
2) Use A Squad: If you want to find a Vending Machine quickly, it makes sense to take advantage of a Squad. When you jump from the Battle Bus, just send your group towards places like Tilted Towers or Pleasant Park. The larger and more skilled your Squad, the more success you'll have.
3) Don't Overthink It: You might be reading this guide before actually looking for a Vending Machine, but the reality is they aren't that hard to find. While the spawn locations and types of Vending Machines may vary, they aren't designed to be as rare as Llamas. Just play a match as normal, and you'll probably encounter a Vending Machine pretty quickly.
HOW DO VENDING MACHINES WORK IN 'FORTNITE?'
In Fortnite, Vending Machines spawn at random locations on the map and there are five levels of rarity. For example, Legendary Vending Machines only sell Legendary items, but you'll have to spend more of your collected resources to get the best stuff.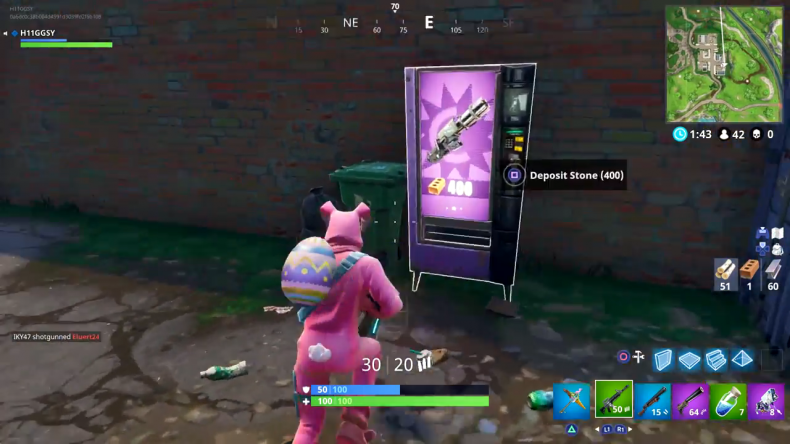 Here are the listed costs for each machine type:
Common (white): 100 Materials
Uncommon (green): 200 Materials
Rare (blue): 300 Materials
Epic (purple): 400 Materials
Legendary (gold): 500 Materials
Each machine contains three items, one tied to each type of resource (wood, stone or metal). The type of resource each item requires actively cycles over the course of a match, and the switch happens faster if you hit the Vending Machine with your trusty Pickaxe. There is no limit to the number of Vending Machine items that can be purchased in a given match.
That's all we know about Fortnite's Vending Machines so far, but we'll update this guide as more details emerge.
Fortnite is in early access across PS4, Xbox One, PC and IOS. Vending Machines should be live on all platforms.
Were you able to locate a Vending Machine in Fortnite Battle Royale? Where did you find it? Tell us in the comments section!