'Fortnite' Venom Cup Start Time and How to Get the Venom Skin Early
Fortnite's Marvel Knockout Super Series goes out with a bang, with the Venom Cup on November 18. Below, we outline the various regional start times for the tournament, as well as the rules you must follow to get the Venom skin early. Do you want this scary skin in your Locker? Then here's what you need to know.
What time is the Venom Cup in Fortnite?
Slightly different from the established formula of the Black Widow Cup from last week, the Venom cup runs in two sessions between 1 p.m. to 4 p.m., and 5 p.m. to 8 p.m. EST on November 18. Players can compete in both windows to have two chances to win. There are different start times depending on one's region, however, so extra coordination may be required to play with others over long distances.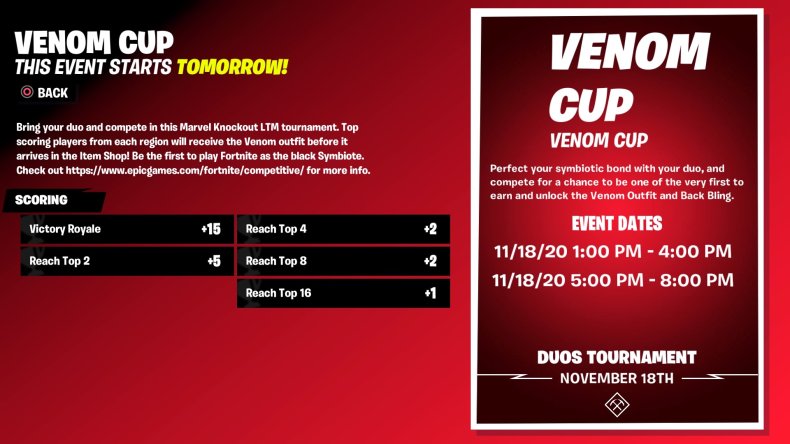 Below are the various Venom Cup start times, as converted into Eastern Standard Time. Note that each tournament period lasts three hours.
NA East: 1 p.m. to 4 p.m. / 5 p.m. to 8 p.m.
NA West: 4 p.m. to 7 p.m. / 8 p.m. to 11 p.m.
Europe: 7 a.m. to 10 a.m. / 11 a.m. to 2 p.m.
Oceania: November 17 9 p.m. to 12 a.m. / 1 a.m. to 4 a.m.
Brazil: 11 a.m. to 2 p.m. / 3 p.m. to 6 p.m.
Asia: November 17 11 p.m. to 2 a.m. / 3 a.m. to 6 a.m.
Middle East 4 a.m. to 7 a.m. / 8 a.m. to 11 a.m.
How does scoring work in the Venom Cup?
Just like all Marvel Knockout Super Series tournaments before this one, the Venom Cup has a couple basic requirements that all participants must adhere to to get the prize. You'll need to be at account level 30 and have two-factor authentication enabled. For more details on the latter, be sure to read our dedicated 2FA guide. Also, because matchmaking is disabled, you must have a friend available to join your duo as well.
For this tournament, players will focus on the Marvel Knockout LTM in Duos. Players in this mode spawn with a set of four random Superpowers that are mirrored between each opposing team. This means that while your abilities could be great or terrible, your enemies will be fighting on an equal plane. The goal of the mode is to accrue as many Eliminations as possible within the time limit over a series of rounds. The winner of each round advances in the in-match ladder. For this tournament, duos will be scored based on how they place in up to 10 match ladders.
First 25 points
Second: 10 Points
Third-fourth: five points
Fifth-eighth: three points
Ninth-16th: one point
How to get the Venom skin early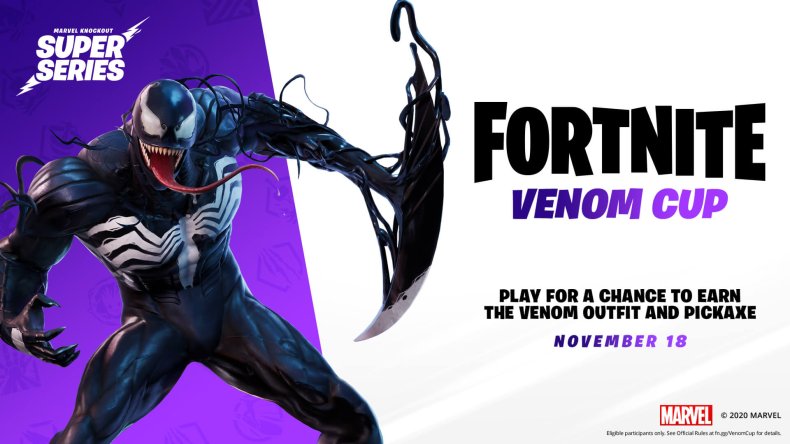 Using the scoring system listed above, the duos with the highest point totals across 10 matches within the three-hour tournament window will emerge as victors. You can see your spot on the leaderboard by going to the Venom Cup tournament page in-game. The number of winners varies by territory, so we've listed the individual win conditions below.
NA East: First-750th
NA West: First-300th
Europe: First-1200th
Oceania: First-150th
Brazil: First-300th
Asia: First-150th
Middle East: First-150th
As hard as it may be to add that free Venom bundle to your Locker, it presumably won't be long before those who weren't skilled enough to win can get their hands on the new skin. Based on previous Marvel Knockout Series tournaments, Venom could be public as soon as the Item Shop refreshes on November 20. For your participation, you may also unlock the Nexus War Glider, too. It's a Glider with the Season 4 key art on it. Nevertheless, that's all you need to know about the upcoming Venom Cup in Fortnite.
Fortnite is available now on PS5, PS4, Xbox Series X|S, Xbox One, Switch, PC and Android.
What are your thoughts on the Venom Cup based on these rules? Will you be able to get the skin early? Tell us in the comments section!