'Fortnite' Visit Houses in Slurpy Swamp Locations for Week 7 Challenges
Fortnite Week 7 Challenges are officially live, and, while the latest round of Epic Quests is mostly self-explanatory, there are a few that might be a little confusing. In this guide, we'll show you the easiest location you can use to visit houses in Slurpy Swamp in one match.
Fortnite Slurpy Swamp house locations
If you're looking to visit three houses in Slurpy Swamp, there's actually only one location you need to scour. Marked on the map below, it's on the western side of the named location. If you're having trouble pinpointing precisely where it is, just look for those maze-like winding rovers below Flush Factory.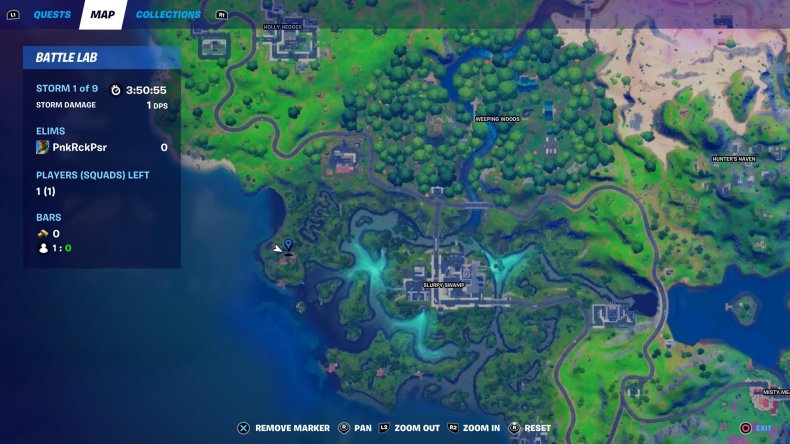 Once you get there, you'll find a little pond surrounded by three wooden houses on stilts. All you've got to do to complete this Week 7 Challenge is go inside each one of them in a single match.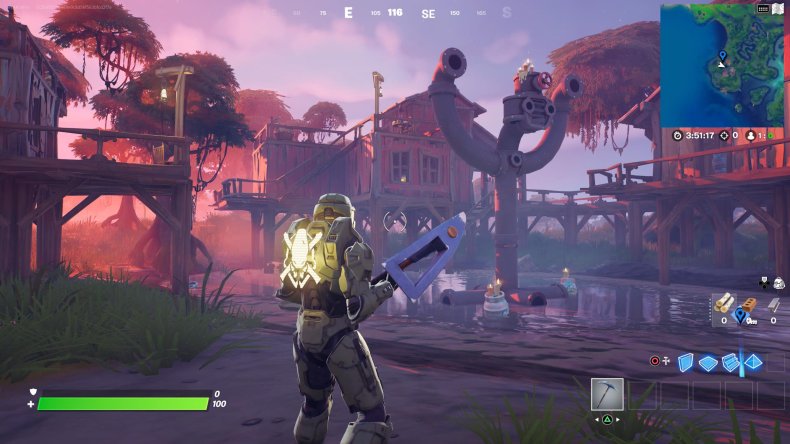 We'd also advise destroying any Slurp Barrels you may find on the decks outside the houses as well, as a subsequent Week 10 Challenge asks players to destroy 10 Slurp Barrels. You may not find all 10 at this location at the same time, but you can always come back here in another match, or use this as a jumping-off point to get started. By simply heading to this one location in Slurpy Swamp, you could be well on your way toward earning as much as 40,000 XP for your Season 5 Battle Pass.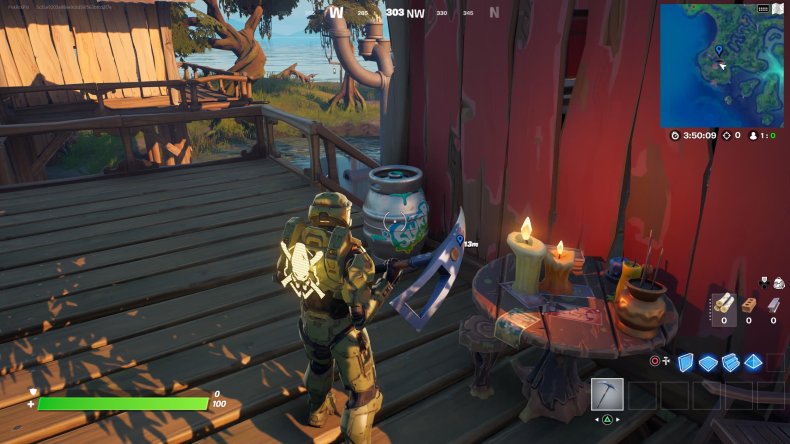 Fortnite Week 7 Challenges
Visiting houses in Slurpy Swamp accounts for just one of the seven Epic Quests going live in Fortnite on Thursday. Following the reveal of, and first challenge set for, the Predator earlier in the week, these tasks are mostly centered around Slurpy Swamp and maintaining or losing shields. Check out the full list of Week 7 Challenges below as it appears in the in-game quest log:
Visit houses in Slurpy Swamp in one match (three)
Collect Books from Holly Hedges and Sweaty Sands (five)
Consume Shield Potions (three)
Destroy Slurp Barrels (10)
Search Chests in Slurpy Swamp (seven)
Gain max shields in a single match
Eliminations with zero shield (one)
Damage opponents in vehicles (500) (1,000) (1,500) (2,000) (2,500) [Legendary Quest]
That's all you need to know about visiting houses in Slurpy Swamp in Fortnite.
Fortnite is available now on PS5, PS4, Xbox Series X/S, Xbox One, Switch, PC and Android.
Were you able to visit three houses in Slurpy Swamp? Which Week 7 Challenge is giving you the most trouble? Tell us in the comments section!