'Fortnite' Week 2 Challenges Leaked - Scarecrows, Hotrod & Cameras
Fortnite Season 4 continues with a leak of the Week 2 Challenges from Fortnite Tracker. Here are the juicy details you should know in advance of the next Weekly Reset.
'FORTNITE' SEASON 4 WEEK 2 CHALLENGES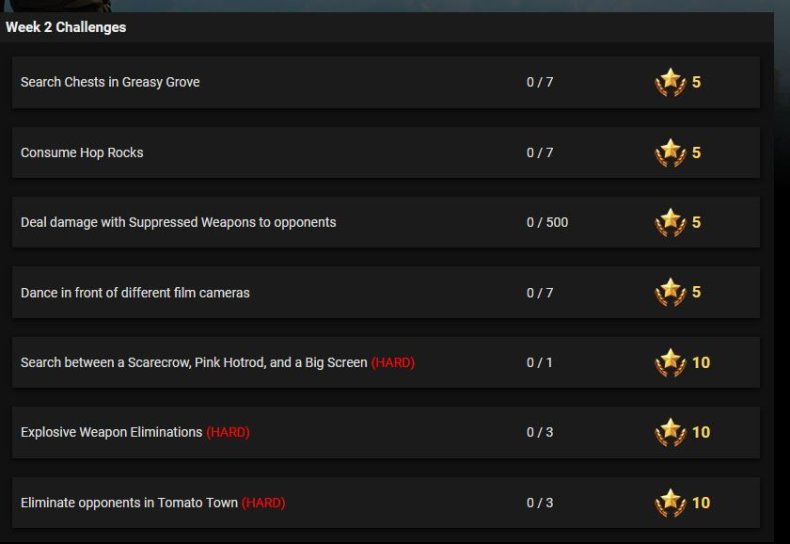 Search Chests in Greasy Grove (seven)
Consume Hop Rocks (seven)
Deal damage with suppressed weapons to opponents (500 damage)
Dance in front of different film cameras (seven)
Search between a Scarecrow, Pink Hotrod and a Big Screen [Hard]
Explosive weapon eliminations [Hard] (three)
Eliminate opponents in Tomato Town [Hard] (three)
What's still uncertain is the date these Week 2 Challenges are expected to go live. While Season 3 traditionally dropped updates on Tuesdays and Challenges on Thursdays, Season 4 kicked off by releasing both elements on Tuesday. That being said, it seems reasonable to think that may be the norm from here on out. We'll likely learn more via official social media posts in the coming days.
Also, while Fortnite Tracker has a near-perfect track record for getting these Challenge leaks right, it's possible there may be slight differences in the final list when it goes live. In the past, there have been instances where one listed challenge was removed from the current weekly roster and added to the next one. Caveats aside, we believe most or all of these details are accurate.
The two Challenges we're most likely to focus on for our upcoming guide are the search Challenge and Cameras Challenge. Both descriptions imply that players will be spending lots of time around Risky Reels in the future, so be aware of that on your next quest to accumulate Battle Stars.
We'll do our best to provide solutions for the toughest Challenges as soon as we feel we can offer the correct information.
Fortnite is in early access across PS4, Xbox One, PC and iOS. The Week 2 Challenges will be identical across all platforms.
What are your thoughts on this latest Fortnite leak? Which Weekly Challenges are you most excited about? Tell us in the comments section!