What it Takes to be a 'Fortnite' Pro: WSOE 3 Challenges Players to Adapt or Fail
In 2017 Epic Games created Fortnite, and it quickly become one of the most successful games of the past decade. Since the shooter with a building mechanic added a battle royale mode, the company has earned more than $3 billion in profit. Fortnite built its success on selling highly sought-after skins, weekly updates and overnight success stories that turned talented players into instant millionaires.
Over the New Year's Eve weekend, ESP gaming ran their third World Showdown of Esports event for Fortnite . Following up their Hearthstone and DOTA 2 events, WSOE 3 invited fifty of the top players in the world, ranging from small-time content creators to streaming gods like Team SoloMid Myth, to compete for a total prize pool of $100,000. This was the first major Fortnite LAN tournament that wasn't under Epic's direct control since the Skirmishes began in July of 2018.
Epic Games often uses these events to introduce massive game updates that contain super powerful items, items pro players have never used before. For example, the Stormwing airplane and the Infinity Blade, which give players increased mobility and damage, were added during the semifinals of the million-dollar Winter Skirmish. Competitive players don't have time to practice with these items, which rewards those who can adapt and punishes those that can't.
This dynamic played out across WSOE 3 with organizers and players adapting to new rules and new items.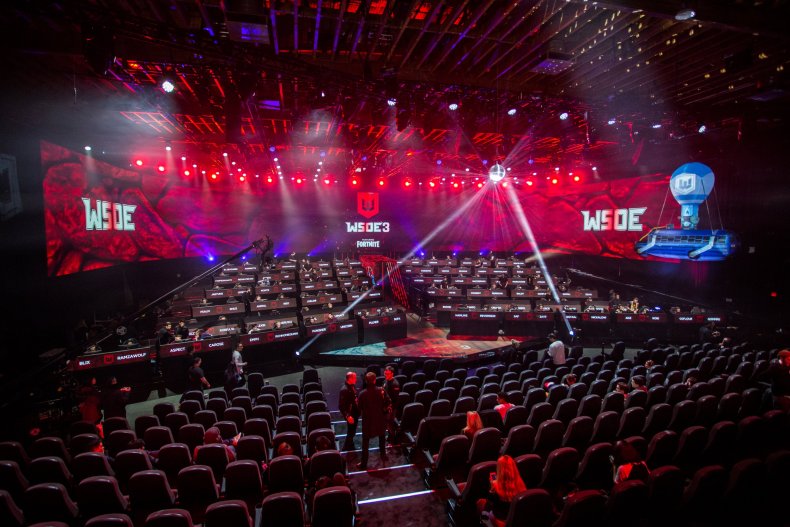 Qualifiers
Players from some of esports' most prolific organizations like FaZe Clan, Cloud9 and Team SoloMid had players in the WSOE 3 tournament. This was "Hansol" Kim's first LAN event, which has players physically competing at computers in front of a crowd.
Fortnite events seemingly pop up out of nowhere; often barely a weeks' notice is given to players. Not knowing when they'll play in a tournament next might be stressful, but Hansol considers himself an adrenaline junky and enjoys the rush of competition. "Fortnite has a really unique scene, it's such a big game so there's so much competition," Hansol told Newsweek. "You got the young kids and the older folks, it brings so many people together … It gives opportunities to some of the smaller players to take part and put their name out there."
The event was organized by ESP Gaming, the sister company of Poker Central created to break into the gaming events and product market. "It was important for us to give an opportunity to the masses to play with some of the best Fortnite influencers and players," WSOE Commissioner Christian Bishop said in the backroom of the OGN Studio where WSOE 3 was being held. In order for ESP Gaming to get approval from Epic Games (and access to a private server), their team had to adhere to strict guidelines. "Every part of the event was approved by Epic, like the literal event structure, prize allocation and open qualifier." WSOE 3 was also one of the few Fortnite events that allowed players to adjust the game's resolution to their liking and to bring their own peripherals.
The qualifier was originally not supposed to be part of WSOE 3, but Epic Games insisted that an open qualifier needed to be part of the event. Accomodations at the venue were made, tweets were published and emails were sent to players who wanted to compete. The original site mentioned that the qualifiers would be single-elimination, but a later email sent out said that there would be "six rounds" of play, confusing some players.
Bishop apologizes to those feeling bamboozled, calling the mistake an "oversight." He said players were informed about the single-elim format "before they booked events or signed up."
The qualifiers wouldn't be the only surprise Epic Games had in store for WSOE 3 organizers.
The Boombox
On the day of the event, and for the first time in Fortnite's history, a patch was released on a Sunday rather than on a weekday. Organizers were caught off guard; Epic Games had patched their private servers overnight without much notice. Epic Games also warned that the new item added, the Boombox, could potentially crash the server if to many were activated at the same time.
It didn't help that the the Boombox was also a ridiculously powerful weapon. Throwing the beat machine at any structure would cause it to crumble, countering veteran players' elaborate builds. One of Fortnite's core mechanics, especially at the pro level, is creating structures in an attempt to out maneuver your opponents.
"I think Epic is prioritizing the entertainment value," said competitor Harrison "Psalm" Chang. Psalm is best known for being a former Heroes of the Storm pro and for being one of the few players to wield the Infinity Blade at the Winter Royale, earning himself a spot in the finals of the tournament.
"As much as some people hated the sword, I got a lot of people telling me that the sword clip was one of the best they've ever seen," Psalm told Newsweek. "It is entertaining, but there has to be some sort of balance between. You got to care about the players and the scene a little bit, it is not fun for the players."
WSOE 3 was played out in six games, with players getting points for kills and victory royales. Players TSM Cowboy and his partner Herrions learned that the new weapon, combined with Fortnite's dynamite, could easily clear out an enemy stronghold and deal massive damage. The pair managed to get a Victory Royale in two out of six of the games, but couldn't break the top 10.
After grueling combat (and thankfully no crashes), Davis "Ceice" McClellan and his partner Hayden "Elevate" Krueger won the $40,000 first place prize. Between the pair, they've won more than $100,000 in Fortnite cash prizes, and still Elevate explains that "we aren't even the top guys."
Elevate and Ceice managed to wrack up dozens of kills, but never had to throw the Boombox themselves. During one late game teamfight, when players are trying to build up to gain the high ground, a jam machine caused massive mayhem. Ceice managed to pick up a few kills in that fight, which helped them secure enough points for first place.
Ceice believes that new item additions are going to continue to affect pro play and it's something everyone should get used to. "You just have to adapt in the moment, everyone is adapting at the same time so you just have to go through with it," Ceice said. In order to improve play, "you just have to play with the item."
As 2019 rolls out, there will be more third-party Fortnite tournaments. Battle royales like H1Z1 and PlayerUnknown's Battlegrounds don't pull in the same viewership that they used to, forcing pro gamers to go elsewhere. Every player we interviewed wants to compete more this year; schedules and personal lives be damned.
With a massive gold chain granted by ESP Gaming around their necks, the winning pair epitomize the ego, struggle and payoff that Epic Games wants players to associate with Fortnite . "I've always wanted to be a legend, not just a one-hit wonder," Elevate said. "I always want to be one of the best, I want to be known as one of the best players."
To get there, Elevate plans to "show up to every tournament with my boy Ceice." Gold chain optional.