'Fortnite' x 'Avengers' Beta Reward Revealed: How to Get Hulk Smash Pickaxe
Fortnite is teaming up with the Avengers once more, this time to offer up a cool reward for those who participate in the upcoming Marvel's Avengers beta on PS4 and Xbox One. Just link your accounts and join the fight in early August to get your hands on the Hulk Smash Pickaxe. Below, we detail all you need to know about the special cosmetic.
When can I get the Hulk Smash Pickaxe?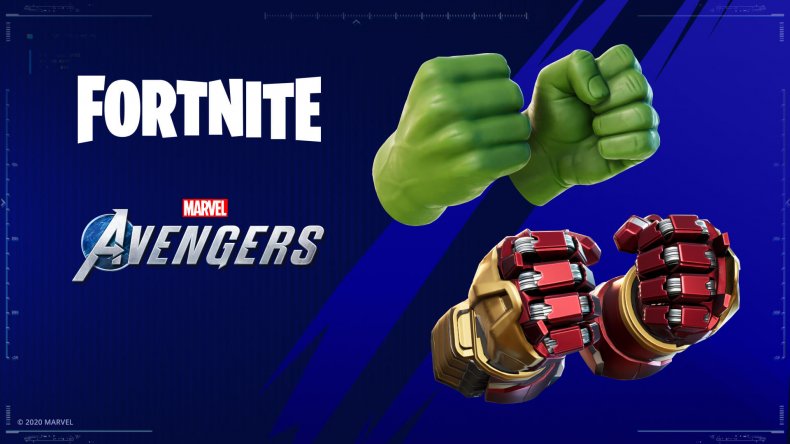 The Hulk Smash Pickaxe will be available to those who play the Marvel's Avengers beta, which runs from August 7 through August 23 on select dates. See the full schedule of play windows below:
August 7-9: Only those who pre-order Marvel's Avengers on PS4 can play.
August 14-16: PS4 open beta
August 21-23: PS4 and Xbox One open beta
How to get the Hulk Smash Pickaxe
In order to get your free reward, the first thing you must do is link your Epic and Square Enix accounts. To do that, ensure that your Epic account is linked to a PlayStation Network or Xbox Live account by playing Fortnite on that platform. Then follow these simple steps:
Go to the special Square Enix Avengers website.
Create a Square Enix account if you don't have one already.
Press the button to "link your account"
Log in with the PlayStation Network or Xbox Live credentials of the account you use to play Fortnite on that console.
Click the button to "allow" Epic Games access.
After that, you'll be brought to a screen that says your accounts have successfully linked.
With your accounts linked, all you've got to do is complete three HARM challengers within the Avengers beta to get the Pickaxe. It's not yet known precisely what those challenges entail. It's also worth noting that, for those who can't play the beta or have a hard time completing those HARM Challenges, the Hulk Smash Pickaxe will be sold in the Item Shop at a later date.
Fortnite has a long history of Marvel collaborations featuring a number of characters, like Black Widow, Deadpool and Captain America. This latest partnership, though, is the first use of the Incredible Hulk that we've seen in Epic's popular Battle Royale. There's no word yet as to whether this Pickaxe might tease the debut of a full Hulk character skin, but we're big fans of the idea nonetheless.
Fortnite is available now on PS4, Xbox One, Switch, PC and mobile. The Hulk Smash Pickaxe is only available for free to those who play the Marvel's Avengers beta on PS4 or Xbox One.
What do you think of the Hulk Smash Pickaxe? Does the free reward make you want to play the Avengers beta? Tell us in the comments section!