'Fortnite' Xbox Exclusive Skin in Eon V-Buck Bundle Possibly Leaked
Fortnite has plenty of Starter Packs and skin bundles across various platforms, and it looks like players on Xbox One will benefit from the next major release. Sources at Xbox fan site TrueAchievements have uncovered evidence of an Eon Bundle that appears to be tied to Microsoft's platform.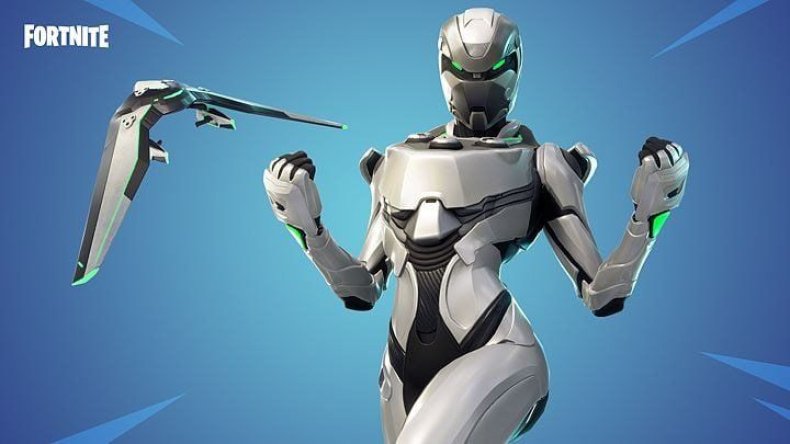 The alleged package includes the following perks:
Access to Fortnite Battle Royale
2,000 V-Bucks
Eon Outfit for Battle Royale
Resonator Pickaxe for Battle Royale
Aurora Glider for Battle Royale
While we don't yet have video footage of the new cosmetics in action, you can see them in the leaked image above. Clearly, its design has futuristic and mech-inspired visuals. It's a pretty neat look considering how deep into the whimsical side of things most other Battle Royale skins tend to stray. Those who take advantage of Eon will definitely stick out on the battlefield, which has both good and bad implications.
At this point it's unclear how much the Eon Bundle will cost, or when it will release, but it's worth noting the contents listed above are significantly better than most of the other $4.99 starter packs on other platforms. It offers more than double the standard allotment of 600 V-Bucks, so we imagine the price for the Eon Bundle could go as high as $9.99 if the above listing is accurate. Because this is a leak, however, all details are subject to change.
Given Fortnite's recent platform-centric promotions, it's no surprise that Xbox may get its own product to celebrate Epic's smash-hit Battle Royale success story. The developers recently partnered with Samsung to bring the Galaxy skin to Android devices, and we're seeing a similar tactic being employed here. Especially for those frustrated by the regular influx of PlayStation Plus bundles, the Eon offering stands to be a real winner.
We'll provide more information on Fortnite's Eon Bundle if and when it becomes available.
Fortnite is in early access across PS4, Xbox One, Switch, PC and mobile. It's believed the Eon Bundle will be exclusive to Xbox One.
Would you be interested in purchasing Fortnite's Eon Bundle for Xbox One? How much do you think it will cost? Tell us in the comments section!