'Fortnite' Xbox One S Eon Skin V-Buck Bundle Confirmed & Releasing Soon
Fortnite will be featured in a new Xbox One S bundle that includes 2,000 V-Bucks and an exclusive Eon skin. The news was revealed during the latest Inside Xbox stream on Tuesday.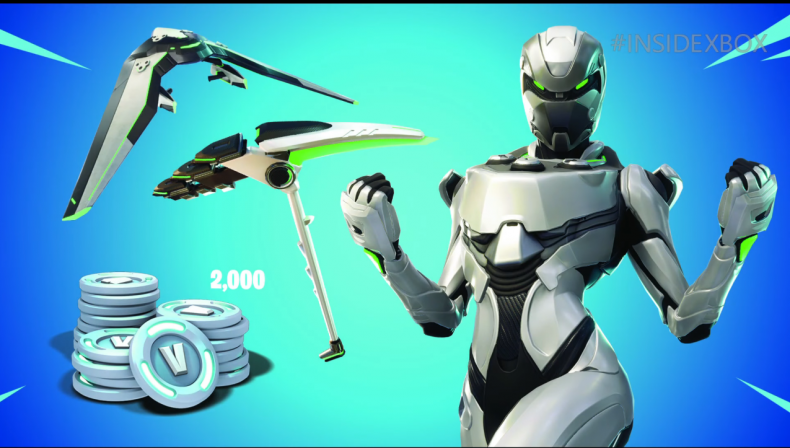 Here's a quick recap of everything included in the bundle:
Xbox One S Console
Eon Outfit
Resonator Pickaxe
Aurora Glider
2,000 V-Bucks
An exact release date and pricing information were not revealed during the stream, but given that the Season 6 Battle Pass was part of the discussion, it's likely the new system SKU will be on store shelves soon. If it continues the tradition of Fortnite bundle prices for PS4 and Nintendo Switch, the set will cost no more than the standard Xbox One S price of $299.
The Fortnite Xbox Eon bundle leaked earlier this month via Xbox fan sites, and its contents are exactly as predicted. Curiously, the purse of 2,000 V-Bucks on Xbox is slightly higher than similar packages on PS4 and Nintendo Switch. The offering should be enough to purchase a Season 6 Battle Pass and a few additional skins beyond the included Eon cosmetics.
The reveal of Xbox One's Fortnite bundle comes just a handful of days after the Double Helix package for Nintendo Switch. Sticking to its platform-agnostic policy, the title's developers at Epic Games seem to be striking the right deals for everyone to have a Fortnite bundle that suits their favorite machine. Especially as we inch closer to the holiday season, all Fortnite-related products are bound to be hot-ticket items. This Xbox One S Eon bundle is no exception.
Fortnite is available on PS4, Xbox One, Switch, PC and mobile. The Eon bundle and skin are exclusive to the Xbox One S.
What's your take on this new Fortnite bundle? Will you be buying a new console to get the Eon skin and a few V-Bucks? Tell us in the comments section!