How To Fast Travel Around the Map for Free in 'Forza Horizon 5'
Driving from A to B is one of the greatest pleasures there is in Forza Horizon 5, as you get to take in the lush visuals and discover real-life places of interest on your road trips.
However, you will eventually get to the point where you have already seen most of the world and find yourself backtracking down the same dirt track for what feels like the hundredth time. When you reach that stage, and the appeal of taking detours to uncover new landmarks has lost its sheen, then you might be ready to start fast travelling instead.
While Forza Horizon 5 does have a system for instantaneously teleporting around the map, there is a catch. Unlike in other open-world games (like Skyrim, Cyberpunk 2077, or The Legend of Zelda: Breath of the Wild), fast travel is not free of charge here. Rather it will cost you a fixed amount of credits (CR), which could be better spent on unlocking new cars, pieces of clothing or even homes.
No matter where you are fast travelling to or how much distance you are covering, the starting cost will be a hefty 10,000 CR. There is a way to incrementally reduce this fee (eventually to 0) but, at the beginning of the game, this is how much you will be paying each time.
How To Fast Travel Anywhere in 'Forza Horizon 5'
At first, you can only fast travel to owned properties and Horizon Festival outposts. To unlock the former, you need to head over to the purple house icons on the map and then press X to interact with them. Some of these can be redeemed for free, while others are priced rather steeply.
As for the Horizon Festival outposts, these are unlocked by progressing through the story campaign. After you hit certain milestones in terms of accolade points, you will be invited to establish an outpost of your choosing in the "Adventure" menu.
There are 6 of these in total, those being the "Apex" road racing outpost, the "Wilds" dirt racing outpost, the "Baja" cross country outpost, the "Street Scene" outpost, the "Rush" PR stunts outpost and the introductory mainstage.
To fast travel to any property or outpost that has been unlocked, open the map, hover the cursor over the relevant icon and press the "X" button. You will then be told how much this will cost and will need to confirm your decision.
You can later acquire the ability to fast travel to any road in Forza Horizon 5's version of Mexico, but this will require you to own the Buenas Vistas property in the Baja region. For reference, that costs a whopping 2 million CR, so you will need to get saving.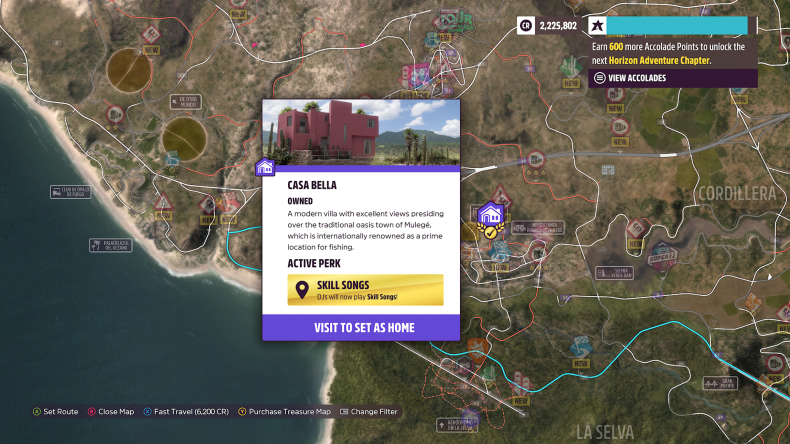 How To Unlock Free Fast Travel in 'Forza Horizon 5'
Speaking of expenditure, there is a way to reduce the cost of fast travelling around the Forza Horizon 5 map.
There are 250 purple boards dotted throughout Mexico for you to smash, 200 of which are "XP boards" and just help you to level up faster.
The other 50 are "fast travel boards" (distinguished by the lightening bolt icon on the map) and with each one that you destroy you will reduce the free of teleporting around the map by 200 CR.
As aforementioned, the starting cost for fast travel is 10,000 credits, so if you manage to get all 50 boards then you will get to the point where it is completely free. Of course, this is easier said than done, given that some of these collectables are quite difficult to reach and necessitate that you nail very precise jumps.
For more help with Forza Horizon 5 check out our guides on how to find the Jade Statue and the 1968 Ford Mustang GT. We also have a full breakdown of every achievement in the game here.
Forza Horizon 5 is available on Xbox One, Xbox Series S, Xbox Series X and PC. It is also featured as part of the Xbox Game Pass service.