Fossil Fueled-Crackdowns Are Part of the Assault on Democracy | Opinion
In early June, over 2,000 Indigenous-led demonstrators converged in northern Minnesota to protest the construction of a polluting oil pipeline on Indigenous land. They were met by an extremely aggressive law enforcement response. Over 200 were arrested, including a journalist with visible press credentials who was covering the protests.
Police used a long range acoustic device (LRAD), an extremely dangerous weapon that should never be used against civilians, to disperse protesters. Federal Customs and Border Protection (CBP) officers—nominally in charge of border control—also attacked demonstrators, using a low-flying helicopter to stir up dust and debris.
To understand what happened in Minnesota, it's important to grasp two things.
First, people are protesting the proposed pipeline because it's an environmental justice nightmare. Second, fossil fuel companies have increasingly linked arms with legislatures and law enforcement to crack down on dissent against projects like these.
The Line 3 pipeline is being built by Enbridge, a Canadian company, to transport tar sands oil, one of the dirtiest fuels in existence. The emissions from oil carried by Line 3 alone are equivalent to 50 coal-fired power plants, greater than Minnesota's total emissions in 2016.
Winding its way from Alberta, Canada to Superior, Wisconsin, the pipeline cuts through traditional lands in northern Minnesota that the Anishinaabeg peoples use to harvest wild rice, an important food source with deep cultural and spiritual significance. Wild rice is harvested in water, from which tar sands oil is notoriously difficult to clean up. It doesn't inspire confidence to know that Line 3 is the replacement for a pipeline that had ruptured in 1991, causing the largest inland oil spill in U.S. history.
Oil companies often deliberately target areas like these for pipeline projects, assuming that poorer communities will be less able to resist them. My colleague Gabrielle Colchete and I found in a 2020 report that Indigenous communities affected by the Minnesota pipeline have a poverty rate that's three times the nationwide average.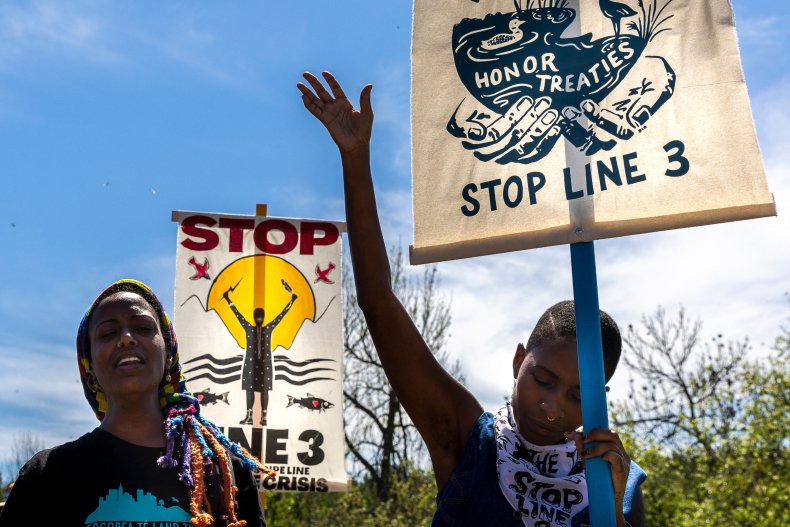 But Enbridge was wrong—the locals did resist. Groups like Honor the Earth, Giniw Collective and other Indigenous-led organizations have been fighting the Line 3 project for years. Enbridge is relying on a less subtle strategy: crackdown.
In many states, including Minnesota, companies like Enbridge have pushed hard for "critical infrastructure" laws, which criminalize peaceful civil disobedience against their infrastructure projects. These laws turn many routine nonviolent protest tactics into felonies.
When we wrote the report last year, "critical infrastructure" laws were on the books in 13 states. That's now up to 17, with the passage of bills in Ohio, Arkansas, Kansas and Montana. Our 2020 report showed that the industry effectively bribed politicians to advance these laws in several states, including Minnesota. The law passed the state legislature in 2018, only being stopped by Governor Mark Dayton's veto.
Still, even without the law, the industry has managed to engage both federal and local law enforcement in Minnesota to police the protests. Enbridge has been paying Minnesota law enforcement agencies for the costs of policing the protests, dangerously blurring the line between public law enforcement and private security.
The involvement of agencies like CBP is deeply concerning as well, given the department's horrifying record of human rights violations against migrants and involvement in cracking down on other nonviolent protests, including Black Lives Matter protests in the summer of 2020.
The last year has seen a dramatic escalation in assaults against our democracy—from the violent January 6 coup attempt to the wave of voter suppression laws targeting Black, brown and poor voters in states across the country. We should view these fossil fuel-backed attacks on peaceful protests as part of this ongoing assault.
As more communities rise up to resist the now well-known danger of fossil fuel extraction, the industry has been radicalizing against democracy. Oil and gas companies gave over $9 million to Republican lawmakers who refused to certify the 2020 election results. And DonorsTrust, a Koch-backed fund, has given millions not just to climate denial organizations, but also to racist hate groups.
Our democracy, flawed though it may be, is under severe threat. Money in politics, voter suppression, the erosion of the right to protest and the militarization of law enforcement are part of the same story. It's clearer than ever that defending the climate and protecting our democracy are now two parts of the same struggle.
Basav Sen directs the Climate Policy Program at the Institute for Policy Studies.
The views expressed in this article are the writer's own.