Foster Kitten With Stuffed Toy Best Friend Melts Hearts Online
A foster kitten has melted hearts online after receiving a stuffed toy as a companion in a viral video.
Shared on Monday on the popular Reddit forum r/cats by Julia from Los Angeles—who uses the handle amjm907—the adorable video has received more than 35,000 upvotes.
Looking after the kitten until he goes to his forever home, Julia told Newsweek: "This is actually my first foster! I work with animals professionally and have volunteered at rescues and shelters my whole life, but never had the time it takes to foster until recently.
"It's really funny actually, I had asked my boyfriend a couple of weeks ago how he'd feel about fostering kittens later this summer—he agreed and then 24 hours later a friend messaged me saying she knew someone that found a kitten with no mama or litter close by on the street, and she wanted to adopt him but couldn't give him the attention he needed since he was so little. I took it as a sign and agreed to foster with my boyfriend's blessing until he's big enough, fixed, and vaccinated to go to their home with their other cat."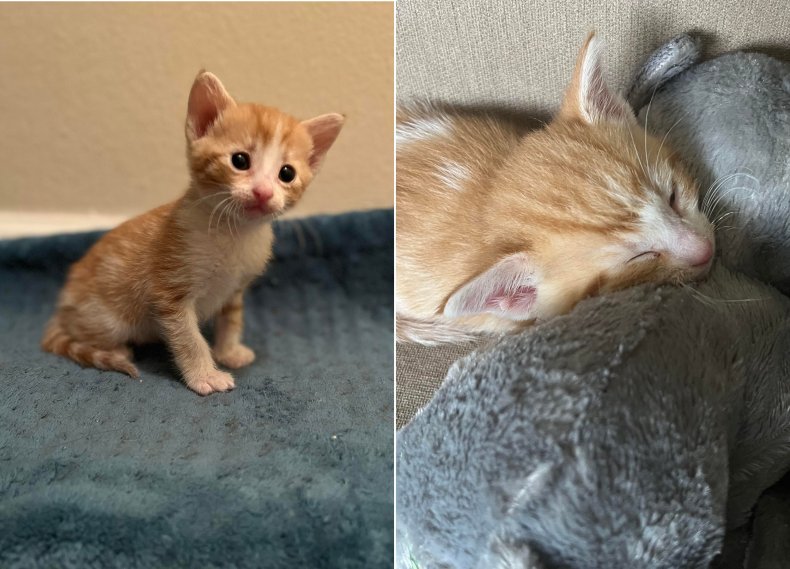 The adorable ginger kitty doesn't currently have a name, although is being called Nugget until his new owners settle on one.
"He's reached the stage where he's getting super-playful now," explained Julia: "[He] always tries to wrestle our hands so we wanted to give him a toy he could wrestle with. I also know young kittens do best with other kittens and should be adopted in pairs, or to a home with another cat because socialization is super-important when they're young. Super-excited for him that he's going to have a real-life friend soon!"
The Anti-Cruelty Society says that like babies, kittens are not born understanding the world and how to behave. As a result, well-socialized kittens are more likely to grow into friendly and sociable adult cats. The society suggests that the best time to socialize a new kitten is between two and seven weeks of age, as this is when they are most open to new experiences and ready to learn.
To quell any fears of loneliness for the small cat, Julia gave him one of her stuffed cat toys which has melted hearts online.
"I have never seen anything as sweet as that," wrote one commenter on the Reddit post. Another user said: "Guys how do you change your heart back to solid? 'Cause mine just melted."
Julia says that the kitten has really bonded with his new stuffed animal friend. "At first, I didn't think he actually thought it was another cat, but now I'm not too sure," she said. "I've already told his new adopters that they have to take the stuffed cat too."
"A kittys best friend," said one comment: "Never get rid of that stuffy."
Other commenters shared stories of their pets' inanimate friends. One Redditor wrote: "Gave my cat an elephant when we brought him home at 7 weeks. 12 years later he still carries it all over the house."
"Reminds me of a little teddy bear puppet that I used to have, my golden retriever loved it and thought it was a real living creature," wrote another.
Julia is pleased that the internet-famous kitten has bought so much joy already.
"It makes me happy that people love the little guy as much as his adopters and I do! He brightens my day every day, so happy I could spread that joy a little."