Here's Why Jodie Foster Thanked Aaron Rodgers at the Golden Globes
Jodie Foster thanked a few people during her acceptance speech at Sunday night's Golden Globes, following her win for Best Supporting Actress in a Motion Picture. The esteemed actress, who was rewarded for her role in The Mauritanian, thanked her wife Alexandra Hedison, their dog Ziggy and... Aaron Rodgers.
Yes, that Aaron Rodgers, as in the star quarterback of the Green Bay Packers.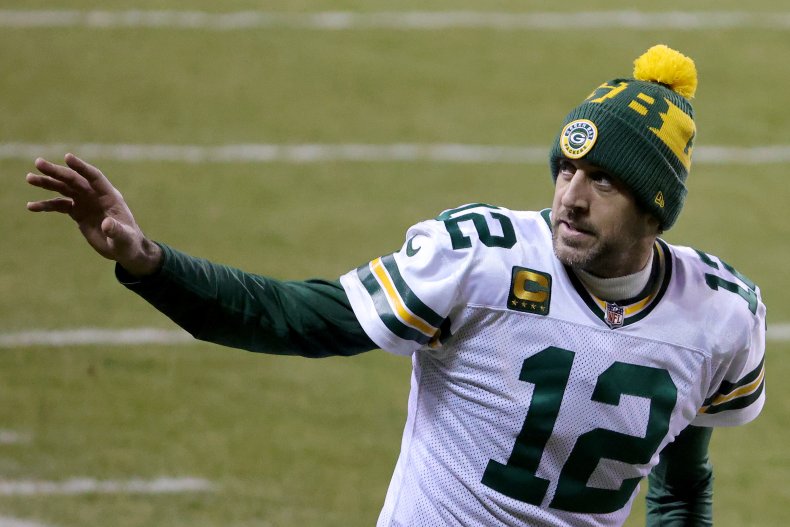 Some viewers may have been left scratching their heads at the Rodgers mention, but for anyone who's been closely following the football star as of late, it shouldn't have come as a surprise. The Rodgers and Foster connection goes back to at least his NFL MVP speech on February 6.
While speaking that night, Rodgers surprised many when he thanked his fiancé, but didn't reveal her identity. (Of course, it turned out to be actress Shailene Woodley, whom he was rumored to be dating for months.) Now, with all the attention on that fiancé tease, one could be forgiven for missing Rodgers' mention of Foster in that very same MVP acceptance speech. But he did briefly shout her out while listing the names of people he wanted to thank. Many people quickly made the connection that Woodley co-stars in The Mauritanian with Foster, and noted that this must explain Rodgers' mention of Foster.
One person who wanted some answers was Jimmy Kimmel, who asked Foster about Rodgers' speech when she recently appeared on his talk show to promote The Mauritanian. Kimmel asked her about the thank you from Rodgers during the interview, but she played it cool. "I'm a big Packers fan," Foster said. "You see, he said 'my team,' even though he said 'off the field.' That makes me a Green Bay Packer. People keep saying to me, 'No, Jodie, that does not mean you're part of the team.' But it does mean I'm part of the team."
Kimmel pressed on, asking, "Do you know Aaron Rodgers?" She denied that she did, but the talk show host persisted until she remarked, "He just knows I'm his biggest fan." Foster eventually revealed that she spent a lot of time getting close with Woodley while making The Mauritanian and that the two spent a lot of time discussing their lives and... the Green Bay Packers, apparently. (And, for his part, Kimmel did ask Foster if she would thank Rodgers at the Golden Globes if she were to win in her category, to which she replied, "Absolutely.")
Woodley herself recently confirmed her engagement to Rodgers during an appearance on The Tonight Show, in which she also showed her off her ring. She told host Jimmy Fallon, "Like, I never thought as a little girl I'd be like, 'Yeah, when I grow up I'm going to marry someone who throws balls,' but he's really just so good at it."
Expect to keep seeing Rodgers' name in the news. Beginning on April 5, the pro athlete will show off his brainy side by guest hosting Jeopardy! for a 10-show stint.