Foul play is suspected in two deaths discovered on Wednesday at Fort Bragg, North Carolina, one of the largest military installations in the world where Army servicemembers train and deploy. Their deaths are the fifth and sixth to have occurred in connection with the base this year.
The two people discovered on Wednesday are 44-year-old Master Sergeant William J. Lavigne II, who was assigned to Headquarters and Headquarters Company and U.S. Army Special Operations Command, and 37-year-old Army veteran Timothy Dumas. Their bodies were found Wednesday afternoon in a training area with no weapon found at the scene, according to ABC 11 WTVD reporter Akilah Davis.
The two were reportedly not killed during a military training exercise, USA Today reports. The U.S. Army Criminal Investigation Command has said its investigation is ongoing.
Defense officials have not yet released any more information.
The roughly 172,000 acres base near Fayetteville, North Carolina contains approximately 57,000 military personnel, 11,000 civilian employees and 23,000 family members, according to the Associated Press.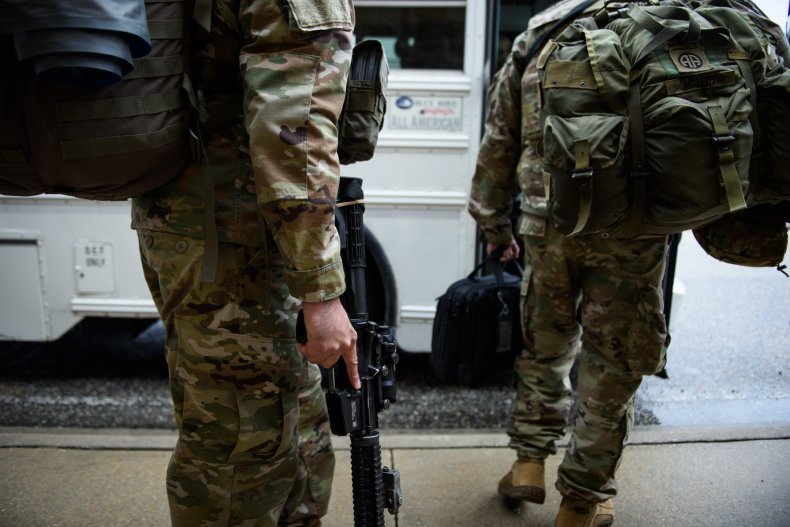 In April, the body of 18-year-old Tayvon McMillan was found on the side of a road by the military installation. He had been kidnapped, beaten, bound with tape and put in the trunk of his own car before being shot in the head and left on the roadside. Four people were charged in his abduction and assault, according to The Fayetteville Observer.
In May, 21-year-old paratrooper Enrique Roman-Martinez went missing from the base and his washed up remains were later found decapitated at a campsite near Mile Marker 46 on South Core Banks, one of the islands that make up Cape Lookout National Seashore, according to Army Times. The Army's Criminal Investigation Division has offered a $25,000 reward for any information leading to a murder suspect's arrest.
In October, 60-year-old Jimmie Mathias Mooneyham was found murdered in his home in the Fort Bragg area. The murderer used a bladed instrument. A 33-year-old suspect named Robert Henry Brockway, who had frequented the deceased man's home, was arrested soon after Mooneyham's body was discovered, according to Fort Bragg Advocate-News.
In November, 24-year-old paratrooper Terrance Salazar died in his barracks room at the fort. He had arrived at the fort in October 2018. Foul play wasn't suspected nor was his death believed to be linked to COVID-19, according to Army Times.
Fort Bragg in is named for Confederate General Braxton Bragg, a slaveowner born in the state whose plantation later became a shelter for freedmen after the Civil War. In his 1989 book No Better Place to Die, Historian Peter Cozzens noted Bragg's "unimaginative tactics... sour disposition, penchant to blame others for defeat and poor interpersonal skills."
Newsweek contacted Fort Bragg for comment.