From a young age, I loved watching shows about guys who went and looked for gems in places like Iceland. And, I've always been a big rockhound—someone interested in rocks and stones—and gone out looking for fossils.
Even though I didn't really date at all through middle school and high school, I knew someday I wanted to be married, and that I wanted to be different. I remember thinking: Why do I have to be like everyone else and buy an engagement ring? Why can't I go and find this stuff myself? I just wanted to be a little different.
In 2016, I was 21 and going hiking a lot in the mountains at Twanoh State Park in Washington. Afterwards, I'd get dinner at one particular restaurant. I had seen Desirae there as she worked as a waitress, but we hadn't spoken. One day I brought my buddy along and I told him that Desirae had been working there for a year but I hadn't yet spoken to her. He pretty much said that if I didn't leave my number for her that day, then I was a big wuss.
So, we talked to her that night and I left my number, but I didn't hear from her. I waited about a month and then I just figured she probably had a boyfriend. A good six months later, in January 2017, I went back to the restaurant and Desirae recognized me. She then explained she had lost the receipt with my number on and asked for it again. I gave it to her, and from that point on we've been together.
About three years ago, I decided that I was ready to move forward with the relationship. I wanted it to be a secret, but my intent was to go and find gemstones, have an engagement ring made and then propose to Desirae with that ring. My dad actually started a dirt work business 14 years ago and I've been working for him for about 12 years now, so I have some experience digging around in the dirt!
But after reading up on diamonds, I realized I wouldn't easily be able to bring a raw diamond back to the U.S. and the idea of building a ring got put on the back burner. Then, a co-worker told me about the Crater Of Diamonds State Park in Arkansas; the only diamond field in the world that's accessible to the public. I began researching what tools to use and what to look for. I built my own classifying screens at home while Desirae was at work so she didn't know what I was doing. Then, I had to save up the money to go and book the time off work. So it did take a lot longer than I had anticipated.
I ended up telling Desirae that a friend and I were going to take a guy's road trip to some national parks in the Western parts of the U.S. We left May 1 from Washington and went down to Yellowstone National Park to spend the day there. I took enough pictures there to stretch over the time we would be in Arkansas in case Desirae got curious!
After stopping in Montana to mine for sapphires, we got to Arkansas on the evening of May 7 and set up camp at the Crater of Diamonds State Park. On May 8, we picked up surface gravel, washed it and classified it, but we didn't find anything, so by the second day, I decided we would dig a hole. The field is ploughed a couple of times a year but that only moves the top few feet of material. I was hoping to dig down and find some diamonds. Unfortunately we weren't able to get through a lot of material that way, so on the third day we went back to collecting and sorting through surface gravel.
To be looking through gravel all day long, trying to catch the smallest bit of shine, and then to flip the screen over and see a big stone shining like no tomorrow was amazing. I knew instantly that I was looking at a diamond and I started shaking. After covering the diamond up with my hand-because there were a lot of people around—I waved my buddy over and showed him. I was almost in shock.
Once you find something that you believe to be a diamond, you can take it to experts within the park who will look at your stones and tell you what they are. If it is a diamond they will certify it for you. The park experts had my diamond for about fifteen minutes before they called us into a back room to look at it under the microscope with them and told us I had found a 2.2 carat light yellow diamond. The park charges $10 per person for entry between 8am and 4pm, but whatever you find, you get to keep.
The diamond belongs to me. It was an agreement between my friend and I that the first diamond we found I would get, because the whole trip was my idea. But we stayed one more full day and did find two more smaller diamonds that he kept. They're both certified, too.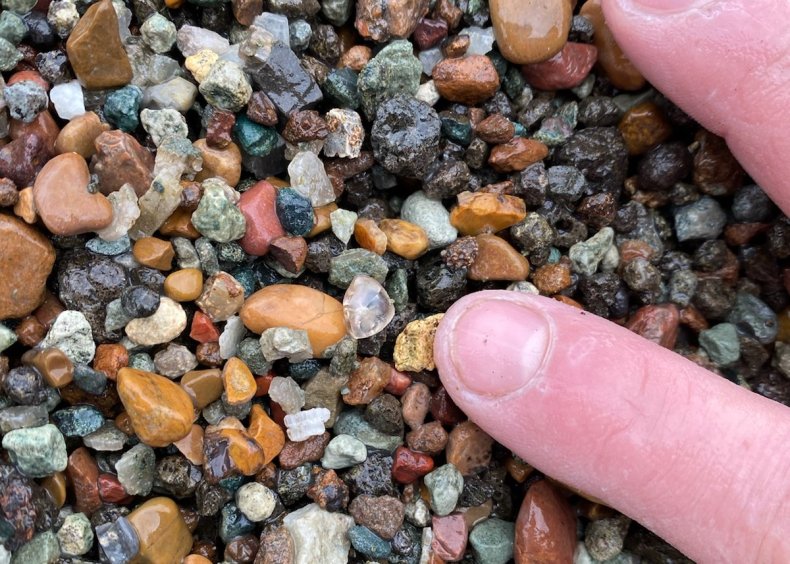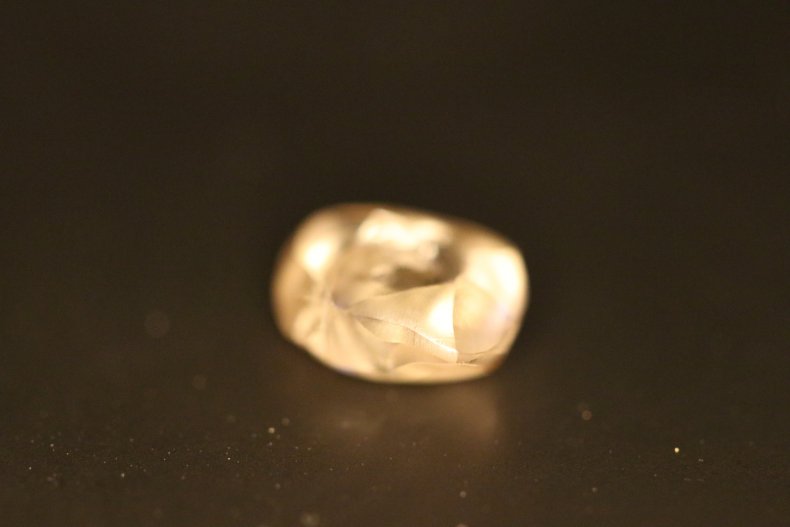 On May 12, we packed up and drove home via opal mines in Nevada and a jeweler where I bought a temporary engagement ring. I arrived home late on the evening of May 17 and the following day I suggested that Desirae and I went mushroom picking locally in Washington. While we were out there, I stopped and told her that I had a confession to make about my trip. She spun around immediately; I think she was expecting some bad news. But I told her that I hadn't actually been in Yellowstone National Park, I had spent the week in Arkansas digging in the dirt.
Then I got down on one knee, pulled out the 2.2 carat diamond and said: "I dug this out of the ground and I'd like to build an engagement ring for you, if you'd marry me?" She said yes. She was ecstatic and in shock.
I gave Desirae the temporary ring when she said yes but we've since talked about the design of the new ring. We're going to keep the diamond raw and in its full size as the center stone, and we may use some of the stones from the other ring I bought and some sapphire and opal I mined on the bands, perhaps creating a two or three band ring. The park doesn't value stones and I haven't gotten the diamond appraised yet or even taken it to a jeweler. We're not really in any rush, although I did decide to get the diamond out of the house. Now, it's in a lock box at a bank.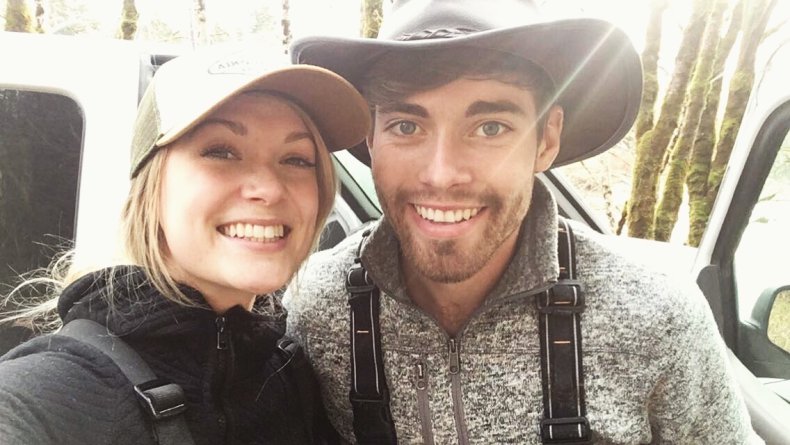 My sister has said that if anyone was going to go out and find a diamond it would be me; she was expecting me to come back with something. Everyone was really happy for me.
The wedding is not planned out, but we've talked about having it three years from now. My father has a property with a wonderful view of the Olympic Mountains, but we've looked at a couple of other venues, so we'll see.
I am inspired to look for more stones. I've got Desirae into rockhounding and we go out and look for fossils together. We've already made a reservation at the Nevada opal mine for September and I plan to bring her to look for sapphires in Montana. Hopefully, someday we can both take a trip down to Arkansas and spend a couple of days there.
If anyone else is thinking of doing what I did, they do need to work hard. Don't stop digging. Move as much material as you can. That's all I did.
Christian Liden lives in Poulsbo, Washington with his fiance Desirae.
All views expressed in this article are the author's own.
As told to Jenny Haward.