'FOUND'S' Chloe, Sadie and Lily Discuss 'Emotional Journey' to China and What's Next
FOUND on Netflix follows the incredibly moving and inspiring story of Sadie, Lily, and Chloe, three adopted American girls originally from China, who returned to their country of birth to explore their heritage and who they are.
The documentary comes from director Amanda Lipitz who told Newsweek the film was inspired by her niece Chloe, (who features in the documentary) when the family got together to celebrate Chloe's bat mitzvah in Jerusalem four years ago.
Lipitz shared that she wondered how Chloe truly felt being adopted into her family and growing up in a Jewish household.
Alongside Tennessee-based Chloe, 17, at the heart of the documentary are Sadie, 17, and Lily, 21 who live in Seattle and Oklahoma City respectively. The trio, who were once strangers, discovered they were blood-related cousins via 23andMe and have remained inseparable ever since.
'FOUND'S' Chloe, Sadie and Lily Discuss 'Emotional Journey' to China and What's Next
As newborns, all three girls were left to be found by strangers in busy public places such as bridges and roadsides in China. They were then taken to overcrowded and low-staffed orphanages where they were raised until their adoption.
Sadly, Lily, Sadie, and Chloe do not know the true reason they were abandoned, but FOUND explores the impact that China's infamous One Child policy (from 1979 to 2015) may have had on their birth-parents decision, the economic status of their birth parents, and the cultural preference for male children.
All three theories are explored by Beijing-based researcher Liu Hao, who works to reunite Chinese children with their birth parents, including Lily, Sadie, and Chloe.
After years of chatting online, in 2019, Sadie, Lily, and Chloe traveled to Guangdong province in southeast China together, coming face to face with their past and perhaps, find their birth parents along the way.
Chloe
Today, Chloe is a high school senior, applying for college to study something "in the field of design and industrial design."
Speaking to Newsweek, Chloe shared she was still "processing" everything that has taken place over the past few years, including their trip to China.
"I viewed it as a normal trip but clearly it was not. I did not know what I was in for at the time, it was a very emotional journey."
"It was a great experience but it was also very challenging. And I don't know, I'm still working through it. I'm still processing it now, a year and a half later."
Chloe added: "I feel like it was kind of the beginning of such a much bigger journey. I think like the catalyst for being put in a position of huge growth and major reflection of our lives and our stories."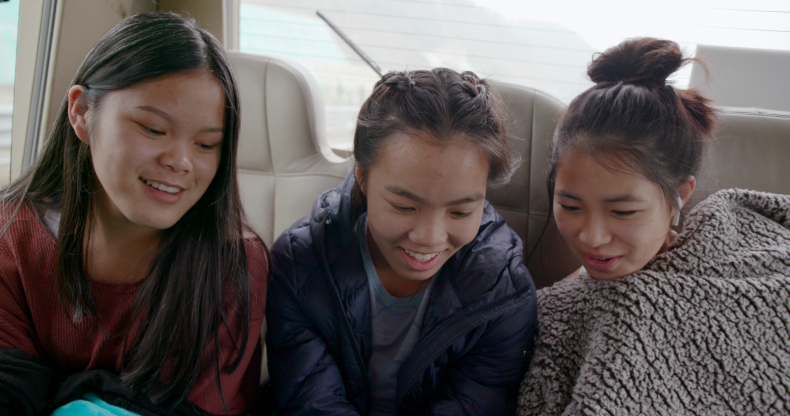 Sadie
Speaking to Newsweek, Sadie shared she had not ruled out revisiting China in the future, with Chloe and Lily by her side.
She said: "There are some sad parts obviously...but just being with the people that we're surrounded with like them [Lily and Chloe] and the crew members, honestly, besides the sad parts it was a really fun trip. I would love to do it again.
"We always sometimes talk about how we miss China would love to go back and do that trip."
Today, she is a senior in high school, applying to colleges to study business, a process she joked is completely "terrifying".
Lily
Lily is the oldest of her cousins at 21. She's currently a senior in college about to graduate with a bachelor's degree in accounting, with plans to apply to grad school to study for a master's in the same field.
Reflecting on her journey audiences will see in FOUND Lily shared: "I mean, whenever I was younger, I always thought the question, 'are you ever gonna go back to China? are you ever gonna go back to China?' And I was like, 'I don't know, maybe we'll see'. But going back to China was kind of like a dream.
"I never thought this would ever happen like at this point, it was you know, it was very, I don't want to say unexpected because it was expected, but I didn't expect me going back to China would be in this way for our documentary.
"Going into it, I really didn't anticipate what was going to happen and the feelings that were going to be pushed and I think we reached, or I reached, a super hard point during that trip because I think we all really didn't anticipate the emotions that we would feel. So it was really nice that we were all there for each other and that we got to do it together."
She added: "We're all really close. And we've all really bonded throughout this time. And I think we have a relationship that really is unbreakable."
As for tracing their birth parents and other family members, the girls are unfortunately not much further forward than when audiences left them at the end of the documentary. They still had no successful DNA matches.
However, Lily, Sadie, and Chloe have not lost hope and remain open to the possibility they will be found.
Lily believes the documentary is "just the beginning" of their story and there is so much more to be told.
She said: "I mean our DNA is out there. This is really just the beginning. Who knows what's going to happen later. I mean, even just being a part of this documentary...I never anticipated this whenever I was younger I never expected to do this, so I feel like life really hits you with all these crazy experiences and stuff that you're never going to be ready for. And so I don't know it's like maybe when we're older maybe I will get something."
FOUND is streaming on Netflix now