Lee Pace and Leah Harvey on THAT 'Foundation' Finale and What's in Store for Season 2
Foundation's first season has come to an end with the final episode being released on AppleTV+ on Friday, November 19.
The finale was full of plot twists and surprises, ones that are sure to shock fans and make them anxious for more.
Lee Pace and Leah Harvey spoke to Newsweek about the unexpected things that happened to their characters Brother Day (Pace) and Salvor Hardin (Harvey), as well as their hopes for Season 2.
**Warning: This article contains spoilers for Foundation's Season 1 finale**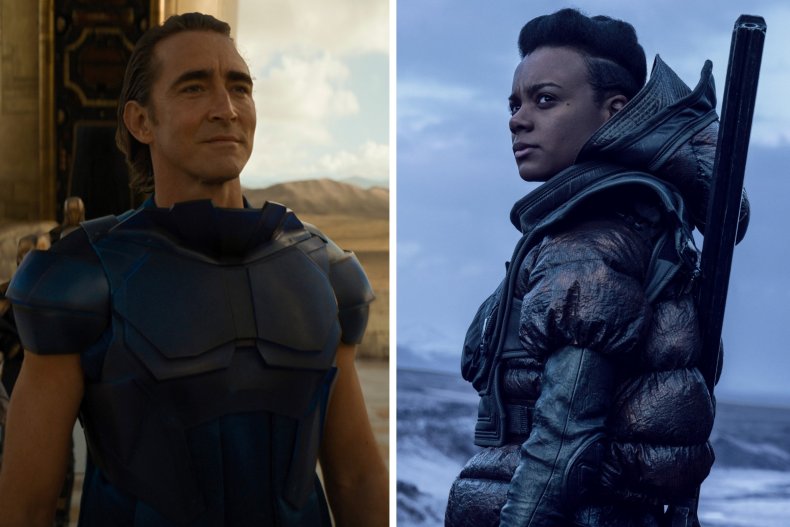 The Genetic Dynasty aren't perfect clones after all
The Cleon clones —Brother Dawn, Brother Day, and Brother Dusk— have had ultimate power for centuries, believing themselves to be perfect copies of Cleon the First who ensured his Genetic Dynasty could rule the galaxy as his "heirs".
Over the course of Season 1, Brother Dawn (played by Cassian Bilton) fretted over hiding his differences from his predecessors because he knew it would get him killed, and ultimately it did.
But the finale revealed that the Cleon clones have in fact had their DNA altered for decades, and none of them are perfect recreations of Cleon the First.
Pace said he felt the plot twist brought a "dark, macabre irony" to the Genetic Dynasty, especially his iteration of Cleon, Brother Day.
"I think one of the interesting, delicate shifts that happened inside the character is that he becomes aware of his sentience, of his sovereignty," the actor said.
"He has lived his life as this fantasy that he is another man, and I think in the moment during The Spiral at the end he realises he's all alone and he's just human, he is not this idea of Empire.
"I think hearing that the clones haven't been genetically the same man anyway is just this almost macabre [irony]."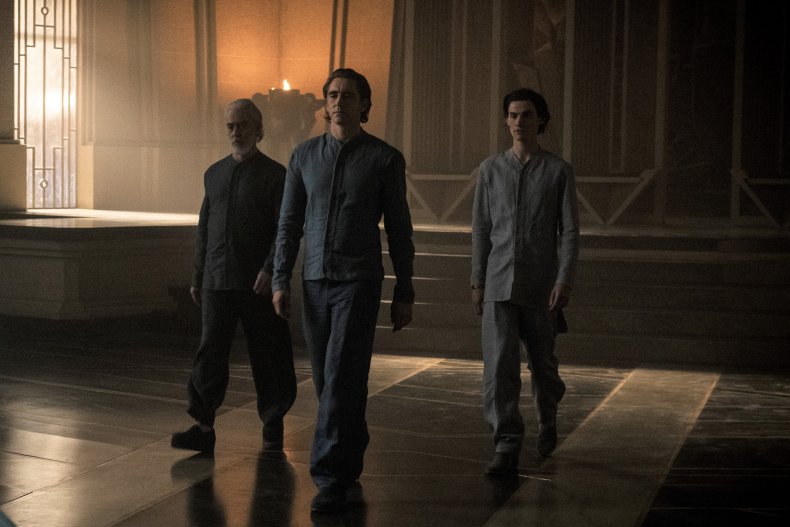 He added: "I actually believe I looked at [Brother Dawn] and said its time for us to allow each other to be individuals, and then of course Dawn dies so to learn that we were [individuals] all along is a kind of dark, macabre, irony."
Pace portrays more than one Brother Day in Foundation, but it is the second who plays a more prominent role in the sci-fi show and he thinks differently to the one that came before him.
Reflecting on this, Pace went on: "You see him as a child, witness the way his older brother behaves and kind of learning in that first throne room [scene] with Hari Seldon (Jared Harris), that 'oh there's a possibility of a different way of thinking about this'.
"So there's a seed planted in him in that moment, and then he kind of lives that life and then we watch the ramifications of that throughout the episode, and especially on The Spiral where he starts to realise this fantasy is not useful to him, not useful to Empire and, you know, I enjoyed that's what we saw him [do], how he changed from his conditioning and understood this new way of thinking.
"I think it takes The Spiral, it takes a journey like that, a quest, that makes you become reborn to be able to grasp real fundamental shifts in your perception of the world, you know?"
Salvor Hardin and Gaal Dornick are related
The Foundation finale ended on a very dramatic note, with Gaal Dornick (Lou Llobell) learning Salvor is her genetic daughter.
Gaal returned to her home planet of Synnax after a 138-year journey in cryosleep where she found Salvor in cryosleep and wakes her up, who then reveals she was waiting for Gaal because she is her and Raych Foss' (Alfred Enoch) child.
Harvey admitted they always knew that Salvor was Gaal's daughter, and explained that while it didn't influence their performance they tried to copy some of their co-star's acting as a subtle hint to viewers.
The nonbinary actor explained: "I did know, yea. Before I actually got the part I was told that was the case.
"I wouldn't say it influenced my performance but I definitely did try to put in some slight similarities in the way they perhaps express things, tiny things. But most of it was in the writing so I didn't have to work too hard to do that.
"Sometimes they say things that echo each other, they have the same worries and things like that so that was easy to do, but every now and then I would try to copy Lou's crying face.
"Lou has a very particular crying face and Gaal has a particularly bad first season, she cries a lot so I was able to copy that a bit and put that in.
"It wasn't too hard to link the two characters but we also wanted to keep it as subtle as they could, but whether the audience knew when they were watching it's up to them really if they want to notice or not."
Harvey went on: "With a show like this, because its such a big, big universe, if you single out one character that's hardly ever going to happen because there's so much going on.
"So, there are little clues in there and if you're really watching closely you'll probably pick up on them but if you're watching it as a big slate then you might not pick up on it.
"But either way I think it's really satisfying for viewers at the end to see them together full stop, just to see them in the same place is really nice."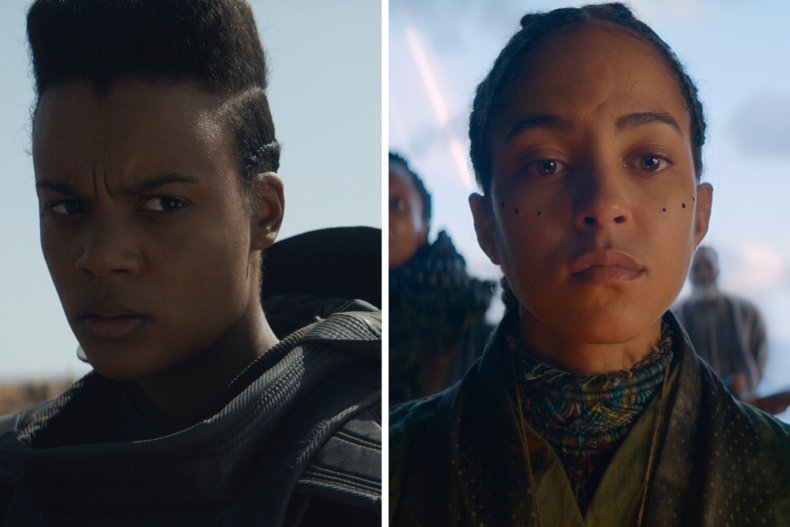 Their hopes for Season 2
Pace and Harvey are currently preparing to start filming Season 2 of the AppleTV+ show, and they shared with Newsweek what they'd like to see happen to their respective characters.
Of what they hope can happen with Salvor and Gaal, Harvey said: "They don't really know each other, they're complete strangers so I'm hoping that we get to see them get to know each other a bit, get to know their similarities, their differences.
"It's going to be really nice to [do] because obviously they're very far in the future so they're going to have to stick together and it's going to be a fun one to see where the scripts go with that relationship, and also for the audience to see these two characters that we watched in their separate stories come together.
"It's going to be really interesting, so I'm looking forward to just playing with it and seeing what happens, and also for me and Lou as well. We have been working together for two years but we haven't actually acted together, so it's going to be really fun."
Harvey also admitted they'd like to see Salvor and Gaal go up against the Cleon clones in future, especially Bilton's Brother Dawn, because of how close they are with him and Llobell.
"Us three are very, very close," Harvey explained. "We're around the same age, for all of us it's our first big job and we're all in the lead cast, what a dream it would be to have our three characters together again in a scene.
"I've suggested it to David [S. Goyer, Foundation's showrunner] so we'll see! But it is an exciting concept to think that there is a world which perhaps the three worlds all collide with each other, I don't know what it would look like, I don't know what the story would be, but it would be really cool."
Pace's current iteration of Brother Day is left at a different point in time to Gaal and Salvor, 138 years behind them to be exact, but the actor remained tactful in how he explained what he'd like to see happen to the character.
"I want to play lots of different Brother Day's, I think that's what's interesting about him," he said.
"I think that's what's interesting about this role for me as an actor approaching it, is this ability to kind of approach not the it's not just one man, it's many different men during a certain time in their life where they've got this power, this weight to each one of them. I think I'm excited about climbing into some new shoes with the character."
The Pushing Daisies star also spoke of the lasting legacy of the Genetic Dynasty, saying that people "just can't beat" Cleon because "he will not fail" no matter how difficult things may be for him.
He added: "It's an Empire in twilight that's what I found watching this season back really beautiful, I didn't really see so much while I was in it but watching the season back there's something so almost refined and delicate about them.
"Even with me and Cassian, we're not old men but the whole thing is just in twilight, it's a little bit old, it's seeing it's last days and it's such a huge idea, that it's not just a man it's an Empire. It's going to take some time for that Empire to kick the bucket!"
Foundation Season 1 is available to watch in full on AppleTV+ now.