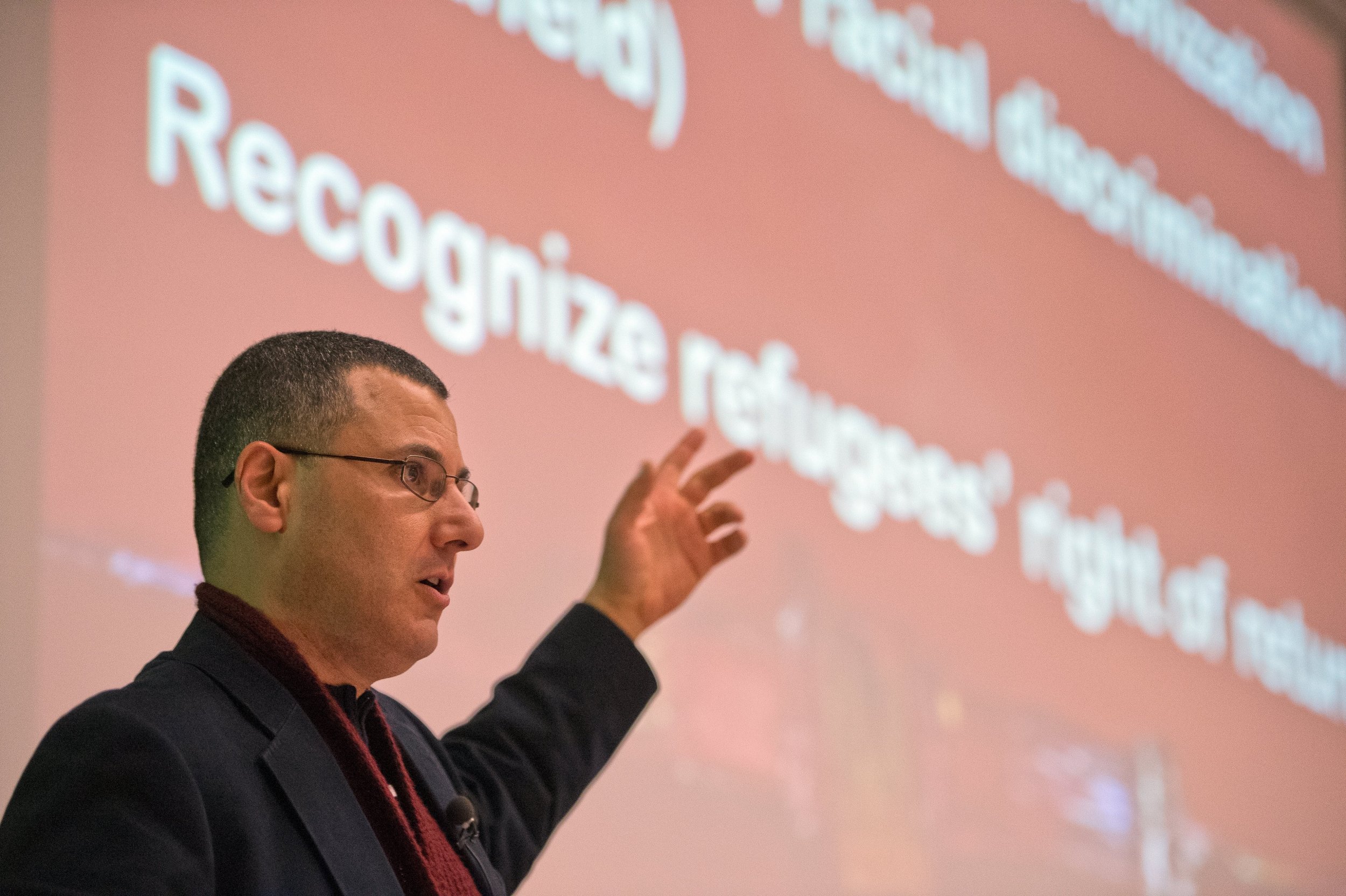 One of the co-founders of the Boycott, Divestment and Sanctions (BDS) movement has accused Israel of imposing an effective ban on his travel in and out of the country in response to his political protests against Israeli policy.
Omar Barghouti, a Qatari-born Palestinian living in the northern Israeli city of Acre with an Arab Israeli wife, holds Israeli permanent residency status and requires travel documentation to travel in and out of Israel and the West Bank. He has lived in the country for more than two decades and renews his travel documents every two years.
The BDS movement alleged on Tuesday that Israel has refused to renew his travel documents on the basis of his involvement with the BDS movement, a global campaign that advocates applying economic and political pressure on Israel to achieve equal rights for Palestinians in the country and calls for an end to the Israeli occupation of the Palestinian territories.
An Israeli Interior Ministry spokesman confirmed on Tuesday that Barghouti would not receive his travel documents as normal procedure dictated as it was under consideration by the ministry.
"The minister wants to consider his status," the spokesperson told AFP news agency. "He lives in Ramallah most of the time and part of what determines one's permanent residency is where the center of life is. His (BDS) activities are also part of this."
On the restriction and the potential revoking on his residency, Barghouti said in a statement: "I am unnerved but certainly undeterred by these threats. Nothing will stop me from struggling for my people's freedom, justice and peace."
He denied a permanent presence in the West Bank and maintained that his home is in the city of Acre with his family. He also confirmed that he had been prevented from traveling to two conferences in California in the last week. "Effectively I cannot travel at all," he told AFP. "Israel is imposing this travel ban on me, demonizing me and threatening me to intimidate me into silence."
Last month, Israeli Interior Minister Aryeh Deri told a conference on combatting the BDS movement that he was "inclined to fulfill" a request from an Israeli lawmaker to revoke Barghouti's residency. "[Barghouti] uses his citizenship, his permanent residency, to come in and out to the rest of the world and act against Israel in the most severe way," he said.
Sarah Leah-Whitson, Human Rights Watch's director for the Middle East and North Africa, said in a statement to Newsweek that Israel is using a policy of travel restriction against Palestinians who engage in peaceful protests against Israeli policy.
"Israel's refusal to renew Barghouti's travel document appears to be an effort to punish him for exercising his right to engage in peaceful, political activism, using its arsenal of bureaucratic control over Palestinian lives," she says.
"Sadly, Israel has used this sort of control to arbitrarily ban many Palestinians from traveling, as well as to ban international human rights monitors, journalists, and activists from entering Israel and the occupied Palestinian territories."
The boycott movement says it aims to emulate the actions of South African activists in the 1980s apartheid era and has claimed that its activism has resulted in a series victories, including pushing the world's largest security firm G4S to announce the sale of its entire business in Israel, as well as forcing French multinationals Veolia and Orange to sell off their Israeli businesses or terminate contracts with Israeli partners in the last year.
The Israeli government says that the movement is inherently anti-Semitic and that its central intention is to destroy Israel as a country and end its existence as a predominantly Jewish state.