Founder of ReOpen Movement Who Refused Masks Tests Positive for Coronavirus
The co-founder of a movement to reopen Maryland at the height of the COVID-19 pandemic has tested positive for the virus after refusing to wear a face mask.
Tim Walters helped organize rallies with the group ReOpen Maryland, demanding that Maryland Governor Larry Hogan rescind his stay-at-home order in April. Earlier this week, Walters said he had tested positive for COVID-19 in a series of Facebook videos, some of which have since been deleted.
"I was diagnosed yesterday at the ER with COVID-19 and here I am months after not wearing a mask at rallies, churches and so on and so it's funny how capricious this thing is," Walters said in a video on Tuesday, according to The Capital Gazette, who first reported on the test result.
Walters, a Republican candidate in two failed bids for the Maryland House of Delegates, said that he first experienced a dry cough in March, before eventually developing vision problems, headaches and a fever. The 53-year-old said he also has diabetes, while admitting he does not always maintain healthy habits.
Walters suggested that those he has recently come into contact with should monitor their symptoms. However, he is refusing to cooperate with Maryland contact tracers by providing any personal information that could help them contain the virus.
"I will not share anybody's information with the government. I will not do it," Walters reportedly said.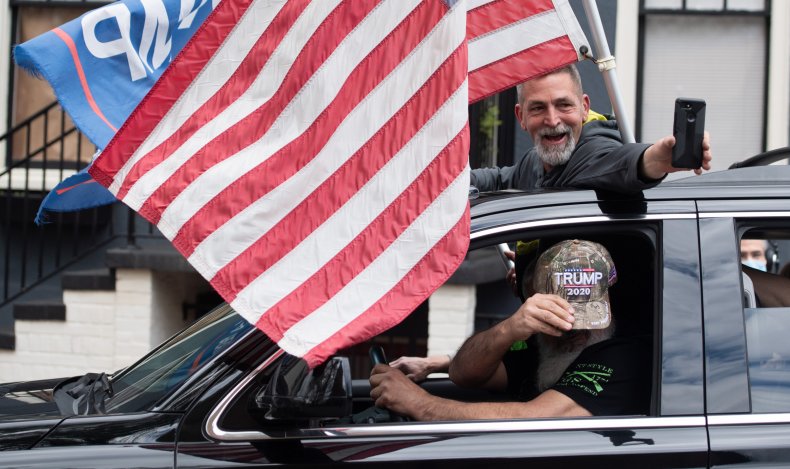 In a video posted Friday, he said he was attempting to open his own church and blamed "Satan" for his contracting the virus, while insisting that COVID-19 had never been spread during the anti-lockdown rallies.
"No one ever got sick at any of our rallies, to include me. Start a church, and I get sick," said Walters. "I got it because Satan deemed to get it. Because he wanted to quiet my work, to slow down the building of a church. That's what this is about. But the world won't see that."
"Why? Because they live behind a veil," he added. "They choose to hate God."
Walters also said that he has been going into public without a mask for months, insisted that he has "not changed one iota" despite testing positive, although he said he had stayed home for most of the past week.
Newsweek reached out to Walters for comment but did not receive a response in time for publication.
While cases are multiplying in many states, Maryland has recently seen a steady decline in COVID-19. However, Maryland Governor Larry Hogan has urged residents to not become complacent in continuing efforts to contain any further spread of the virus as the state moves forward with reopening plans.
"Now more than ever, as we begin to come into contact with more people, we must all continue to remain vigilant," Hogan said in a statement. "Our health and economic recovery depends on all of us continuing to exercise personal responsibility in order to keep ourselves, our family members, our neighbors, and our coworkers safe."
"We encourage all Marylanders to get tested, wear a mask, and practice physical distancing," he added.