Four Americans Indicted Over Scheme to Sell Iranian Petroleum to China
Four men have been arrested and charged for an alleged plot to sell Iranian oil to a Chinese refinery even though the U.S. currently has sanctions against such trading with Iran.
According to the indictment, from May 2019 to February 2020, four men—Nicholas Hovan of New York and Zhenyu Wang, Robert Thwaites and Daniel Ray Lane, all of Dallas—conspired to carry out the scheme using shell entities and offshore financial accounts to hide their financial dealings.
The men allegedly sought to conceal where the petroleum came from by bribing a Chinese official, setting up shell companies, using false contractual documents and other means. They then sought Antigua passports to open Swiss bank accounts for laundering the money.
According to the U.S. Department of Justice (DOJ), the men had planned two shipments of oil per month going forward and expected to make roughly $28 million per month.
However, the men were apprehended in February 2020 and have since been charged with conspiracy, violating federal international trade law and conspiring to commit money laundering. They could face 45 years' in prison, a $1.75 million fine, a three-year term of supervised release and a $300 special assessment if convicted.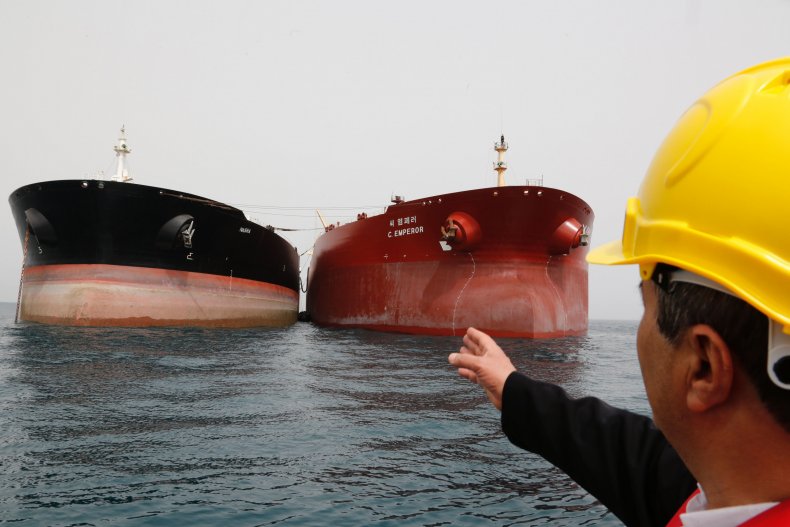 In specific, the four men allegedly violated the International Emergency Economic Powers Act (IEEPA), a 1977 law that authorizes the president to regulate international commerce in response to any unusual and extraordinary threats.
On March 15, 1995, Democratic then-President Bill Clinton issued an executive order declaring Iran as an emergency threat due to "its development of ballistic missiles, support for international terrorism, and human rights abuses."
The administration of Republican President Donald Trump renewed the order on March 12, 2018.
"It doesn't get much lower than attempting to get rich by flouting the United States' national security interests," said U.S. Attorney for the Eastern District of Pennsylvania William M. McSwain in a statement about the four men's arrest.
"The defendants here allegedly jeopardized the safety and security of the United States by scheming to get in bed with Iran and China," McSwain continued. "This type of conspiracy deserves the full condemnation of my office and it has it."
On August 24, 2019, Trump tweeted that he "hereby ordered" U.S. companies to begin considering alternatives to deal with China on the basis of the IEEPA's regulatory powers. However, he didn't formally declare the nation as an emergency threat as required by law.
The U.S. has been in a 21-month trade war with China. Each country has placed billions of dollars in tariffs on each one's imported goods. Trump has threatened to "to cut off the whole deal" with China and decouple from the country entirely as a way to punish it for allegedly allowing the coronavirus pandemic to spread worldwide.
Newsweek contacted the DOJ for comment.