Four Charged for Richmond Riots After Numerous Buildings Damaged and Defaced
Four people were arrested and charged after rioting broke out in Richmond, Virginia on Tuesday night, police said.
Several people were detained by officers at around 11.50 p.m. after a group wreaked havoc in several neighborhoods in the city, the Richmond Police Department said in a news release.
Police said the group had smashed windows and damaged and defaced property.
A number of items, including a metal crowbar and a hammer, "were seized from the individuals," police said.
The police department added that it had consulted with the Office of the Commonwealth's Attorney on possible charges and ended up charging four people.
They were identified as Julius Dela Cruz, Lakshmi Menon, Kyra Nguyen, and Brian Quach. They are all charged with rioting.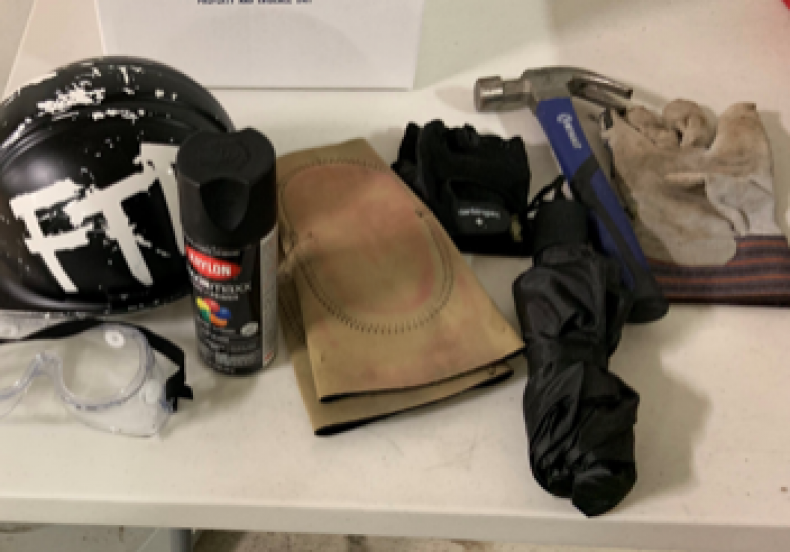 Police declared an unlawful assembly at around 10.30 p.m. after a group of between 50 and 100 people started rioting in downtown Richmond, according to WTVR.
Numerous buildings in the area sustained damage, including the John Marshall Courthouse. According to NBC12, a total of 22 windows were broken at the courthouse on Tuesday night. As a result, the courthouse wasn't able to open on Wednesday.
The Richmond Times-Dispatch reported that the SunTrust Center, a Bank of America building, and a Starbucks located in the Omni Hotel also sustained damage.
Protesters graffitied the Memorial Clock at Two James Center with phrases including "Eat the Rich" and "BLM," according to the newspaper.
Earlier, a crowd of demonstrators had been marching through the downtown Richmond area to protest evictions taking place amid the ongoing coronavirus pandemic when police officers in riot gear formed a line across Main Street, according to posts on social media.
Jimmie Lee Jarvis wrote on Twitter that protesters had "calmly walked through 17th St Market to disperse" after officers blocked their path.
He added: "I heard RPD Chief Gerald Smith personally direct officers to declare an unlawful assembly and pursue protesters."
In another tweet, Jarvis wrote: "I heard an eager officer yell 'Let's rock and roll, boys!' Creative. I never actually heard any announcement of an unlawful assembly but vacated the area anyway." Jarvis has been contacted for comment.
Another video by a Twitter user purported to show police detaining someone for having a shield.
"Rpd literally jus burst out of a door n detained a person for walking down the street w a shield...," @alvnna_ wrote alongside the clip.
Anyone with further information is urged to call Crime Stoppers at (804) 780-1000.