Two Teens Accused of Murder Among Four On the Run from Tennessee Detention Center
Four teenagers—two of whom are facing murder charges—have escaped from a juvenile detention center in Nashville, Tennessee.
Officers from Metro Nashville Police Department are currently trying to trace the four individuals who managed to evade detection as they snuck out of Davidson County Detention Center in downtown Nashville on Saturday night.
Police said all four are considered dangerous and anyone who sees the escapees is urged to call local authorities immediately.
The teens—Decorrius Wright, 16; Morris Marsh, 17; Brandon Caruthers, 17; and Calvin Howse, 15—were last seen running away on South 2nd Street towards Jefferson Street at 9.44 p.m., police said.
In a statement, a spokesperson for the force told Newsweek that the four managed to escape when they were momentarily left unaccompanied by a member of staff.
"It appears at least 35 minutes elapsed before the police department was notified of the escape," the spokesperson said.
"Officers were told that the four were on a work detail when their staff supervisor left them to address a fight at another location inside the facility.
"They managed to get onto an elevator and used staff protocols to ride to the ground floor where they went through a series of doors and exited to the outside."
All four face serious charges, including murder, gun possession and auto theft.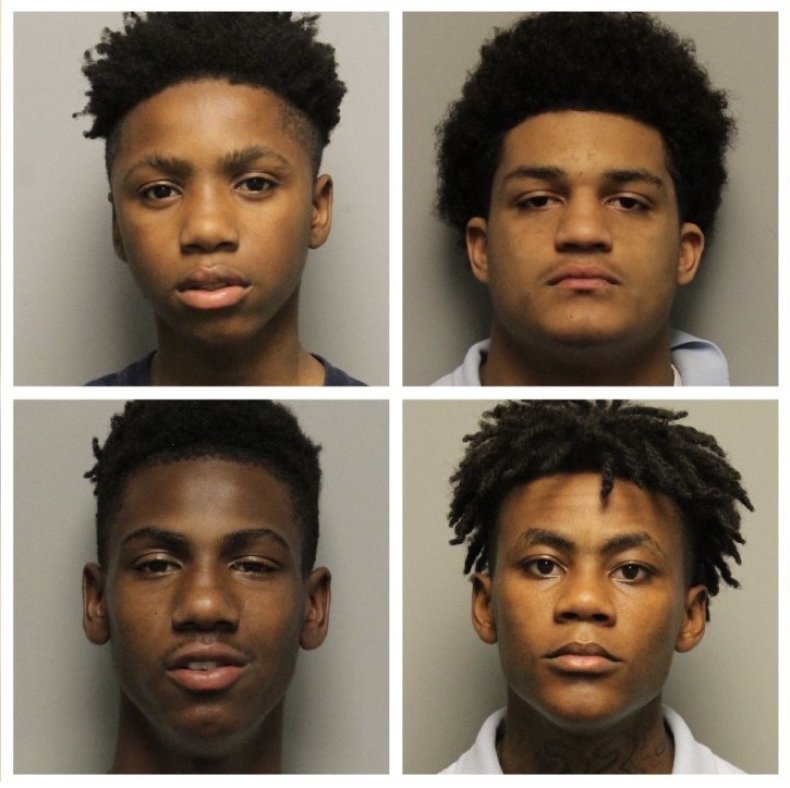 Wright, top left, is accused alongside four other teenagers of murdering 24-year-old Nashville musician Kyle Yorlets.
According to charges filed by the State District Attorney, the five teenagers involved were in a stolen red Chevrolet Colorado pickup truck when they spotted Yorlets outside his home in the 3200 block of Torbett Street on February 7.
The minors allegedly accosted Yorlets, took his wallet and killed him after he refused to give up his car keys. They were arrested later that day in a west Nashville Wal-Mart on Charlotte Pike and two stolen pistols which were loaded were recovered from them, police said.
Wright is accused of being the shooter in the case.
Marsh, bottom right, is charged with the murder of 19-year-old Charlie Easley on April 8. He is charged alongside 17-year-old Devion Jordan. Easley was found with multiple gunshot wounds in his home at Point Breeze Apartments on Lemont Drive, police said.
Caruthers, top right, has been transferred to adult court on an August 2018 armed robbery case from Apache Trail in South Nashville.
Howse, bottom left, was last arrested on November 21 on Dickerson Pike on charges of auto theft and gun possession.
Anyone with information is asked to call the Metro Nashville Police Departments's Emergency Communications Center at 615-862-8600.