Four Dead After Sports Car Plows Into Homeless Encampment: Police
Four people were killed on Sunday when a sports car crashed into a homeless encampment in Salem, Oregon, according to police.
The driver was identified as 24-year-old Enrique Rodriguez Jr., who has since been arrested on several counts of reckless endangerment, manslaughter, and assault, the Salem Police Department said in a statement on its website.
The crash occurred at 2 a.m. when Rodriquez slammed into the encampment located in the area of Front and Division streets. Two people died at the scene, while four others were hospitalized with life-threatening injuries. However, two of the people receiving treatment later died of their injuries at the hospital, according to police.
Police said Rodriquez was driving a two-door sports coupe northbound when he "left the roadway and crashed into an unsheltered encampment pinning two individuals beneath the car." Initial investigations indicated that alcohol may have been a factor in the crash.
Rodriquez was the only person in the vehicle and was also hospitalized for his injuries. He has since been booked at the Marion Country Jail, police said.
Ryan Wright, who was living at the encampment at the time of the crash, told KEZI 9 News that some of his friends were killed in the crash.
"All I remember is the screaming, pretty much," he told the outlet. "And we heard a pop and I look over and there is a car coming straight at us."
Nathan Rose said that he and his girlfriend were inside their tent at the encampment when they heard a loud thud. When they peered out, he saw that the vehicle had just missed them.
"The moment I saw what had happened, first thing I did was drop my phone and call 911," he told the Salem Statesmen Journal, adding that he helped pull one person from under the car. "From there, it was just chaos."
Police said that they did not know how many people or tents were located at the encampment impacted at the time of the crash. However, after the incident, officers helped move several campers into nearby shelters and motels.
Salem Mayor Chuck Bennett told reporters that the encampment was set up about two weeks ago and located "right next to a major thoroughfare," according to the New York Times. He added that the area was slated for cleanup by the city this coming Wednesday.
"My condolences go out to the friends and family of those affected by this terrible tragedy," the mayor said, according to the Statesmen Journal. "We continue to offer alternatives to unmanaged camping and encourage people to access those resources."
Salem City councilmember Vanessa Nordyke criticized those who put blame on homeless people for camping near busy roads, stating that it does not excuse the "reckless" behavior of drivers.
"It's only been a matter of hours, but I'm already seeing social media posts blaming the homeless for camping near a busy street. As if they deserved to die," she wrote on her Facebook page. "The dehumanization of the unsheltered, especially in a time of immense suffering and grief, is completely unacceptable. Salem is better than that."
Roughly 1,000 people sleep outside in Salem each night, according to the Statesmen Journal. The city council previously allowed camping in some of its parks, but has recently reinstated a ban. Since then, the news outlet reported that encampments have sprung up in a number of areas across the city.
"No one deserves to have to live in unsheltered conditions and they damn sure do not deserve to die in them," Jimmy Jones, executive director of the Mid-Willamette Valley Community Action Agency, which assists in providing services for individuals struggling with homelessness, told the Statesmen Journal.
"Tragedies like this will continue until this nation makes a serious commitment to the idea that housing is a human right, and that everyone deserves a warm, safe and dry place where they can live with dignity," he added.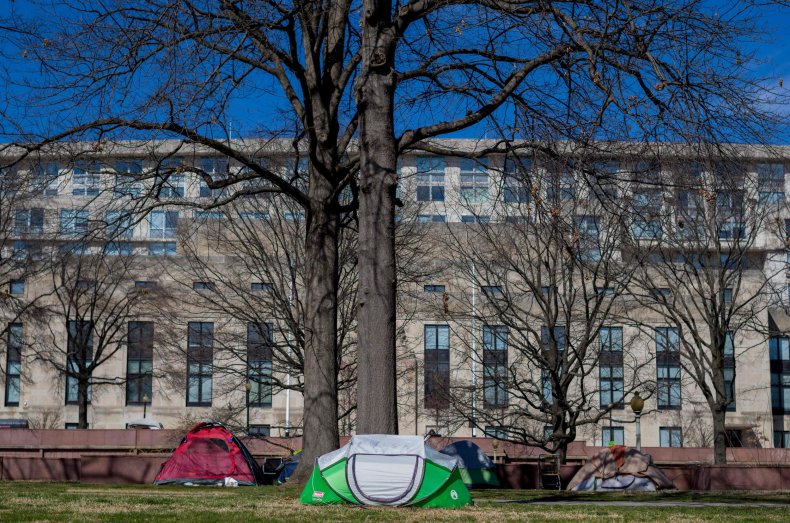 Meanwhile, a recent string of targeted shootings this month have left several homeless people dead in cities across the U.S. According to the U.S. Department of Housing and Urban Development, more than 580,000 people are currently experiencing homelessness in the country.
"We saw a reduction in violence from 2018 to 2019," Donald Whitehead Jr., executive director of the National Coalition for the Homeless previously told Newsweek. "But starting in 2021, we saw those numbers spike, especially during surges in the pandemic."
Newsweek contacted the Marion County District Attorney's Office for an additional comment, but did not hear back in time for publication.