New 2020 Poll Shows Donald Trump Trailing by Double Digits to Top Four Democratic Front-Runners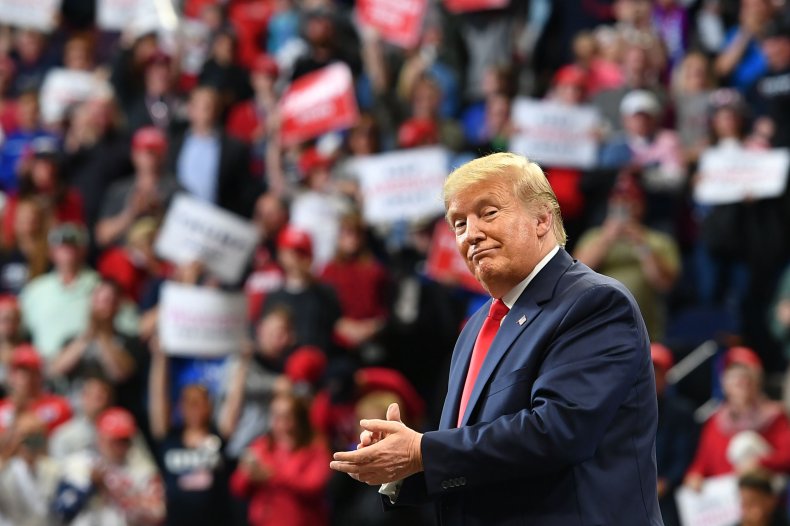 The results of a new poll released Tuesday show four of the leading presidential contenders from the Democratic Party with double-digit leads ahead of President Donald Trump one year ahead of the 2020 election.
The Washington Post and ABC News conducted the poll between October 27 and 30 among 1,003 adults. According to the Post, about two-thirds of respondents were contacted on cell phones for the poll, and the rest were spoken to on landlines.
Pollsters asked registered voters who they would vote for if the presidential election were being held that very day and their two options were Trump or one of the Democratic contenders. Results indicated that more voters would vote for former Vice President Joe Biden, Senator Elizabeth Warren of Massachusetts, Senator Bernie Sanders of Vermont, Mayor Pete Buttigieg of South Bend, Indiana, or Senator Kamala Harris of California.
Newsweek subscription offers >
Respondents awarded Biden, Warren, Sanders and Buttigieg each double digit leads over the president.
The results showed Biden 17 percentage points ahead the incumbent president (56 percent of respondents claimed they would vote for him, versus 39 percent who said they would to cast their ballot for Trump in a match-up). Warren came in second with a 15 percentage point lead over Trump (55 percent to 40 percent), followed by Sanders' 14 point advantage (with 55 percent to Trump's 41 percent). Buttigieg, with 11 percentage points over the president (52 percent to 41 percent), rounded out the double digit leaders, though Harris also garnered a distinct lead, with a 9 percentage points on the president (51 percent to 42 percent).
Newsweek subscription offers >
In its analysis of the poll results, the Post noted that the findings were indicative of the phenomenon of American voters claiming they have already decided whom to vote for in 2020 with Election Day still one year away.
Besides their preferences for the 2020 election, the poll also asked respondents about their opinions on Trump's performance as president. While a minority of poll participants approved of the president's job performance, those who did were staunch supporters. "Among the 39 percent of registered voters who approve of Trump's job performance, Trump is winning at least 95 percent support against each of five possible Democratic opponents," according to the Post. "But among the 58 percent of voters who disapprove of Trump, he receives no more than 7 percent support."
Pollsters further inquired as to respondents' impressions of the U.S. economy under the Trump administration. At 44 percent, a plurality said the economy had improved, while 33 percent said it had remained the same and 22 percent said it had worsened. Of those who said it had gotten better under Trump, 78 percent said the president deserved a "great deal" or "good amount" of credit for the progress. A large majority of those who said the economy had gotten worse under Trump believed it was mostly the president's fault (85 percent).
Respondents were also asked if they believed that the policies implemented by the Trump administration have made the United States less or more "respected around the world today." A slight majority (54 percent) said that they thought the policies had made the U.S. less respected, a three percentage point increase since a prior Washington Post-ABC poll that asked the same question in January. In the most recent poll, 28 percent of respondents said Trump's policies made America "more respected"—also up three percentage points from 25 percent in January—while the number of respondents who said Trump policies had not made much difference or who had "no opinion" both decreased.
The Washington Post noted that the poll did not take into account to what degree the impeachment proceedings introduced against Trump have impacted public opinion of the president and his ambitions for another term.
"The current poll was completed just before the House voted along party lines to formalize the inquiry," according to the Post.
New 2020 Poll Shows Donald Trump Trailing by Double Digits to Top Four Democratic Front-Runners | U.S.