Four Electrocuted in St. Louis Lightning Strikes As Severe Storms Hit Missouri
Four people were struck by lightning in St. Louis, Missouri on Sunday night during severe storms, local officials said.
Paramedics rushed the four individuals—all of whom are adults—to hospital after the lightning strike, which occurred at around 8 p.m. near Marquette Park in the Dutchtown neighborhood of south St. Louis, according to the city fire department.
Fire department officials said one of the individuals was in critical condition.
Local resident Andrea Ford told KMOV that a group of people had just finished playing soccer in the park. She then heard multiple rounds of lightning and looked out her window to see two people from the group lying on the ground.
"The lightning started hitting real hard but then it was a big old boom and lightning shot out the sky and hit the one guy and the other guy that was next to him fell also," Ford said. "They were doing CPR for like 30 minutes, I'm telling you it seemed like 30 minutes, and he was still not responding."
The odds of being struck by lightning are very low—around one in a million, according to the National Weather Service (NWS.)
Nevertheless, lightning is among the leading causes of storm-related deaths in the United States. Between 2009 and 2018, there was an average of 27 lightning fatalities every year in the country, NWS data shows. And so far in 2020, there have been eight lightning strike deaths.
Only around 10 percent of people who are struck by lightning are killed, although survivors are often left with varying degrees of disability.
The most common cause of death as a result of lightning strike is cardiac arrest at the time of injury. However, some victims may survive the initial strike only to die from irreversible brain damage a few days later.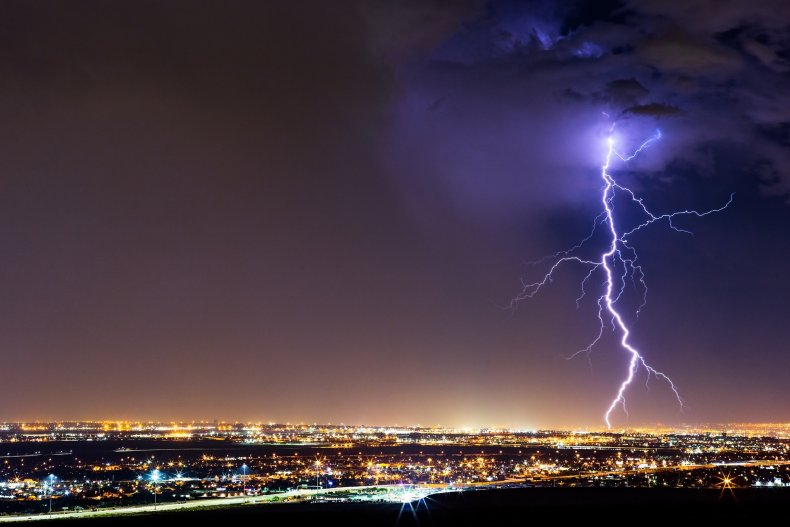 Lightning strikes primarily affect the nervous system, although they can cause skin lesions, burns and eye injuries. Those who do not suffer cardiac arrest at the time of the strike often experience neurological symptoms that tend to subside over a few days, according to the NWS. These can include:
Muscle soreness;
Headache, nausea and stomach upset;
Mild confusion, memory slowness or mental clouding; and
Dizziness or balance problems.
However, many survivors experience some long-term symptoms that can include chronic pain, headaches, personality changes, memory problems, slower reaction times, cognitive issues and depression.