Four Federal Judges Rule Against Trump's Immigration Order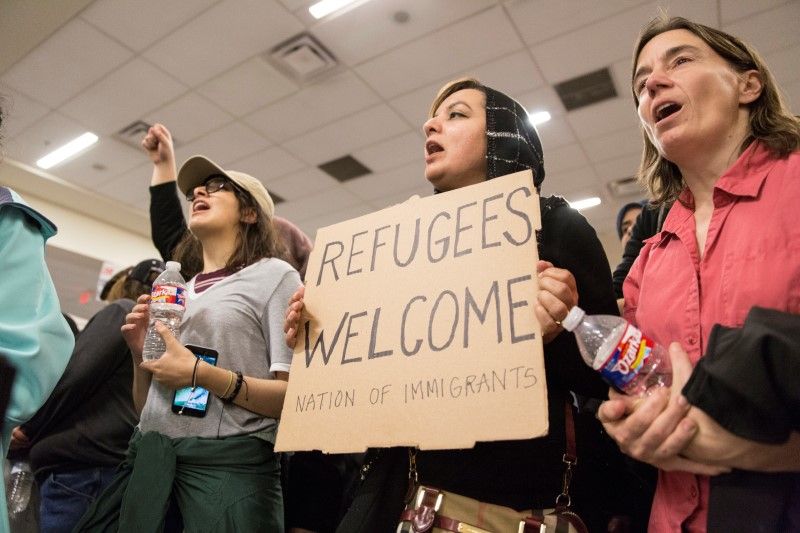 Federal judges in three states followed one in New York in barring authorities from deporting travelers affected by U.S. President Donald Trump's executive order imposing restrictions on immigration from seven Muslim-majority nations.
The judges in Massachusetts, Virginia and Washington state issued their rulings late on Saturday or early on Sunday.
Earlier on Saturday, U.S. District Judge Ann Donnelly in New York City's Brooklyn borough ordered authorities to refrain from deporting previously approved refugees from those countries. She ruled on a lawsuit by two men from Iraq being held at Kennedy Airport.
The U.S. Department of Homeland Security said in a statement on Sunday that it would comply with court rulings while at the same time implementing Trump's order "to ensure that those entering the United States do not pose a threat to our country or the American people."
Across the United States, lawyers worked overnight to help travelers caught up in confusion at airports after the new Republican president on Friday halted immigration from the seven countries and temporarily stopped the entry of refugees.
Attorneys and advocates said they have filed more than 100 cases for individual travelers around the country.
In Boston, U.S. District Judge Allison Burroughs on Sunday issued a temporary restraining order blocking the removal of two Iranians who taught at the University of Massachusetts who had been detained at Logan International Airport. The order, set to last seven days, appeared to go further than Donnelly's by barring officials from detaining, in addition to removing, approved refugees, visa holders and permanent U.S. residents from Iraq, Syria, Iran, Libya, Sudan, Somalia and Yemen. Donnelly's order only forbade removing those affected by Trump's order.
The legal director of the American Civil Liberties Union of Massachusetts, Matthew Segal, in a statement called Burroughs' order "a huge victory for justice. We told President Trump we would see him in court if he ordered this unconstitutional ban on Muslims," Segal said. "He tried, and federal courts in Boston and throughout the nation stopped it in its tracks."
In Alexandria, Virginia, U.S. District Judge Leonie Brinkema on Saturday night barred the Department of Homeland Security from removing 50 to 60 people detained at Dulles International Airport who are legal permanent residents. Dulles is one of the main airports serving Washington, D.C.
Brinkema's temporary restraining order also requires the agency to allow those individuals to speak with lawyers, according to the Legal Aid and Justice Center in Virginia, which provides representation to low-income individuals.
On the West Coast, U.S. District Judge Thomas Zilly in Seattle on Saturday barred the federal government from removing two unnamed individuals. He scheduled a further hearing on the issue for Feb. 3.
Despite the legal challenges, supporters of Trump's order said the government was within its rights to act swiftly to enforce the president's order.
"It is better be safe than sorry," said Jessica Vaughan, director of policy studies at the conservative group the Center for Immigration Studies in Washington.