Four GOP Senators Threaten to Oppose Coronavirus Stimulus Package, Say Unemployment Would Pay Some Workers Too Much
The fate of a massive $2 trillion emergency relief plan to boost the economy amid the coronavirus pandemic teetered on the edge of uncertainty Wednesday.
A small group of Senate Republicans threatened to not support the legislation over disagreements with how the provision for expanded unemployment insurance was written, a position that could prolong final passage by days.
The four GOP lawmakers—Lindsey Graham and Tim Scott of South Carolina, Ben Sasse of Nebraska and Rick Scott of Florida—chalked up the conflict to a "drafting error." That mistake, they contended, would inadvertently incentivize low-wage earners to seek unemployment rather than remain at their current job because they could potentially receive more money through unemployment benefits.
"I have been one of your strongest supporters for upping unemployment insurance," Graham said. "But I never in my wildest dream believed that we would incentivize people to stop working to take on employment."
"It looks like parts of this bill would actually incentivize the severing of the employee-employer relationship," Sasse added.
Should the concerns of the Republican faction not be properly addressed, the lawmakers indicated they would be forced to oppose the bill, a move that has the potential to delay a final vote by days due to the inability to clear procedural hurdles. Aside from the increased unemployment benefits, the proposal is set to include individual checks for Americans, corporate bailouts and forgivable loans to small businesses, among other things.
"If this is not a drafting error, then it's the worst idea I've seen in a long time, and that's saying a lot given the fact we're in Washington," Graham said.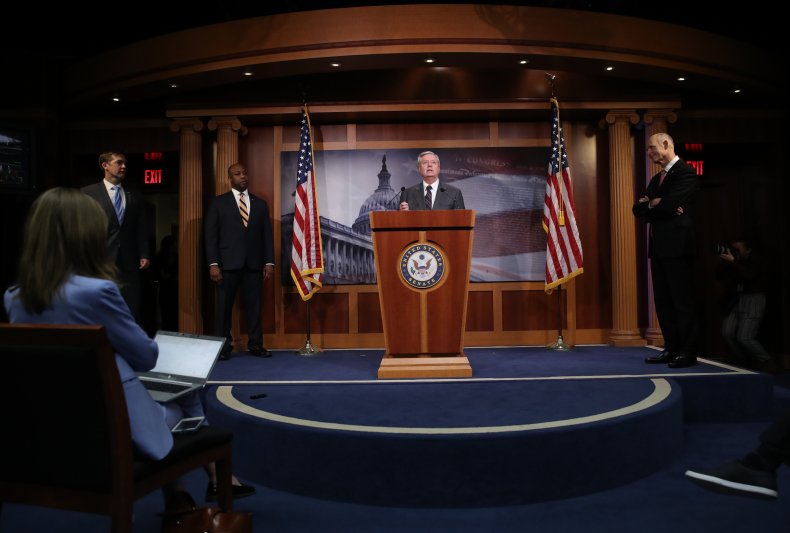 He suggested the unemployment provisions—which only employees who are laid off or fired qualify for and exclude those who quit—were perhaps not simply "drafting errors" but rather intentional. Democrats have touted the expanded unemployment insurance as a win, and all sides—Republicans, Democrats and the White House—have been aware of and agreed to the specific numbers that were the result of around-the-clock negotiations that lasted nearly a week.
The four Republicans argued that the bill could lead to shortages of employees in certain industries, such as grocers, health aides, waste disposal workers and food delivery drivers, because their wages are likely lower than unemployment benefits laid out in the lengthy legislation.
"What we're asking for is really simple: the American people do not think you should get paid more money to not work than to work," Sasse said.
As currently written, the $2 trillion piece of legislation would provide laid-off workers with $600 per week for up to four months, on top of what state unemployment insurance offers. The four GOP senators have proposed an amendment that caps anyone from making more than their current salary.
The reasons such a cap was not included in the text was multi-pronged, according to a Democratic aide: the Labor and Treasury Departments advised congressional leaders that determining how much each person should receive from the federal government based on a person's wages or salary—in addition to the states, which each uses a different formula and system for benefits—would be a convoluted process and significantly postpone benefits.
Treasury Secretary Steven Mnuchin, who crafted the bill on behalf of the White House with congressional leaders, confirmed the reasons for excluding the cap and rejected the notion that the unemployment expansion would lead to an increased number of people without jobs.
"Most of these states' systems have technology that's 30 years old or older. This was the only way we could assure that the states could get money out quickly and in a fair way," Mnuchin told reporters during a daily coronavirus task force briefing at the White House. "I don't think it'll create incentives. Most Americans, they want to keep their jobs."
Still, the opposing Republicans earlier in the day issued a stark warning to amend the legislation or else they likely won't support it.
"We'll know in about an hour as to whether or not this is a drafting error," Graham said, pushing leadership to swiftly accept their amendment.
This story was updated to include remarks from Treasury Secretary Steven Mnuchin.