Four Lions at Utah Zoo Test Positive for Delta Variant, Will Stay on Exhibit
A Utah zoo has reported that four of its resident lions have tested positive for the COVID-19 Delta variant but will remain at the exhibit.
On Monday, Utah's Hogle Zoo issued a press release on Facebook after discovering the lions had contracted the virus. Their diagnosis was confirmed once nasal swabs sent to the National Veterinary Services Laboratory came back positive for the Delta variant, according to zoo officials.
Although the nasal swabs were "collected voluntarily through training," zoo officials stated that they don't know how the lions contracted the virus.
"The health and safety of UHZ staff, animals and visitors continue to be our primary concern," according to the press release.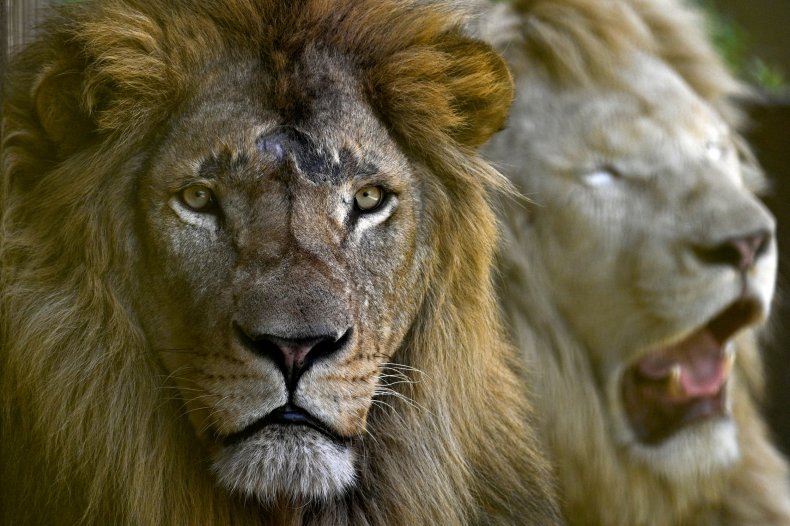 "Prior to these positive cases in the lions, UHZ established a stringent animal care COVID-19 safety plan," the press release continued. "Existing protocols such as increased PPE (personal protective equipment), regulated staff involvement, increased cleaning procedures and staff health monitoring continue to be enforced."
The press release also stated that "African lions will remain on exhibit as there is no known risk to the public. Designed as an open-air environment to best mimic their natural environment in the wild, this allows for a safe distance to view animals."
Dr. Nancy Carpenter, who serves as Director of Animal Health, said in the press release that "UHZ follows guidelines recommended by the Centers for Disease Control [and Prevention] (CDC), Utah Department of Health, and the Salt Lake County Health Departments."
Carpenter also recommends that "UHZ visitors wear masks, specifically in enclosed areas at the zoo," and "UHZ will continue to monitor and manage specialized animal care dictated by CDC guidelines."
"We remain extra cautious and vigilant during the pandemic, with a key focus on the safety of staff, guests and animals," Carpenter ended.
There has been a rash of COVID-19 outbreaks among animals in various parts of the country.
On Monday, The Denver Zoo announced that 11 African lions, ages 1 to 9 years old, tested positive.
According to the zoo, animal care and veterinarians stated that the lions' symptoms are mild, but they are closely monitoring and treating them on an individual basis.
Also, on October 19, a domestic shorthair cat from Ingham County, Michigan, became the first domestic animal in the state to contract COVID-19, according to the Michigan Department of Agriculture and Rural Development.
After the diagnosis, the cat was sneezing consistently but has since recovered, according to health officials.
Newsweek has reached out to Utah's Hogle Zoo for further comment.