Four Months After an Insurrection, It's Time to Move Forward—Not Move On | Opinion
The violent insurrection of January 6 led to a bipartisan impeachment and trial of then-President Donald Trump, and our view that the era of accountability had arrived. Four months later, it is well under way—but so is a furious backlash from the adversaries of democracy. Those of us who believe in free and fair elections must redouble our efforts.
As most recently shown by the widely-publicized raids on Rudy Giuliani in connection with his and the former president's attempted attacks on the election, there have certainly been significant steps taken to hold ex-President Trump and his allies accountable.
In one of the largest FBI investigations in American history, more than 400 people have been charged for their roles in the insurrection—with more to come—and nearly half of them have already been indicted by grand juries. There are parallel civil suits, including against Trump. There are also important investigations spearheaded by Fulton County District Attorney Fani Willis into Trump's infamous Georgia "find the votes" phone call and by New York District Attorney Cyrus Vance into Trump's alleged financial wrongdoing, including in connection with the 2016 election. Even former Attorney General Bill Barr has come in for judicial criticism for his apparent cover-up of Trump's alleged wrongdoing.
Unfortunately, despite these important actions, the core Big Lie that fueled the January 6 insurrection has continued to burn strong in legislatures across the country. That includes the U.S. House of Representatives, where Representative Liz Cheney was just expelled as conference chair of her party for telling the truth. And while there has been action taken against some of the key architects of the lies, the damage continues.
Just look at what's happening in Arizona, where state lawmakers are wasting at least $150,000 in taxpayer money for a bogus "audit" of what we already know was declared, in three recounts, an accurate and secure election. Given that the head of the company responsible for the Arizona shenanigans is a "Stop the Steal" advocate and conspiracy theorist, it would be better termed a "fraudit."
Or look at Florida and Texas, where state legislatures have passed or are undertaking "gut-and-replace" efforts to push bills that infringe on the freedom to vote and interfere with elections for partisan gain. Sadly, this isn't just happening in Republican-led states, either. In Maryland, for example, a bill was introduced that would effectively transfer control of the state board of elections from the Republican governor to Democratic legislators. All of these examples represent urgent threats to the integrity of our elections. A democracy that silences its citizens is no democracy at all.
As three veteran public servants, we know that what happens at the state level is often a pulse check on the health of our democracy. That's why we started the States United Democracy Center, a nonpartisan organization that cares about protecting our democracy, and perhaps more importantly, cares about what that means for state leaders.
Where do we and the country go from here?
First, we and others need to do everything we can to support criminal investigations, civil litigation and congressional and other actions that seek to protect our rights. This means continuing to use the full force of the law to make sure anyone who played a role in the January 6 insurrection or attempted to interfere with the 2020 elections is held accountable. If we do not exhaust our options, the lesson learned by democracy violators will be to try it again.
Civil and criminal matters are important, but they must be complemented by Congress creating an independent bipartisan commission to examine the January 6 attack. Led by an equal number of members of both parties and armed with subpoena power, it should investigate the insurrection and how political violence of this kind can be prevented in the future.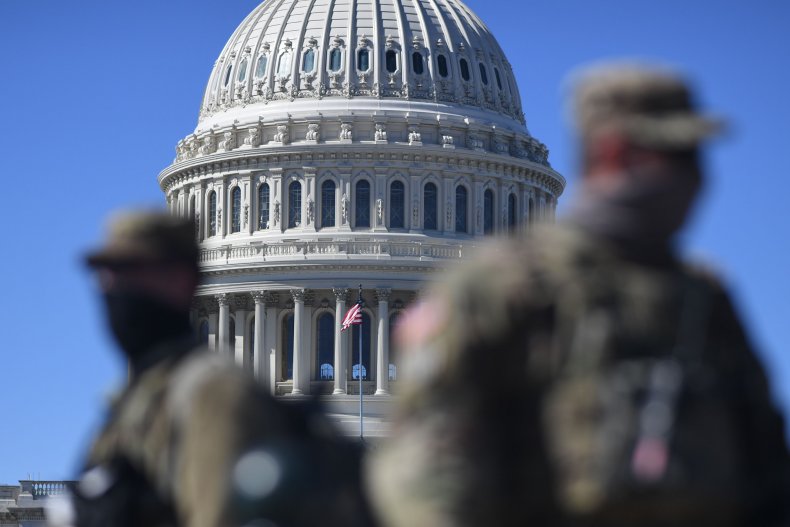 Second, we need to keep the spotlight on the insidious state-level efforts to suppress the vote and shift power to hyper-partisan forces. To that end, we at States United joined with other organizations to release a report that analyzed a dangerous and under-the-radar trend of partisan state lawmakers putting forth proposals to politicize, criminalize and interfere with elections.
That kind of spotlight needs to come from all angles. Thankfully, hundreds of businesses have come out in support of voting rights, and a bipartisan coalition of more than 50 current and former state officials—governors, lieutenant governors, attorneys general and secretaries of state—came together to urge others to do the same. Nine major sports unions have joined the fight as well. We must build on this momentum.
Third, we need good faith, bipartisan efforts at the national level. Legislation like the "For the People Act" is a great place to start. This bill offers a starting point for the critical reforms we need to safeguard our democracy.
The "For The People Act," which just moved through a Senate mark-up, goes a long way toward addressing the vulnerabilities and inequities in our electoral system. This omnibus bill creates a solid floor for federal elections around bipartisan solutions that majorities of the American electorate support, like automatic voter registration, early voting and access to ballot drop boxes. A companion bill, the "John Lewis Voting Rights Act," would restore critically needed protections against racial discrimination. It is important—but no substitute for the omnibus bill. We need both.
It's been four months since our Capitol descended into chaos. Our democracy survived that attack—at a terrible cost. But where will we be in two or four years if anti-democratic leaders take power? How about 40? Only one thing is certain: Without a real commitment from our national and state leaders to address what happened that dark day, we leave ourselves vulnerable to an insurrection sequel—whether through a physical attack on our halls of government, or through brazen attempts to disenfranchise voters and undermine the integrity of our elections.
Leadership isn't just about holding democracy violators accountable. It's also about doing the long hard work that is required to protect our democracy. As the late Congressman John Lewis reminded us in his final words to the nation, "Democracy is not a state. It is an act, and each generation must do its part." It's time we all do our part.
Norman Eisen (@NormEisen) served as former President Barack Obama's ethics czar and was counsel to the House Judiciary Committee for the first impeachment and trial of former President Donald Trump.
Joanna Lydgate (@JLydgate) is the former chief deputy attorney general for the state of Massachusetts.
Christine Todd Whitman (@GovCTW) is a former governor of New Jersey and served as the administrator of the Environmental Protection Agency.
Eisen is the executive chair at the States United Democracy Center (@statesunited), Whitman serves as its co-chair and Lydgate serves as the organization's chief executive officer.
The views expressed in this article are the writers' own.