Four NYC Neighborhoods Make Up 20% of New Coronavirus Cases in City
Four areas in New York City are under scrutiny among health officials as they have accounted for 20 percent of the city's new COVID-19 cases since Saturday.
NYC Mayor Bill de Blasio said during a press conference Wednesday that "urgent action" is needed to address the uptick in cases affecting "multiple neighborhoods simultaneously."
In the borough of Brooklyn, Williamsburg has been identified as one of the areas of concern, as it has a percent positivity rate of 2 percent, the New York City Department of Health and Mental Hygiene (DOHMH) wrote in an email to Newsweek.
Additionally, health officials are labeling three areas within southern Brooklyn—Midwood, Borough Park and Bensonhurst—as the Ocean Parkway Cluster. Together, the cluster has a concerning 4.71 infection rate.
In Queens, the Kew Gardens neighborhood has a 2.24 percent positivity rate, and Edgemere-Far Rockaway has a listed infection rate of 3.69 percent.
"At this point in time, these increases could potentially evolve into more widespread community transmission and spread to other neighborhoods unless action is taken," the DOHMH said.
Wiliamsburg, Edgemere and the Ocean Parkway Cluster has seen their coronavirus rates triple during a seven-week period between August 1 and September 19, according to the DOHMH. Kew Gardens has seen its rate double.
The situation would require further action "if noncompliance with safety precautions was observed," according to the DOHMH.
Safety precautions include avoiding large indoor gatherings, wearing face coverings, and getting tested for the novel coronavirus.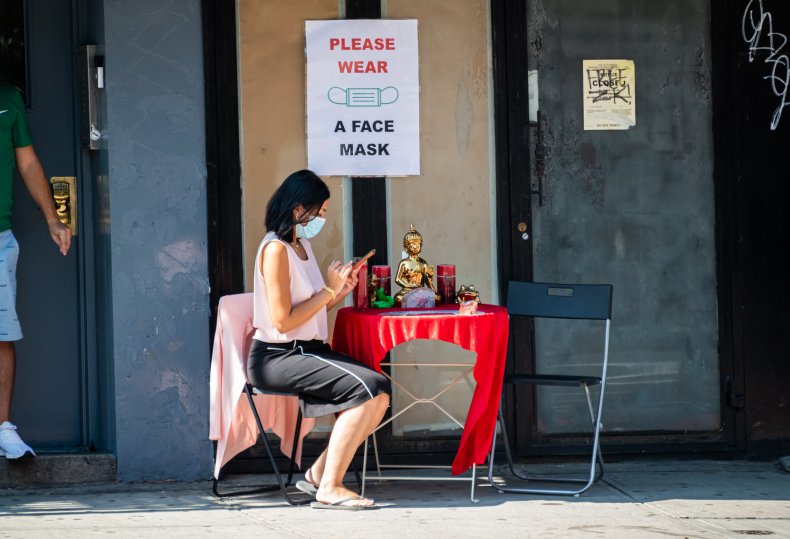 As of September 21, the most recently available data, NYC showed a citywide percent positivity rate of 0.75 percent. Statewide, New York had a 7-day rolling average positivity rate of 1 percent.
While de Blasio has warned in the past that stages of NYC's phased reopening such as indoor dining could be revoked if the citywide infection rate hits 2 percent, he didn't indicate any plans to do at this time, despite the increased infections.
Instead, de Blasio and other city officials seem to be focusing their efforts on educating residents about the necessary precautions to slow the spread of coronavirus.
"We have been working with community leaders and institutions for weeks, but now we're going to greatly increase our on the ground education efforts and enforcement efforts to address this situation," de Blasio said Wednesday. "And I want to be clear this, again, can be addressed effectively. We need everyone to be a part of it."
Dave Chokshi, the city's health commissioner, narrowed in on large, unmasked indoor gatherings during a press conference Tuesday. "It makes it crucially important for us to focus on those things, because we know what has worked in New York City over the last few months but we can't get complacent about those things," he said.
De Blasio addressed on Tuesday whether the new case surges in the city were indicative of a potential second wave of the virus, such as the one currently hitting several European countries. The mayor moved to distinguish his city's situation as the former worldwide epicenter for COVID-19 from that of others.
"There's obviously been a really devoted approach to quarantine here, and a lot of messaging about that I think has had an impact," de Blasio said. "I really think we're in a different situation, but that being said, we are watching carefully because when we see this many neighborhoods with a problem, it's causing us a lot of concern for sure."