Four Officers Charged in George Floyd Case Face Up to Four Decades in Prison If Convicted
All four officers involved in George Floyd's death were arrested and charged with crimes that carry maximum sentences ranging from 10 to 40 years.
Minnesota Attorney General Keith Ellison, the lead prosecutor in the case, charged former officer Derek Chauvin, who was seen in a video kneeling on Floyd's neck, with second-degree felony murder on Wednesday. Three other officers–Tou Thao, J. Alexander Kueng and Thomas Lane–were charged with aiding and abetting second-degree murder; and aiding and abetting second-degree manslaughter.
All four officers face equal time behind bars for their involvement in Floyd's death on May 25. Second-degree felony murder and aiding and abetting second-degree murder both carry maximum sentences of 40 years.
When it comes to culpability, both Floyd's family attorney, Benjamin Crump, and Minneapolis Police Chief Medaria Arradondo saw all four officers as equally guilty.
"Being silent or not intervening, to me you're complicit, So I don't see a level of distinction," Arradondo said. "Mr. Floyd died in our hands so I see that as being complicit."
If Thao, Kueng and Lane are convicted of the lesser charge of aiding and abetting second-degree manslaughter, they'll face up to 10 years in prison, a $20,000 fine or both prison and a fine.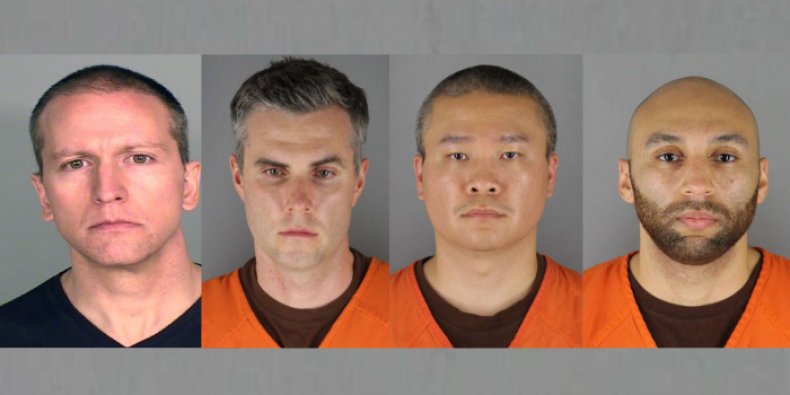 In announcing the charges, Ellison said the amended complaint against Chauvin included second-degree felony murder because he believed "the evidence available to us now supports the stronger charge." Chauvin was initially charged with third-degree murder and second-degree manslaughter on Friday.
The lesser charge of third-degree murder carries a sentence of up to 25 years in prison and second-degree manslaughter has a maximum charge of 10 years in prison, a $20,000 fine or both.
Crump and Floyd's family called for first-degree murder charges to be leveled against Chauvin, which would require the prosecution to prove premeditation and deliberation, according to Ellison. Second-degree murder would also require intent, but under second-degree felony murder a person just has to intend to commit the felony and have death be the result.
"We would contend that George Floyd was assaulted and that would be the underlying felony," Ellison said on Wednesday.
Newsweek reached out to Derek Chauvin's attorney, Thomas Kelly, for comment but did not receive a response in time for publication.
Going forward, Ellison said his office is preparing to go to trial and doesn't have plans for any plea deals at this time. Just as he asked for patience while preparing the charges, Ellison asked the public to be patient as they investigate because "being complete and thorough is critically important."
"Every link in the prosecutorial chain must be strong," Ellison explained. "It needs to be strong because trying this case will not be an easy thing. Winning a conviction will be hard."
The difficulty doesn't lie in his office's resources or abilities but in a history that showed there are "challenges" in convicting a police officer of murder. Officials won't be able to publicly share many details about the investigation, but one thing Ellison could say is that anyone with evidence in the case should come forward and be cooperative.