Four People at Republican National Convention Test Positive for Coronavirus
At least four people who were at the Republican National Convention tested positive for the new coronavirus, Mecklenburg County, North Carolina's health department confirmed.
The four-day Republican National Convention concluded on Thursday with President Donald Trump formally accepting a renomination to be his party's candidate for president. His official re-nomination was solidified on Monday when he received the 1,276 delegates necessary to become the nominee, 336 of whom ventured to Charlotte, North Carolina, to appear in person.
Of the four people to test positive, two were attendees and two were event support people, Mecklenburg County posted on Twitter. They were all immediately isolated.
Upon arrival, the RNC required delegates to wear masks and partake in temperature checks, as well as, wear a fob that tracks anyone with they come into contact, according to NPR. RNC's health consultant, Dr. Jeffrey Runge, said the data collected from the trackers will be used if someone gets infected with COVID-19.
"It's completely private," Runge said. "The badges have a number, and we will know what numbers are in contact with other numbers. But they won't be identified with a person unless there is someone who is positive for COVID."
Newsweek reached out to the Republican National Committee for comment but did not receive a response in time for publication.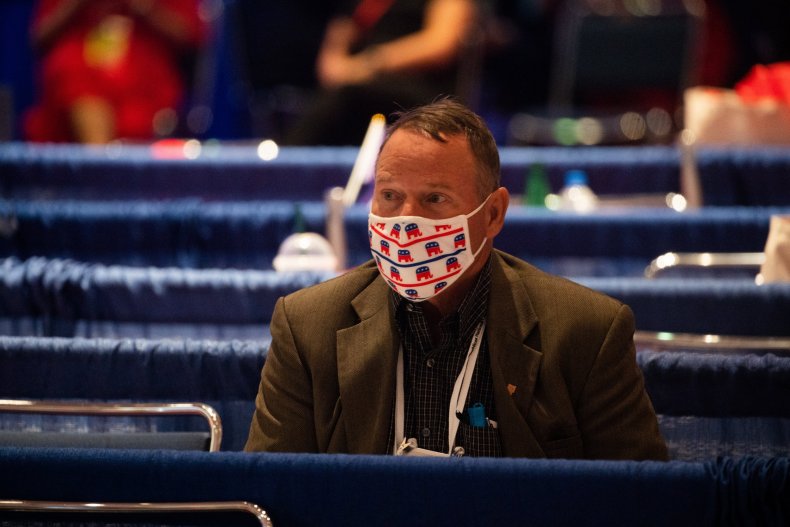 Despite the strict protocols that were supposed to be in place, the lack of adherence to the measures prompted concern from local health officials. Mecklenburg Public Health Director Gibbie Harris contacted the RNC about people not wearing masks and social distancing, The Charlotte Observer reported.
"I have been assured that they are working hard to address these issues. All attendees agreed to comply with the requirements prior to attending and were informed that these requirements would be enforced," Harris told the Observer on Monday.
After the four cases were identified, officials notified known close contacts and the Mecklenburg County Public Health Department issued quarantine guidelines.
North Carolina's had 161,076 cases of the new coronavirus, according to the Department of Health and Human Services. Of the state's 100 counties, Mecklenburg County has had the most cases with 24,744 infections.
In June, the GOP moved key parts of the convention from Charlotte to Jacksonville, Florida, when North Carolina officials prohibited a full-scale event from occurring. However, in July, Trump told reporters it was moved back to Charlotte because of the "flare-up" of coronavirus cases happening in Florida.
"I'll still do a convention speech in a different form, but we won't do a big crowded convention per se," Trump said. "It's just not the right time for that."
Although Trump delivered his official acceptance speech from the White House, he appeared at the convention on Monday following the delegate count. Other in-person speakers included Vice President Mike Pence, Senator Tim Scott and four of the president's children, Eric Trump, Donald Trump Jr., Ivanka Trump and Tiffany Trump.
This is a developing story and will be updated as more information becomes available.