Four Seasons Total Landscaping Trolls Rudy Giuliani After Feds Raid His Home: 'Wrong Apartment'
Four Seasons Total Landscaping mocked former President Donald Trump's personal attorney Rudy Giuliani after federal investigators raided Giuliani's home on Wednesday.
"Wrong apartment. We kicked him out months ago," the small business wrote on its Twitter account, alongside a photoshopped picture of of FBI agents in front of the company's now-famous garage door.
Earlier in the day, feds executed a search warrant at Giuliani's Manhattan apartment as part of a years-long probe into whether he broke lobbying laws with foreign officials.
Giuliani infamously hosted a press conference at the garage door and parking lot of Four Seasons Total Landscaping, a local business in the Holmesburg neighborhood of Philadelphia, last November. The site led to speculation that Giuliani meant to book the Four Seasons Hotel Philadelphia, which was located five blocks from the convention center where the state's ballots were still being counted.
Since the event, Four Seasons Total Landscaping has changed its Twitter bio to read: "Not THAT Four Seasons! Woman-Owned Small Business, Philadelphia-Based, Servicing Your Commercial Landscape and Snow Removal Needs."
The business also sells shirts featuring images of the garage that also have "Rudy Moved Out" printed on them.
Four Seasons Total Landscaping will be the subject of an upcoming documentary that tells the story of how the company came to host the press conference. The project is set to finish production later this month.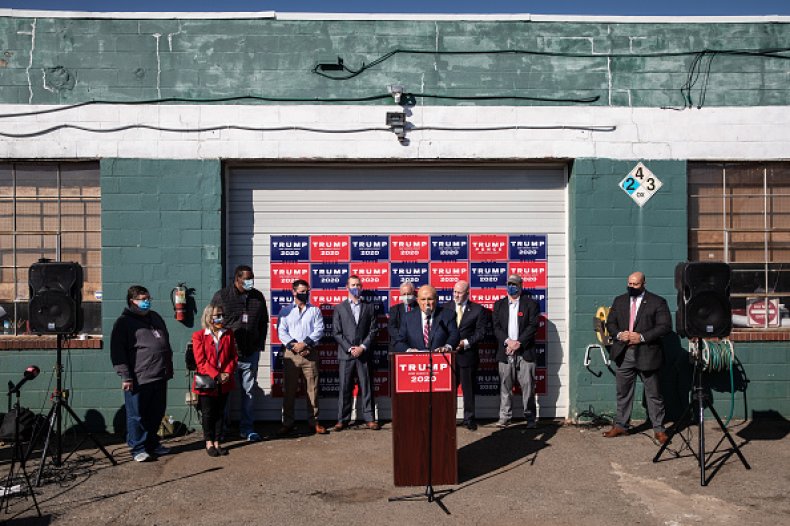 On Wednesday, agents searched Giuliani home and seized numerous electronic devices as part of a Justice Department investigation, The New York Times first reported.
The former New York City mayor has been under federal scrutiny over his ties to Ukraine, but under the Trump administration, the Justice Department had blocked the search warrant for nearly two years. It was finally cleared earlier this year after President Joe Biden's attorney general, Merrick Garland, was confirmed to head the agency.
The warrant has signaled that the "investigation has entered an aggressive new phase," according to the Times. Giuliani is not currently facing any federal charges.
In a statement issued to the Associated Press, Giuliani's lawyer said, "Mr. Giuliani respects the law, and he can demonstrate that his conduct as a lawyer and a citizen was absolutely legal and ethical."
The statement accused the Justice Department of "running rough shod over the constitutional rights of anyone involved in, or legally defending, former President Donald J. Trump." Giuliani represented the former president in a series of failed lawsuits seeking to overturn the results of the 2020 presidential election.