Four Soldiers Arrested After Suspected Gang-Related Louisiana Shooting
Four U.S. Army soldiers stationed at Louisiana's Fort Polk have been arrested for their alleged involvement in a gang-related shooting.
Quazier Watterson and Tavon Williams, both 19, were arrested alongside 23-year-old Trevian Cherry and 24-year-old Joshua Galloway VI shortly after the shooting on Monday night, according to a joint news release that the DeRidder Police Department and the Beauregard Parish Sheriff's Office issued on Tuesday.
The four men were charged with criminal conspiracy to commit attempted armed robbery; aggravated assault with a firearm; illegal use of weapons or other dangerous instrumentalities; and aggravated criminal damage to property. Officers responded to reports of a shooting at around 11:25 p.m. local time on Monday.
"On arrival, officers learned that one person was injured from escaping the gunfire through a window and was taken to the hospital for treatment of cuts from broken glass," the joint release stated. "Witnesses gave descriptions of a suspect vehicle and the vehicle was located in Leesville a short time later."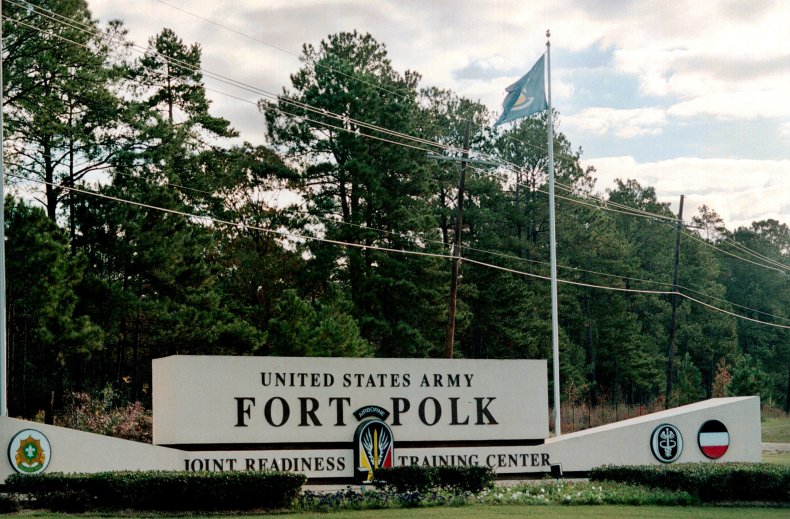 Upon searching the vehicle, officers discovered five weapons and multiple fired shell casings that matched casings found at the scene of the shooting. Police are investigating the shooting alongside other similar incidents "that have occurred frequently in the recent past."
Detectives suspect that the shooting could be related to "recent activity from the so-called gangs" due to a shooting at the same address on September 11. Two juvenile suspects were arrested in Leesville earlier on Monday on suspicion of taking part in the previous shooting.
Further details about Monday's incident, including information on what gangs may have been involved, were not immediately available. It is also unclear what connection the soldiers may have, if any, to the juveniles suspects arrested earlier.
Fort Polk spokesperson Shelby Waryas told Army Times that the soldiers were all assigned to the 3rd Brigade, 10th Mountain Division. Waterson, Cherry and Williams all hold the rank of private first class, while Galloway is a specialist.
Although 93 individuals with ties to the Army were involved in gang-related activity during 2020, gang activity in the Army had declined since the year before, according to documents obtained by the outlet.
The decline may have occurred due to the COVID-19 pandemic forcing people to spend more time indoors. Army Times found that 245 gang-related incidents were reported among those with Army ties in 2019.
The soldiers were booked into Vernon Parish Jail following their arrest. They were transferred to Beauregard Parish Jail, where they remain incarcerated without bond while awaiting their next court hearing.