Four Solutions to the Failed Climate Conference in Egypt | Opinion
A sad, dried-out tree with brown crisp leaves stood defeated at the entrance of the Blue Zone at the United Nations Climate Change Conference, COP27, in Sharm el-Sheik, Egypt. It was potted and surrounded by plexiglass emblazed with the logo of the event; behind it draped massive, colorful vertical banners with the taunting pictures and words, "Water," "Solutions," and "Agriculture & Food Systems."
The world leaders who gathered for the past two weeks knew they had to reduce burning fossil fuels by half by 2030 to effectively fight climate change, just like the landscaper who placed the formerly green tree at the entrance knew there should be a drip-irrigation pipe to water the tree. Yet neither happened.
"COP27 took place not far from Mount Sinai, a site that is central to many faiths and to the story of Moses, or Musa. It's fitting," observed Antonio Guterres, the secretary-general of the United Nations, in his closing remarks. "Climate chaos is a crisis of biblical proportions. The signs are everywhere. Instead of a burning bush, we face a burning planet."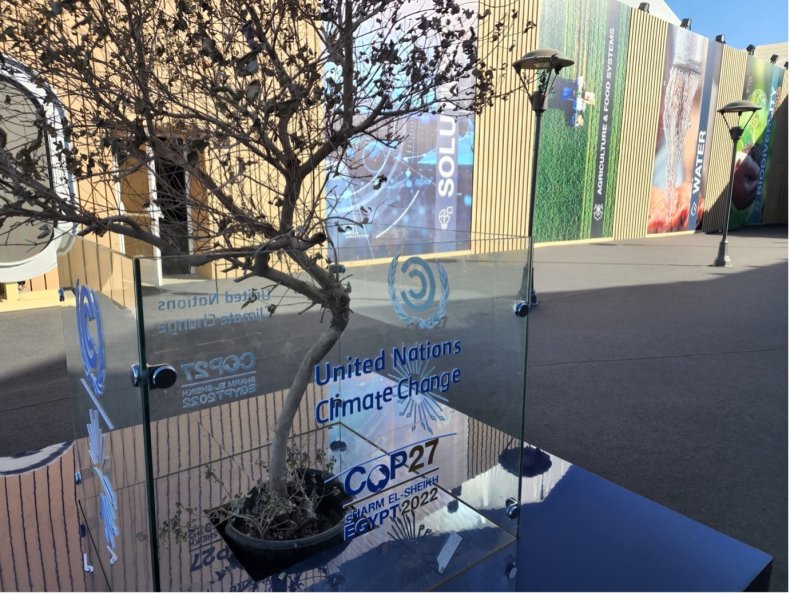 As a participant, there is something misleadingly exhilarating about these annual global climate gatherings. When you walk through the well-designed pavilions, hear the inspiring speakers, and tap into the renewable energy of the tens of thousands of diverse people who have gathered to save the planet, there is a feeling that perhaps there may be just enough momentum for the kind of political breakthroughs that would be necessary to stave off what the secretary-general called "climate hell."
And then I kept walking by the dead tree—consumed by the punishing Sinai sun and neglected by the COP27 organizers.
COP27 failed.
And worse, it failed the most vulnerable people on earth. Yes, there was a moral victory to create a "loss and damage" fund by the rich nations for the poor nations. But those funds, should they ever really materialize, will be to replace bridges in Mozambique destroyed by increased cyclones, provide clean water treatment for communities in Pakistan and Nigeria devasted by recent floods, compensate farmers in Kenya for failed crops due to increased desertification, rebuild key infrastructure in nations in the path of now super-charged hurricanes and more. But the most cost-effective way to help these least developed and most vulnerable nations is to stop beating around the climate bush.
Just like no water reached that poor tree in the Blue Zone, next to no climate funds have actually flowed to the poorest of nations since the Paris Climate Accords in 2015. Indeed, the most important yet ignored report issued at COP27 was by Luiza Demoro of BloombergNEF that demonstrated that less than 1 percent of climate finance went to Africa and from that drop in the climate finance ocean, the super majority went to South Africa, Morocco and Egypt and not to Burundi, South Sudan, Malawi, Uganda, Liberia, Mali, Sudan, and the other poorest nations. In other words, the international community has not only failed to cut emissions enough to prevent costly disasters from striking the poorest communities, it has cultivated the lie that the billions it has pledged and deployed actually was utilized where it is needed most.
Four painful truths coming out of COP27:
First, making climate loans to poor countries is not climate aid or good policy. It is perpetuating the downward spiral of these fragile economies.
Second, the investment strategy of the international community has also failed because it essentially is rooted in a culture of waiting around for specific projects to be developed and de-risked without nurturing them with project development grants or catalytic blended finance. Therefore, advancing transformative climate projects takes forever or projects wither and die before they can reach maturity. I just completed a solar field in the world's poorest country, Burundi, that is supplying 10 percent of the country's generation capacity. Truth be told, it took seven expensive and painful years to develop largely because the international community—here I will name the World Bank, the African Development Bank and United States Trade and Development Agency—found convenient, safe reasons to deny a life-saving flow of funds during its most fragile years, almost killing the endeavor completely.
Third, when the international community does eventually get around to financing climate projects in the poorest of countries, it does it so painfully slowly, with cumbersome bidding processes rather than speedy direct deals, project by project, which is no way to scale. The solution is to invest in pan-African platforms that can deliver results across a wide array of markets on the ground faster than any government or fund-of-funds or yet another intermediary body or commission or alliance or consortium to create the appearance of judicious stewardship. Climate wimps. Water the damn tree already and it will blossom.
And fourth: Africa could be powered 100 percent by the green energy by 2030 with one simple policy shift by the international community: Give investors certainty and eliminate opportunities for corruption by declaring that all green energy projects across all 54 countries over the next seven years will receive 10 cents per kilowatt hour for 25 years. For smaller projects, provide grants to make up for lack of economies of scale. For larger projects, let investors make money, trillions will flow and a thousand climate projects will bloom from the Sahel to the Kalahari.
Water the damn tree already or, at the very least, end the farce that the international community intends to accomplish something transformative on the ground.
Nominated by 12 African countries for the Nobel Peace Prize for pioneering solar energy on the continent, Yosef I. Abramowitz serves as CEO of Gigawatt Global, an impact investment platform (www.gigawattglobal.com). He serves as an Ambassador for Israel's Climate Solution Prize and can be followed@Kaptainsunshine
The views expressed in this article are the writer's own.