Four Sportswriters Have Decades of Experience With UConn Coach Geno Auriemma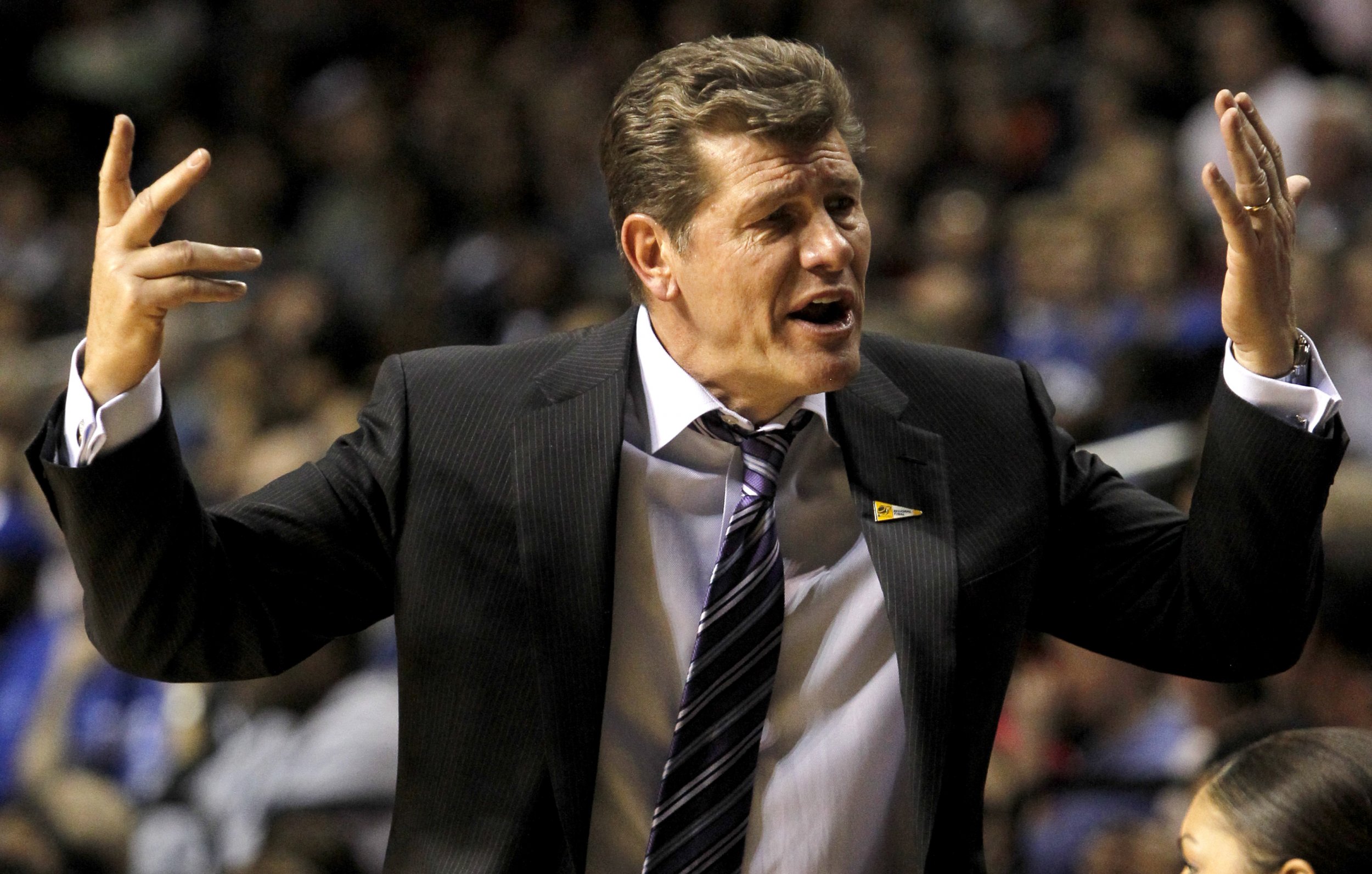 They are chroniclers, critics and, occasionally, cronies. For more than half of Geno Auriemma's illustrious 30-year career as the women's basketball coach at the University of Connecticut, four Nutmeg State writers have enjoyed a front row, albeit a press row, seat to sports history. "If I said I wanted to get off this beat, my paper would let me," says Carl Adamec of the Manchester Journal Inquirer, who has been covering UConn women's basketball since 1991. "But why would I want to do that?"
Adamec, along with Mike DiMauro, a columnist for the New London Day, Jeff Jacobs, a columnist for the Hartford Courant and Jim Fuller, a writer for the New Haven Register, have covered the Huskies since the year 2000 or earlier, which translates to anywhere between 13 and 16 women's Final Fours. They have witnessed 10 national championships, likely soon to be 11. They have recorded the deeds of six Naismith players of the year. They have been tempted to pop NoDoz, or perhaps a stronger stimulant, during three different win streaks of 70 or more games.
Most memorably, this quartet has jotted down innumerable bons mots dispensed by Auriemma, aka Geno, at least half of which have been suitable for publication. "There's nothing like covering Geno and this team," says DiMauro, who began covering the program in 1996. "The challenge each season is you have to write the same story 39 different ways."
In terms of drama, the Huskies do the team's beat writers and columnists no favors. Heading into Tuesday night's national championship game vs. Syracuse, UConn (36-0) is averaging a winning margin of 39.9 points per game. The program compensates for its hoops hegemony, though, via the quick and often unfiltered tongue of Auriemma, who seasons even the most one-sided of blowouts with insightful or provocative pull quotes. "Geno understands what we do better than anyone I've ever covered," says Fuller, who has been on the beat since 2000.
The first thing an outsider must understand about the Connecticut women's basketball program is how insulated (or, if you prefer, isolated) it is. Storrs, Connecticut, may be just 103 miles from where the Pilgrims landed in 1620, but it remains a wooded and sparsely populated area. Depending on your bent, a trek to Storrs will remind you of the line, "Over the river and through the woods" or the opening scene of a horror flick. Happening upon a UConn game at sold-out and raucous Gampel Pavilion in the dead chill of January is akin to stumbling upon a tent revival in the bayou.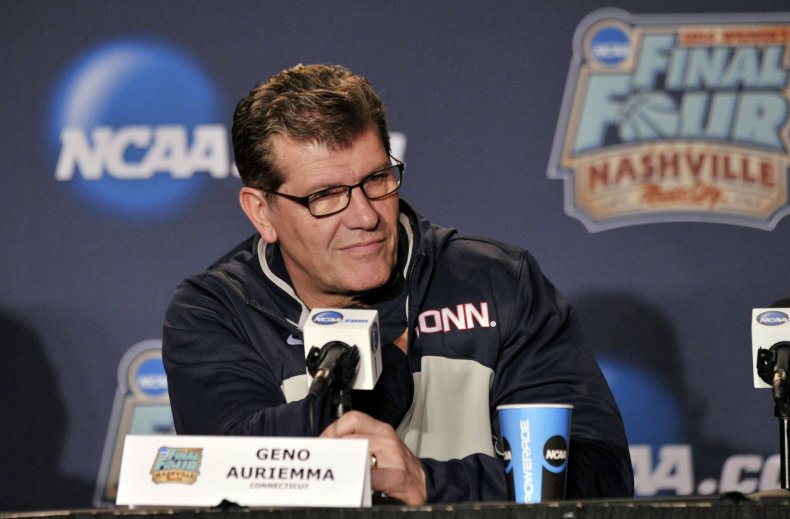 The second thing to understand is that Auriemma, 62, the architect of this empire—ably assisted for all 30 seasons by associate head coach Christine Dailey—is a smartass sports fan of ecumenical tastes who finds himself surrounded by females whose appetite for sports, beyond their own, is not ravenous. "His players are women, his assistants are women, he's married and he has two daughters," says Fuller. "And his son is from a different generation. He's around women all the time and there isn't a sport that he doesn't like to discuss. So we are often that outlet for him."
"We were in the airport in Pittsburgh once, and Geno starts needling [former All-American and Russian emigrant] Svetlana Abrosimova," says Adamec. "'You know, Svet, in '72 at the Olympics, we got cheated.' He went on and on talking about the controversial gold-medal game between the U.S. and the USSR. She had no idea what he was talking about. That's why he likes having us around."
To cover UConn on a daily basis affords these writers unfettered access to the John Wooden of women's basketball without having to combat, for most of the season, the incursions of big-time media outlets (even if ESPN headquarters in Bristol is just 45 miles west). "It doesn't matter if you're from The New York Times or from the JI [Adamec's paper], Geno treats everyone the same," says Adamec. "The first time I showed up to a practice, he approached me and said, 'You made it all the way from Vernon [another tiny eastern Connecticut hamlet]?' As if to congratulate me for finding them."
The banter, over the years, has led to a rapport that has laid the foundation for a trust and candor between both parties that is rare if not unique in sports. For years Geno would host a Final Four party on the eve of the national championship game—even in the years UConn was playing—to which media were also invited. "At the 2000 Final Four party in Philadelphia, I brought my wife, whom Geno had never met," says Jacobs. "He gave her a hug and said, 'Your husband's an asshole.' She replied, 'I know.'"
"Access is much different now," says DiMauro, "but it used to be on road trips that we'd all meet in the hotel bar on the eve of a game and Geno would hold court. You would never print anything that Geno said, but how many coaches would place that much trust in the media?"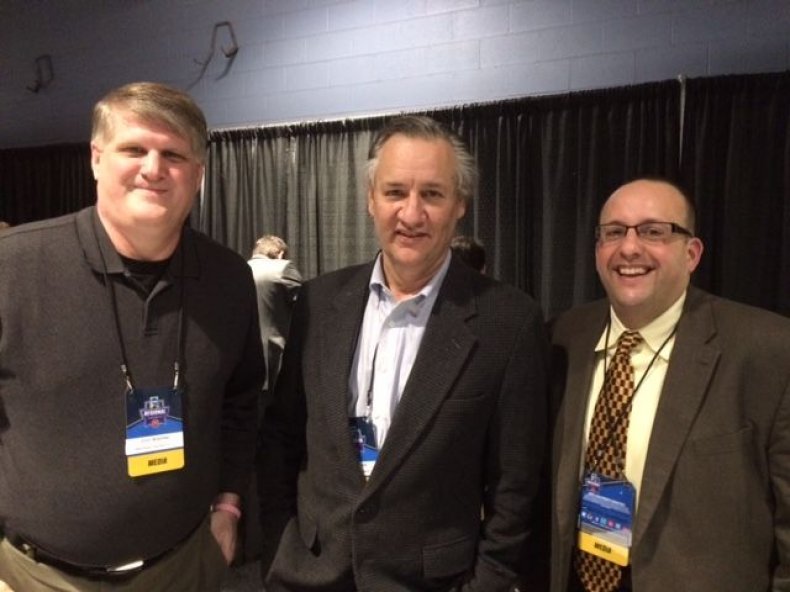 Respect and amity is also expressed in Geno's world through put-downs. In Fuller's first season covering the team, before a game between UConn and bitter rival Tennessee, he compared the teams' rosters. "Under 'Coaches,' I gave the edge to [legendary Lady Vols coach] Pat Summitt," says Fuller. "UConn won, so before their rematch six weeks later Geno called me out on it. For the next game's tale of the tape, I gave the edge to Summitt again. That was for him whining about it."
No one was better at needling Geno than the late sports editor of the Manchester Journal Inquirer, Randy Smith. An avuncular Oscar Madison type who passed away in 2008, Smith proved to be Geno's greatest ink-stained sparring partner. "In 2001, UConn played at Notre Dame in January and got blown out, ending a 36-game win streak," recalls DiMauro. "Geno tried to play down the loss, saying, 'It was a learning experience.'"
"So Randy writes a column off the game," says Jacobs, "and closes it by writing, 'When I die, I hope they print on my tombstone, Here lies R. Smith. It was a learning experience. Oh, boy, did Geno blow up after that.'
Later that same season, Cindy Stein, the coach at Missouri, gushed over Auriemma's matinee idol looks. That night at the hotel bar, Smith approached Auriemma and proclaimed, "Your looks are overrated!" The amused coach of the Huskies shot back, "Have you looked in a mirror?"
"You have to remember that Geno lives in Manchester," says Adamec. "The JI is his hometown paper. He'll sometimes refer to it, around us, as 'The Dogshit Daily Planet.'"
Granted, when a coach leads a previously unheralded program to five (and potentially six after Tuesday evening) undefeated seasons and a 10-0 record in national championship games, the occasions to criticize him are rarer than a short sleeves day in Storrs during the basketball season. The most contentious dustup came in 1998, when All-American Nykesha Sales suffered a college career-ending injury just one point shy of the school's career scoring record. For the next game, Geno engineered a moment, with the complicit agreement of the opposing coach, so that Sales could score an uncontested layup and break the record.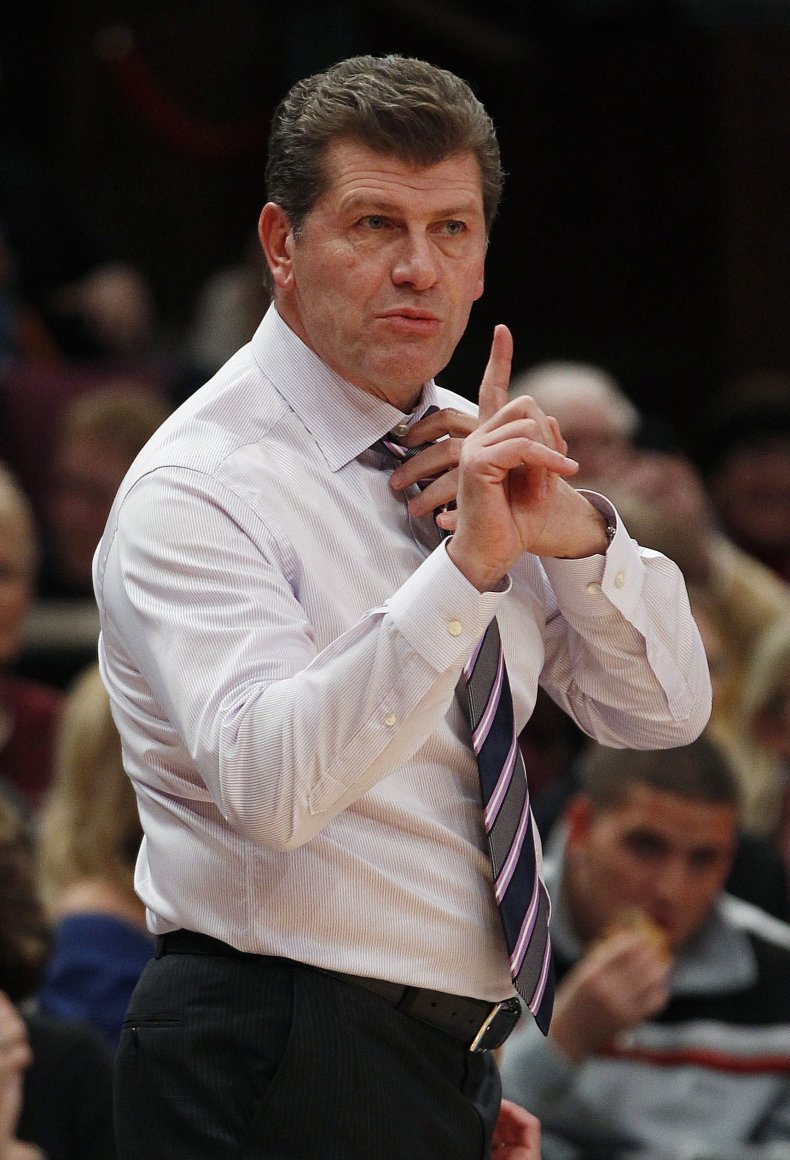 "I wrote a highly critical column of him after that," says DiMauro. "We were staying in the same hotel, the Somerset [New Jersey] Marriott. Geno and I each got in the elevator, just the two of us. We didn't exchange a word. That's never happened."
Jacobs also excoriated Geno in print for the saccharine Sales moment. They did not discuss it much during the season, but that spring Geno summoned Jacobs to his office in Storrs to hash it out. "We talked about this one incident for four hours," says Jacobs. "Do you know how many words one person can speak in four hours? Thousands.
"During that whole four hours, Geno never gave an inch on his argument until he was beginning to win me over," Jacobs says. "'Who died and made you moral gatekeeper?'—stuff like that. The other thing is, I had to get up and take a piss at least twice during this episode. Geno never needed to excuse himself once. I think sometimes people forget the steely eyed competitiveness that Geno possesses and that is at the heart of his program's success."
And yet all four praise Auriemma for how genuine he is. "When he's wrong, he'll tell you," says Adamec, noting that Geno has never capitulated on the Sales episode. "He's usually the first to admit, 'You're right.'"
"My sister passed away during the regionals in 2010," says Fuller. "Geno came to look for me and ask how I was doing."
"My thing on Geno is this," says Jacobs, who began covering the Huskies in 1998. "To a lot of people who don't see him much, they think he's arrogant or a smart-ass. But the closer you get, the more you like him. He is truthful and genuine."
Also, Auriemma's expertise in managing—some might say manipulating—the media is on par with his coaching acumen. "We're coming off a weekend in which Dan Shaughnessy [Boston Globe columnist] tweeted that UConn's dominance has ruined women's basketball for him and Geno took that issue on head on," says DiMauro. "You didn't see a question about the pressure his team was facing trying to get to a ninth consecutive Final Four."
"Exactly," says Jacobs. "Watching that exchange between Shaughnessy and Auriemma, it made you wonder if it was Barnum and Bailey."
"Ninety-eight percent of the time, the stuff that Geno seems to be saying off the cuff is well thought out," says Adamec. "He's a master at that."
Adamec revels in the serendipity of his career dovetailing with Auriemma's. "We're a tiny newspaper, and I've been to 14 Final Fours," he says. "I've shot hoops at Pauley Pavilion. I've been to the White House a few times because I cover a women's college basketball team."
In 1995, UConn's visit to the White House corresponded with the day Air Force F-16 pilot Scott O'Grady was rescued from behind enemy lines in Bosnia after being MIA for six days. "It was chaos," recalls Adamec. "We got lost in the White House kitchen and hung out there for awhile. I mean, we are spoiled."
Such is life covering Auriemma and the Huskies. Many is the time that Adamec and DiMauro have departed a postgame press conference, one in which Geno somehow provided entertaining quotes following a 60-point blowout. They have looked one another dead in the eye, grinning over the banter that has just been exchanged and ruing that so much of it will fail to make their stories. And at some point as they head back to their laptops to file the story and push 'Send,' one of them will say, "The day Geno leaves is the day I leave."
A disclosure: This writer spent the 2000–2001 season embedded with Auriemma and the Huskies, during which time I was afforded uncommon access to the program and was warmly welcomed by the writers mentioned here. Near the end of the season, on the eve of Connecticut's East regional final in Pittsburgh, all of us were marking time at the hotel bar. Geno and Kathy, his wife, retired to a booth for some privacy.
As a gesture of gratitude, I called over a waiter and selected a $70 bottle of red to be sent over to the Auriemma table. "Tell the man," I said, "that it's from the guy who has been a pain in the ass all winter."
The waiter took my credit card and disappeared. About 15 minutes later he returned with my bill, which stated that I had purchased a $395 bottle of champagne. "The gentleman said that you were a much bigger pain in the ass than that," said the waiter.
And then Geno and Kathy invited me over for a drink.