Four Staffers Resign From Justin Fairfax's Office, PAC; Impeachment Proceedings for Virigina Lt. Governor Paused By State Lawmaker
Four members of Virginia Lt. Governor Justin Fairfax's team have resigned days after the politician was accused of a second sexual assault.
According to the Richmond Times-Dispatch, two staffers from Fairfax's office at the state capitol and two staffers who worked for his political action committee resigned on Friday after a former classmate from Duke University, Meredith Watson, accused Fairfax of rape.
The resignations were Fairfax's policy director Adele McClure and scheduling director Julia Billingsly and, from the lieutenant governor's We Rise Together PAC, Dave Mills and Courtney McCargo. Mills served as the executive director for We Rise Together while McCargo was a fundraiser for the PAC.
"The lieutenant governor appreciates the amazing service of his former staff members. Their work and dedication was incredible. He certainly wishes them well and appreciates their service to the Commonwealth of Virginia," Fairfax's spokesperson, Lauren Burke said in an emailed statement to the Washington Post.
Burke also told the Post via phone that Fairfax's office only included four staffers. Lieutenant governor is a part-time position, Fairfax also works as a partner at Morrison & Foerster but has been placed on leave while the law firm conducts its own investigation into the sexual assault allegations.
"We take the allegations against Justin very seriously," Larren Nashelsky, the firm's chairman said in a statement issued on Friday. "As a firm, we believe that it is important to seriously listen to any allegation of sexual assault or harassment, and to treat all persons making such allegations with respect and sensitivity."
Fairfax's chief of staff Lawrence Roberts, along with Burke, remain on staff at the lieutenant governor's office. Roberts told the Post that the pressure of the last two weeks is taking its toll on employees. He added that the departures were unrelated to Fairfax's "performance or abilities."
"The pressure of constant incoming press, political and calls — our phones ring every five seconds and just trying to clear your voicemail is impossible," Roberts said.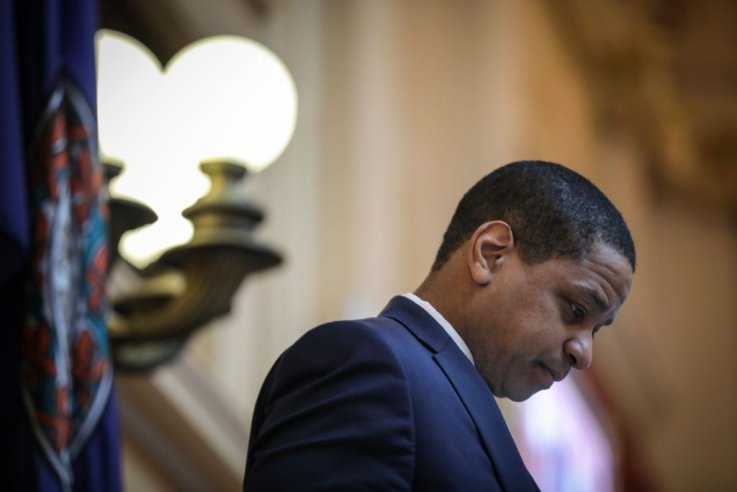 On Sunday night, Fairfax spoke via phone with the Post and said that he would not resign from the post of lieutenant governor.
"Even in the most difficult times, including ones like these, that's when it's most important to adhere to our highest values as Americans," Fairfax told the Post. "And due process is at the heart of our constitutional democracy in order to get to the truth and be true to what we are as Americans. . . . Everyone deserves to be heard. . . . Even when faced with those allegations, I am still standing up for everyone's right to be heard. But I'm also standing up for due process."
Fairfax also said that he is focused on continuing his job as lieutenant governor and "getting the truth out" about the sexual assault allegations from Watson and the first accuser, Vanessa Tyson, a California professor who said Fairfax forced her to perform oral sex on him after they met at the 2004 Democratic National Convention.
"I did not sexually assault Meredith Watson, Vanessa Tyson or anyone else, and the truth will help to confirm that statement. And we're looking forward to these independent investigations to get at the truth," Fairfax told the Post.
Meanwhile, Virginia Delegate Patrick Hope said on Monday that he would not immediately proceed with filing articles of impeachment against Fairfax as "additional conversations" were needed before a resolution for impeachment could move forward, the Times-Dispatch reports.
"We must allow the victims to be heard in the most fair and just process possible. Any process must be open and transparent to the public. If we can come behind another process besides impeachment that will meet these goals, I will be supportive," Hope told the Times-Dispatch.
Both Watson and Tyson, via statements from their lawyers, said they would testify before Virginia's General Assembly.
Four Staffers Resign From Justin Fairfax's Office, PAC; Impeachment Proceedings for Virigina Lt. Governor Paused By State Lawmaker | U.S.