Four States Have Already Surpassed Their 2016 Vote Totals Before Election Day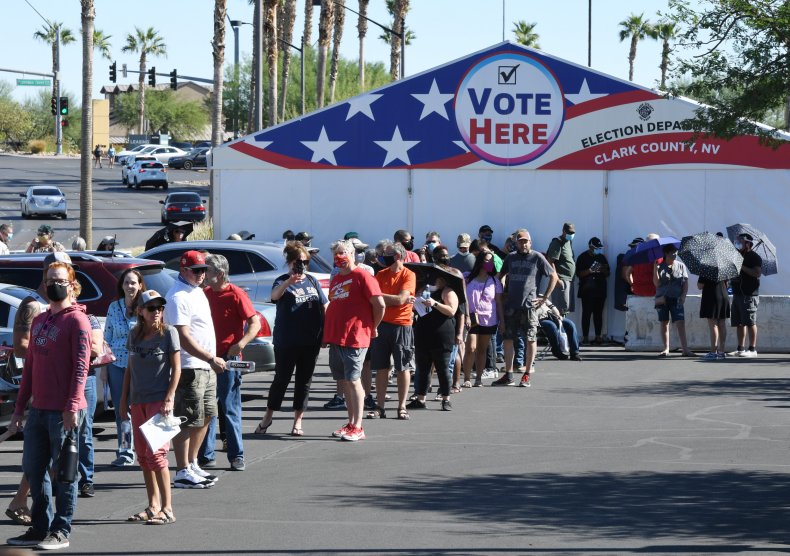 Four states—Arizona, Hawaii, Nevada and Texas—have already surpassed their 2016 vote totals before Election Day.
According to CNN, Arizona is the latest state to surpass the number of votes cast four years ago. On Monday, Arizona's secretary of state's office reported 2,667,535 ballots had been accepted. That's roughly 6,000 more votes than was cast in the battleground state in the race between President Donald Trump and Hillary Clinton.
Data from Nevada's secretary of state also shows more people have voted early in this election than in the entire 2016 contest. On the eve of Election Day, the state reported 1,125,580 residents had cast their ballots. Four years ago, 1,125,429 people cast their ballots.
Hawaii and Texas both shattered previous voting records. The Lone Star State, which has received increased attention in 2020 as Democrats attempt to turn it blue, has received 9,719,101 ballots: roughly 750,000 more votes than in 2016. Hawaii increased its voter turnout from 437,664 four years ago to more than 484,000 so far this election cycle.
Polling averages from the election forecaster FiveThirtyEight show Democratic nominee Joe Biden leading in Arizona, Hawaii and Nevada. But Trump maintains a narrow advantage in Texas, which no Democrat has won in a presidential election since 1976.
Some 97 million Americans have already turned in ballots, according to data compiled by the U.S. Elections Project. That's more than double the number of early votes cast before Election Day in 2016. In the 20 states that report the party registration of early voters, the database found that 45 percent of early voters are registered Democrats, 30 percent are Republicans and 24 percent list no party affiliation.
The surge in early voting comes after nearly every state expanded mail-in voting and in-person early voting in order to protect public health amid the coronavirus pandemic.
Trump has continuously railed against mail-in voting throughout the 2020 election cycle, alleging—without evidence—that it leads to fraud. Despite criticizing the practice, Trump cast his vote-by-mail in Florida back in August.
His campaign has launched several lawsuits against states over ballot-counting procedures, including an effort to temporarily halt the processing of mail-in ballots in Las Vegas, Nevada, and to bar Pennsylvania counties from using drop boxes to collect mail-in ballots. Both lawsuits were blocked or rejected by judges.
Trump told reporters in North Carolina on Sunday that his campaign would continue to launch litigation even after Election Day.
"We're going to go in the night of, as soon as that election is over, we're going in with our lawyers," he said.