Four States Seeing Major Spikes in COVID Cases Due to Delta Variant
Four states are seeing a major spike in coronavirus cases as the highly transmissible Delta variant continues to spread across the nation.
Alaska, Florida, Mississippi and Arkansas have all seen a substantial upward trend in new cases over the past two weeks, according to data from Johns Hopkins.
Over the last two weeks, new cases in Alaska have increased fourfold and fivefold in Florida.
On Monday, the 14-day average in Alaska went up to 186 new COVID-19 cases per day and in Florida, the average increased to 11,362 COVID-19 additional cases per day.
Comparatively, on July 5, Alaska's average was 46 new cases per day and Florida's rolling average was 2,240 additional cases per day.
While the trend is not as massive in Mississippi and Arkansas, both states have still seen a significant uptick in virus spread.
Mississippi's 14-day average has nearly tripled, going from 242 new daily cases on July 5 to 715 this week.
Arkansas' 14-day average has risen from roughly 603 new daily cases on July 5 to 1,094 new daily cases this weekend. However, the state seems to have observed a slight decrease in recent days. On Monday, Arkansas' two-week average fell to 973 new daily cases.
A spokesperson from the Arkansas Department of Health (ADH) confirmed to Newsweek that officials believe the Delta variant is playing a role in driving the state's increase of cases.
A report published by ADH last week found that the Delta variant accounts for 31.4 percent of Arkansas' coronavirus cases. The Delta variant, which has been shown to cause more severe illness, also makes up the state's largest number of hospitalizations and deaths from COVID-19.
The Delta variant is now estimated to make up 83 percent of all sequenced coronavirus cases in the U.S., according to Centers for Disease Control and Prevention Director Dr. Rochelle Walensky.
During a Tuesday Senate hearing, Walensky said it was a dramatic increase from the week of July 3 when the Delta variant only accounted for 50 percent of U.S. cases.
"In some parts of the country the percentage is even higher, particularly in areas with low vaccination rates," she added.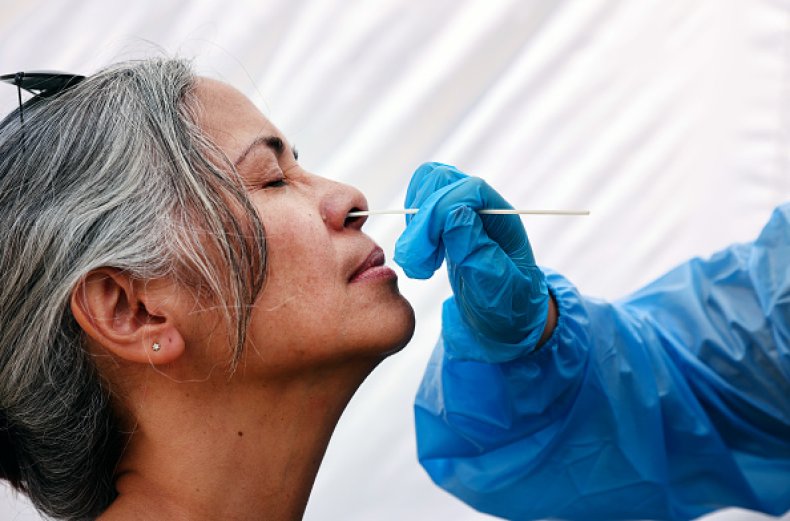 The recent spike in coronavirus cases across the four states could also be driven by vaccine hesitancy.
Vaccination rates in Alaska, Florida, Mississippi and Arkansas all fall below 57 percent, with Mississippi and Arkansas ranking in the top 10 states with the fewest number of vaccinated individuals.
Mississippi has the lowest vaccination rate across the country, with only 38 percent of the state's residents have received at least one shot of a COVID-19 vaccine.
In Arkansas, 44 percent of residents have received at least one dose, while 51 percent of Alaskans have at least one shot and 56 percent of Floridians are at least partially vaccinated.
In an email to Newsweek, an ADH spokesperson said that Gov. Asa Hutchinson is making visits to Arkansas towns in hopes of engaging the community about low vaccination rates and vaccine hesitancy.
"The Department of Health is continuing its efforts to make vaccines as widely available as possible and to provide education about the COVID vaccination to health care professionals and community members alike," Danyelle McNeill, ADH's press information officer, wrote. "The Arkansas Department of Health is also working to encourage the use of monoclonal antibodies for preventing hospitalizations among people at high risk for severe illness."
Preliminary data shows that the three vaccines authorized for use by the U.S. Food and Drug Administration have proven to be effective against the Delta variant.
During a press briefing held earlier this month on the surging variant, the nation's leading infectious disease expert, Dr. Anthony Fauci said, "the only conclusion, one can reasonably come to from looking [at] what I've told you over the last few minutes is, please get vaccinated. It will protect you against the surging of the Delta variant."
Data from the CDC suggests that 99.5 percent of COVID-19 deaths in the U.S. have been in unvaccinated individuals.
Newsweek reached out to the Alaska Department of Health and Social Services and Florida's Department of Health for further comment but did not hear back before publication.